IMPRESSIONS: "PINA," a film by Wim Wenders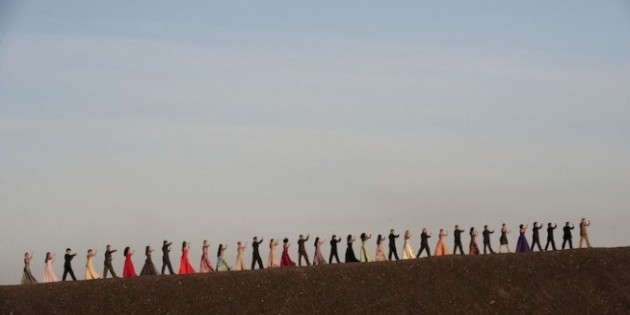 A Film for Pina Bausch
IMPRESSIONS: PINA  
A 3D documentary by Wim Wenders
Starring The Artists of Pina Bausch's Tantztheater Wuppertal
Opening in theatre's in New York on December 23rd, 2011
---
© Christine Jowers for The Dance Enthusiast
---
A Glimpse of Pina Bausch's "Vollmond" as seen in the documentary PINA by Wim Wenders


Is it choregraphy? Is it theatre? Is it a documentary? The first two questions are asked during the opening credits of the trailer for PINA, the last was asked a few weeks ago by an audience member during a special screening of the movie at the Independent Film Center (IFC) in Manhattan.  My resounding replies are without a doubt, "Yes, yes and even more yes." Profound visions aren't meant to be restricted by categories.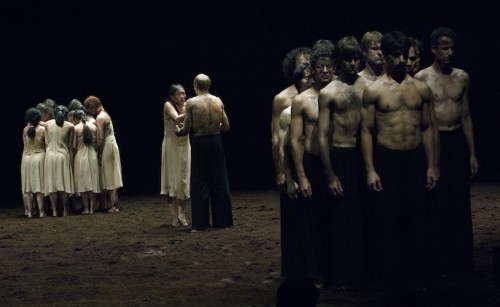 Azusa Seyama, Andrey Berezin, dancers of the ensemble of "Sacre du Printemps" in Wim Wenders' PINA. 
©Neue Road Movies GmbH, Photo by Donata Wenders.  A Sundance Selects release.
 

PINA, the 3D movie, directed by Wim Wenders, describes the revolutionary artist Pina Bausch, not through a timeline of biographical and career high points, but rather by delving into the poetry of her choreography with the dancers who lived and worked in her evocative creations.

The artists of Tantztheater Wuppertal, striking men and women, representing a a broad range of nationalities and ages--some with young, open eyes, others with beautifully etched mature faces--peer into the camera silently as their voices (in German, French, Italian, Spanish, English, and I may have left a few languages out ) remind us of their singular affection for their mentor. Pina watched them, drawing out the details of their lives "to paint a human experience in movement." One woman points out that Pina  watched her for over 22 years, even longer than her parents.
---

At heart, this piece is a love story describing the deep bonds between a choreographer and her dancers. It is also a moving elegy to a creator who, despite her untimely death as this film was heading into production, continues to live on in the minds of her collaborators, fans  and in the city of Wuppertal that was her artistic home for 37 years.

The 3D technique (and this is the first time 3D has been used in an art house film--so Wenders and his team had to do much research and inventing as they worked) carries us into Bausch's Le Sacre du Printemps as if we are dancing it ourselves. A group of women in thin, white negligees move on a stage covered in layers of soil. As they advance urgently forward, stomping wildly and ramming their jagged elbows into their guts, I can almost feel the dirt fly into my face. I pulse with the shifting meters of Stravinsky and shudder at the inevitable terror of this ritual while staring into the "Chosen One's" eyes. That Wenders can share in film the visceral thrill of dancing with a seated audience (even as some sacrilegiously devour popcorn) is potent.
---
Fabian Prioville and Azusa Seyama in Wim Wenders' PINA. 
©Neue Road Movies GmbH, Photo by Donata Wenders.  A Sundance Selects release.
 

I find myself forgetting about 3D technology, entranced by the exquisite details and images in Bausch's choreography as well as in Wenders'. There is no doubt that this director is a choreographer. 
A procession of elegant men and women dressed in dapper suits and flowing silk party dresses welcomes us as Wenders brings us on stage to meet Bausch's dances. Through the magic of the movies, this group disappears and reappears in different locales: the stage, an escaltor- in what looks like a city mall- and on the rim of a vast, dirt hill.  On the surface this group is all adult sophistication, but soon we notice through their tiny, awkward giggles, twitching fingers, shy shoulder shrugs and nervous smiling jitters, that they are also children, eager to be loved and hoping we will accept an invitation to dance. Pina Bausch immersed us in such human dualities with her attention to detail.
---

As the small parade floats by, moving along the expansive edge of that hill, it seems as if they are gliding into infinity to give a final hug to their teacher--and what a way to get there, dancing to Louis Armstrong's Hot Five's "West End Blues."  I found myself dreaming this image, long after the film ended.
 
Wenders moves Bausch's dances out into the streets of Wuppertal-into a park, into a stream, and more extremely into a barren rock quarry. In presenting us with her dances in the environment, he mirrors the manner in which Bausch daringly brought such environments onto her stages, as in the arresting water and boulder-filled Vollmond.

Perhaps by spreading Bausch's work along the streets, among the water, flowers, and rocks, her essence will forever stay with us--as if embedded in the soil.  A beautiful gesture from one artist to another.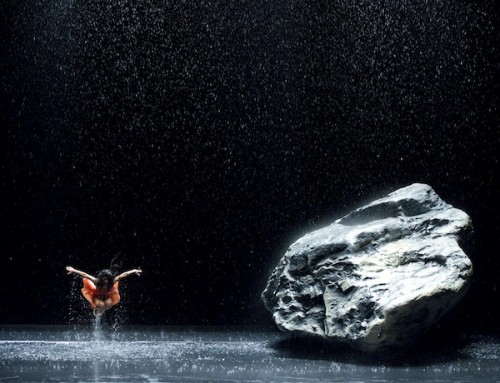 Ditta Miranda Jasjfi in "Vollmond" in Wim Wenders' PINA. 
©Neue Road Movies GmbH, Photo by Donata Wenders.  A Sundance Selects release.
---
The Dance Enthusiast Shares IMPRESSIONS/our brand of review, and creates conversation.
For more IMPRESSIONS, click here.
Share your #AudienceReview of performances. Write one today!
---
The Dance Enthusiast - News, Reviews, Interviews and an Open Invitation for YOU to join the Dance Conversation.