IMPRESSIONS: Paris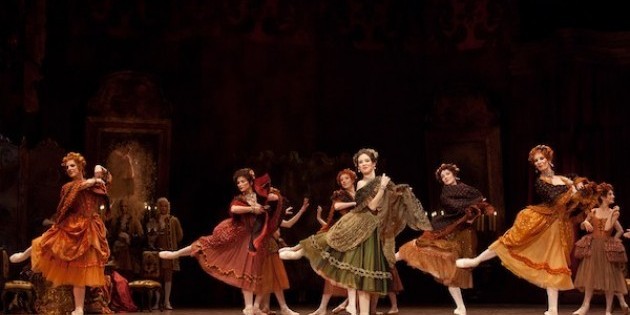 The Story of "Manon": The Paris Opera Ballet at the Palais Garnier
IMPRESSIONS: The Paris Opera Ballet in The Story of Manon
Friday, May 11, 2012 at the Palais Garnier
Credits:
Manon - Isabelle Ciaravola
Des Grieux - Florian Magnene
Lescaut (Manon's brother) - Alessio Carbone
Lescaut's Mistress - Nolwenn Daniel
Monsieur de G.M. - Arnaud Dreyfus
Madame - Amélie Lamoureux

Music by Jules Massenet
New orchestration and arrangement by Martin Yates,
Choreography by Kenneth MacMillan
Remounted by Karl Burnett and Gary Harris
Sets and costumes by Nicholas Georgiadis
Lighting by John B. Read
Musical direction, Koen Kessels
---
©Ann Moradian for The Dance Enthusiast

Kenneth MacMillan choreographed The Story of Manon in 1974, and even today much of the partnering comes across as fresh and inventive--especially if it is well performed. We had the pleasure of seeing Isabelle Ciaravola performing the lead role of Manon on Friday night, with Florian Magnenet in the role of her lover, the young poet Des Grieux.
 
L'Histoire de Manon : Pictures Anne Deniau / Opéra national de Paris

Alone, in his earliest solos, Magnenet was so focused on his technique that the choreography was not only lost, but obliterated. There was a moment there, I admit, when I dreaded sitting through the coming three Acts. Fortunately, two beats after he began dancing with Ciaravola in their first duet, his concern about his technique was set aside and their story began to unfold. The couple performed with such fluidity that it was hard to tell where one body ended and the other began, entwining and untwisting in unexpectedly beautiful patterns, like a lyrical three-dimensional kaleidoscope.

By Act II, Manon abandons her lover to become the mistress of the wealthy Monsier de G.M., danced with character and command by Arnaud Dreyfus. She is lifted, rolled and passed from man to man to man but, rather than the luscious sensuality and passion in the earlier duet with Magnenet, here Ciaravola dances with control, rigidity and a distance that convey beauty with neither personal pleasure nor vulnerability. The men partner her smoothly, entranced but not deeply moved, creating a clear contrast to the young lovers' abandon, and Manon's previous innocence and sincerity.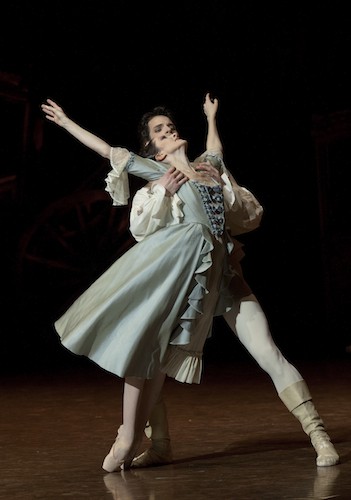 L'Histoire de Manon : Pictures Anne Deniau / Opéra national de Paris

Without a doubt, this production of the Paris Opera Ballet is a feast for the eyes. The sets and costumes, both by Nicholas Georgiadis, are elaborate, finely detailed, and executed with an expert eye for color. Even the women's simple prison garb in Act III is shaded in such rich variations on gray that the women's swirling skirts create an ocean of rich texture.

I had forgotten how beautiful the music, by Jules Massenet, is. Martin Yates' new orchestral arrangement is lovely, and the Orchestra of the National Opera of Paris, directed by Koen Kessels, brings out every morsel of its beauty, passion, playfulness and, most especially, its tenderness.

I cannot say that this performance of Manon was the best I have seen but it had its moments, and it was satisfying enough to make for a thoroughly pleasant evening.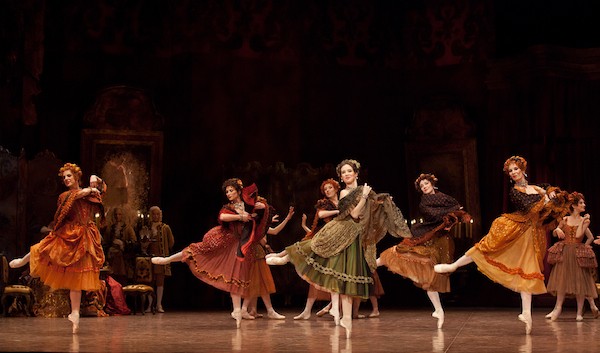 L'Histoire de Manon : Pictures Anne Deniau / Opéra national de Paris
Footnote
If ever you have the opportunity to visit the
Palais Garnier
, this opera house is not to be missed. A work of art in and of itself, it was built between 1861 and 1875 for Napoleon III as a part of "the great reconstruction of Paris" during the Second Empire. It is home to the Paris Opera Ballet and whether you are seeing a classical or contemporary program, the chances are good that the evening will be a treat.
It is an unforgettable experience to ascend the wide marble staircase, passing through the warm light from the elegant lanterns that line the way. Even if your budget sends you climbing to the top, you'll find your scalp almost scraping the same ceiling that serves as canvas to
Marc Chagall's vibrant painting
, added as an overlay in 1964. You also have a bird's eye view of the extraordinary chandelier designed with tasteful opulence by the building's architect, Charles Garnier.
---
The Dance Enthusiast Shares IMPRESSIONS/our brand of review, and creates conversation.
For more IMPRESSIONS, click here.
Share your #AudienceReview of performances. Write one today!
---
The Dance Enthusiast - News, Reviews, Interviews and an Open Invitation for YOU to join the Dance Conversation.