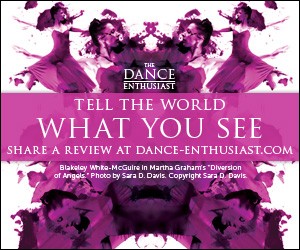 Related Features
IMPRESSIONS: Paul Taylor Dance Company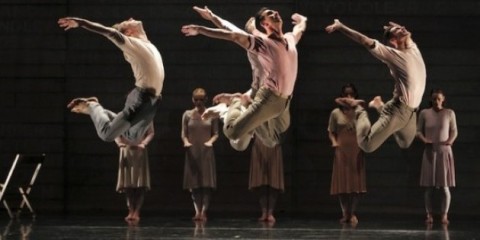 Timeless
IMPRESSIONS: Paul Taylor Dance Company
Weds March 6th, 2013, 7pm
at The David H. Koch Theater -New York City
Speaking in Tongues
Music by: Matthew Patton
Brandenburgs
Music by: Johann Sebastian Bach
Choreography by: Paul Taylor
Lighting design: Jennifer Tipton
Performers: Paul Taylor Dance Company
---
Theodora Boguszewski for The Dance Enthusiast
(The Paul Taylor Season continues through March 24th for info: click here)
In a dance world where we often find ourselves chasing the next new trend, it is easy to forget about the modern dance figures who have been pushing boundaries for decades. For many dancers today, the name "Paul Taylor" summons thoughts of unitards and erect posture; we associate his work with an idea of "classical" modern dance that is slightly antiquated. However, Wednesday night's performance of
Speaking in Tongues
and
Brandenburgs
reinforced Taylor's position as an iconoclast. His work remains relevant and captivating across the decades.  
Photo Paul B. Goode
The evening opens with the eerily beautiful, Emmy Award-winning
Speaking in Tongues
, choreographed in 1988. This large ensemble piece explores themes of religious fanaticism and hypocrisy, particularly in the Pentecostal churches of the southern United States. Speaking in tongues refers to a spiritual "possession" of religious leaders or their followers, which often involves dramatic physical eruptions.
Matthew Patton's
haunting score features fragments from the "fire and brimstone" preachings of an evangelical broadcast.
There are many notable character performances throughout the piece, particularly Michelle Fleet's portrayal of "The Daughter Grown Up", an unwanted daughter who is abused by her mother and later her husband. Fleet's movement is contorted and strained but simultaneously passionate and expansive. I can sense her desperation even from my seat in the highest balcony. Her performance effortlessly traverses the gigantic space.
Michael Trusnovec's portrayal of "A Man of the Cloth" is powerfully dark. His conflicted and hypocritical character, introduced by a fragmented opening solo, embodies both God and the Devil.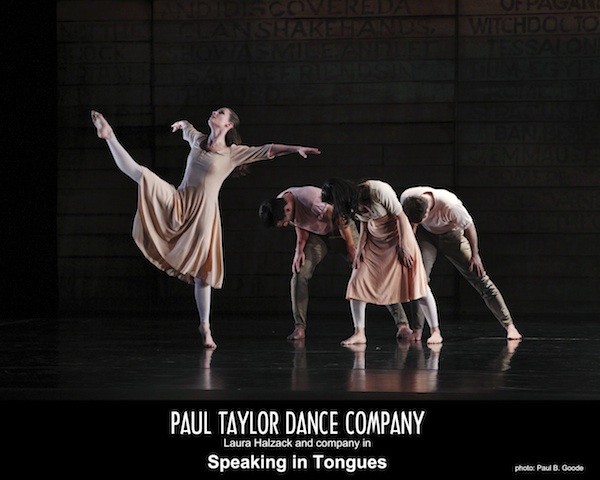 Photo Paul B. Goode
 
Speaking in Tongues alludes to the taboo subjects of incest, sexual abuse, rape and religious hypocrisy. The risky work unfolds like a novel, chapter by chapter dissecting different aspects of what would appear to be a happy and pious community. We watch on the edge of our seats.
Perhaps Taylor needed a break from the somber subject matter.
Brandenburgs
, the second piece of the evening, celebrates all that is good in life. Also choreographed in 1988, the juxtaposition of the two pieces reveals Taylor's broad range of capabilities.  
Photo Paul B. Goode
Musicality is a defining characteristic of the piece; the compelling, dynamic melodies of J
ohann Sebastian Bach's Brandenburg Concertos
are perfectly echoed in the dancers' flawless turns and leaps. It feels as if there is no other way to move butto this music. The technical proficiency of the performers is showcased when after a series of dizzying turns they stop on a dime in perfect formation.
I particularly appreciate how the piece highlights the female dancer. Unlike most ballets where women comprise the majority of the corps, in Brandenburgs ,three exquisite female soloists are pursued by a corps of galloping men in green velvet unitards. The women look like pinwheels whipping around the stage with total abandon,(an abandon which we know requires impeccable control). Beautiful long black skirts perfectly extend the direction of the movement.
One thing that strikes me as a distinguishing quality of Taylor's company is their seamless dance runs. While running onstage (particularly in formation) can often register as unnatural and awkward, Taylor's dancers fly swiftly in perfect unison like flocks of birds. The sweeping movement and changing patterns are so fluidly mesmerizing,I feel as though I could watch forever.
Brandenburgs
vivaciously embodies joy and exuberance. It is a perfect piece to close the show.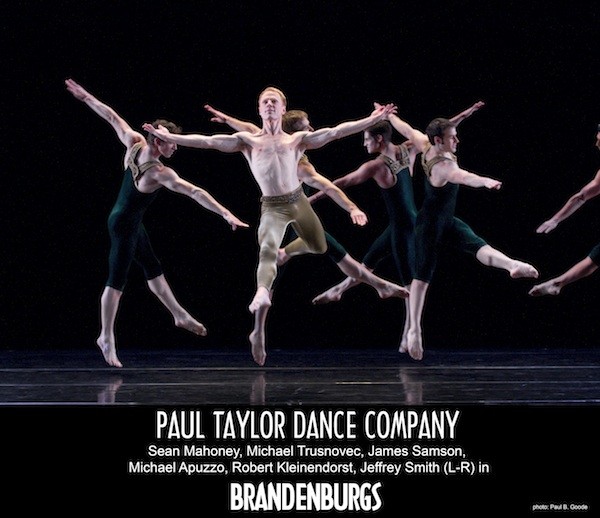 Photo Paul B. Goode
And, the greatest thrill of all, Paul Taylor himself, accompanied by lighting designer Jennifer Tipton, came out at the end of the show tostand with his company through curtain call after curtain call. Even from the top balcony, it gave me chills to see the master in the flesh.
Although "modern dance" is often characterized by an attempt to move away from something more established, we can't forget our roots; the influence of this great American choreographer continues to infiltrate our dance landscape today. And, after all, there's a reason why the company is performing to a sold out house in the 2500-seat Koch theater night after night.The work effectively conveys an entire spectrum of human emotions and the dancers are some of the best in the world. Taylor's work is truly timeless.
---
The Dance Enthusiast Shares IMPRESSIONS/our brand of review, and creates conversation.
For more IMPRESSIONS, click here.
Share your #AudienceReview of performances. Write one today!
---
The Dance Enthusiast - News, Reviews, Interviews and an Open Invitation for YOU to join the Dance Conversation.