IMPRESSIONS: Peter Martins' "Sleeping Beauty"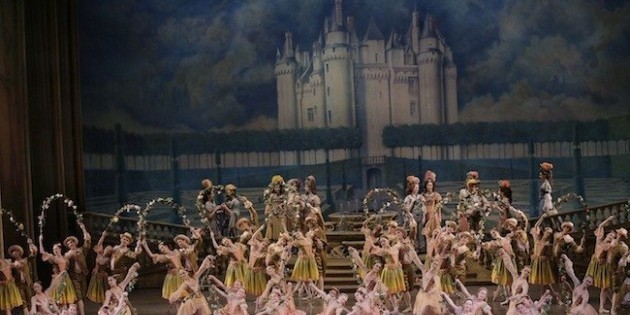 IMPRESSIONS: Four Evenings of Ballet
New York City Ballet's SLEEPING BEAUTY
For the list of performances seen by Rübsam click here.
February 22, 2013
---
Henning Rübsam for The Dance Enthusiast
 
Last summer I found myself in the German city of Kassel, which is home to the world's largest contemporary art exhibition, the "Documenta," every five years for 100 days. The locals joke that the city falls into its "Dornröschenschlaf" (the sleep of the thorn rose princess) in the time between exhibitions.
 
Nearby, in the majestic woods, hides a castle, the "Sababurg," that is home to the fairy tale "The Sleeping Beauty," as written down in 1810 by the Brothers Grimm, who first published it as part of a series of German tales in 1812. The Sababurg, once surrounded by a wide hedge of thorns to keep wild beasts away from the castle's own animals, was in bad disrepair after the Thirty-Year War and thus the perfect setting for the story of a sleeping princess and her court. 
 
Time will tell if Peter Martins' production is in line with the great ones of the past, but I have seen this New York City Ballet perennial many times since its opening in 1991 and, although dramaturgically not without difficulty, I have learned to love it. Seeing four different casts for this IMPRESSION, I found the rewards rich and manifold.
 
The orchestra under the batons of Daniel Capps, Andrews Sills, and Clotilde Otranto sounds full and harmonious, tempo changes in the middle of a variation not withstanding. David Mitchell's scenic designs are imaginative and his projections let me arrive at the castle's front door as if I were an invited guest to Aurora's Christening.

Catalabutte, the majordomo, checks the list and ensures that everyone feels comfortable. He takes his job seriously and his nervousness and sense of perfection might be driven by some distant doubt in his mind that he forgot something. Veteran performer Arch Higgins sets just the right tone with his psychological finesse.
The roles of King Florestan and his Queen, however, are not given attention by the in house casting crew and coaches. It seems the class, "Royal Gestures 101," was obviously never offered or attended.
But then the dancing guests arrive! And dance they can. In colorful costumes by Patricia Zipprodt, wigs by Michael Avedon and under lights by Mark Stanley, this company shines. Although Megan Le Crone is cast against type as the Fairy of Tenderness, she manages to have me beg for more. Both Lydia Wellington and Ashley Laracey are wonderfully generous in alternating casts as the Fairy of Generosity. The fairies show that City Ballet's women are well trained and technically astute. Some of the variations are ridiculously fast and crammed with tricky steps, giving Martins the opportunity to show off his dancers (even Petipa was not adverse to trickery.)  I wonder if moments of breath, to allow the dancers personality to reveal itself naturally and not through business, would have been appropriate.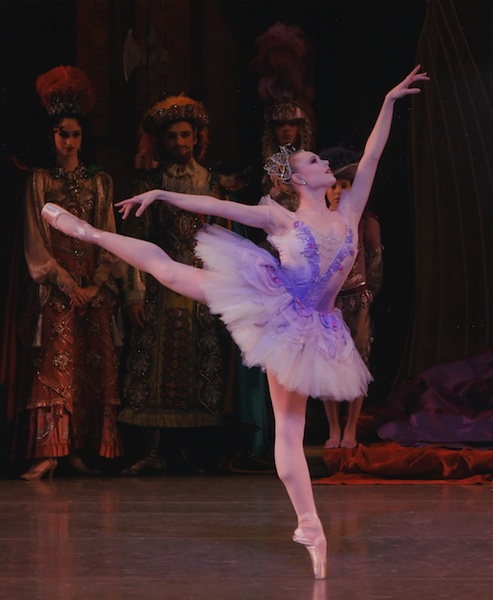 Sarah Mearns in Peter Martins' The Sleeping Beauty; Photo Credit Paul Kolnik
Four different Lilac Fairies grace the stage in the four performances I attend but Sara Mearns is the most exciting. She connects heaven and earth with her weight shifts that roll through ankle joints and supple legs and end in far-reaching gestures. Teresa Reichlen delivers a fine performance as well, even if she does not dance on as grand a scale. Rebecca Krohn and Savannah Lowery make debuts in the role. Lowery is not a classical dancer, but manages to get through it without mishaps, while Krohn gives a finely rendered interpretation that is rewarding in its musicality and phrasing. My only qualm is the placement of Krohn's arms, which uncommunicatively trail behind her, leaving her torso  seem weak. Still, her intelligence and goodness are transparent in every interaction as well as in the clarity of her mime.
 
The face-off with the tale's unhappy Fairy Carabosse, who was not invited to the party and who takes bitter revenge by casting a spell of death upon the young Aurora, is won by the Lilac Fairy who amends the death curse to 100 years of sleep. Jenifer Ringer is cynical and sinister in the part and her laughter is chilling. If the choreography and the story did not tell her to do otherwise, she would indeed eat The Lilac Fairy for breakfast.
 
Ringer's revenge on poor Higgins' Catalabutte, when she pulls off his wig and relishes picking at the few strands of hair left on his scalp, is a delightful lesson in stage antics. Her spider web carriage pulled by human-size roaches makes a fitting vehicle for this queen of mean. Maria Kowroski also has a stunning presence, but her performance is not as finely honed as Ringer's. And Georgina Pazcoguin and Marika Anderson are no match for their respective Lilacs.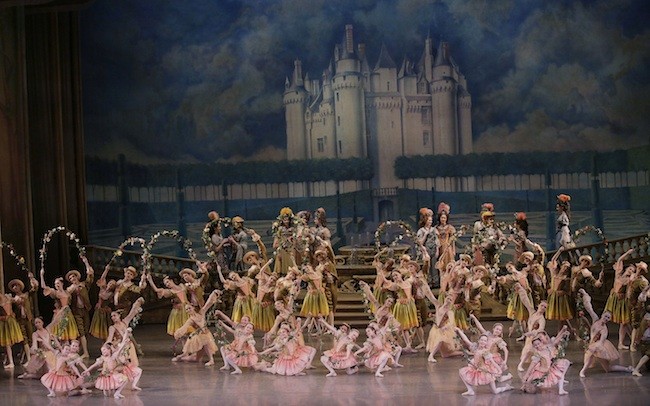 The Company performing "The Garland Dance"  in Peter Martins' The Sleeping Beauty; Photo Credit Paul Kolnik
After the spell is amended we skip ahead 15 years and are treated to the Garland Dance for 16 couples, with 8 more female dancers, 16 kids from the School of American Ballet and several bystanders all with flowered hoops. This large and intricate celebration was conceived and choreographed by George Balanchine and first presented in 1981. Martins is smart to incorporate it into his production.
 
Four handsome suitors from each corner of the world come to woo the now teenage princess Aurora. She appears fresh as the morning dew to dance the famous Rose Adagio (in which she has to hold ghastly balances on one foot) with them. Some ballet goers determine the excellence of Aurora's dancing by the balances in that passage. No wonder Ana Sophia Scheller seems a bit nervous in the beginning of her debut performance.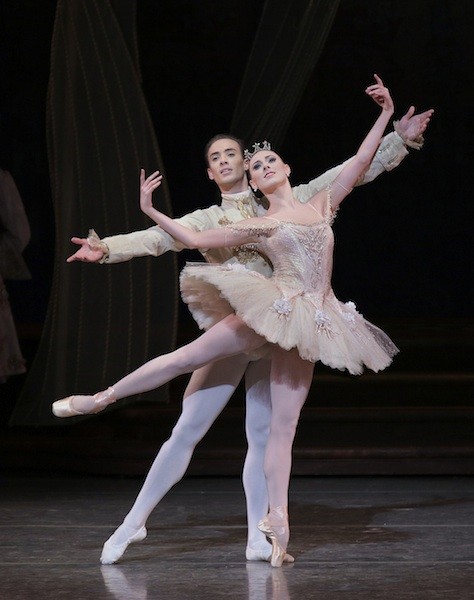 Tiler Peck and Tyler Angle in Peter Martins' The Sleeping Beauty; Photo credit Paul Kolnik
Once the balances are mastered, Scheller blossoms as the Briar Rose of the run. I had seen what I believed to be three fine performances by Tiler Peck, Sterling Hyltin and Megan Fairchild, but Scheller's eloquent use of épaulement (placing of the shoulders as the torso moves) makes the others seem dim and rather too square in retrospect. Hers is an auspicious debut of a musical dancer with an expressive upper body and quick feet.  While Scheller is small, she dances expansively, her extensions come with ease and her turns are executed with aplomb. Her batterie (beating together of calves or feet) is sharp and her ballon (lightness) and elevation tremendous. She is a beautiful young lady, a joy to watch and more often than not, an engaging actress. I look forward to seeing her again and again in this role, and I believe she will make improvements in dynamic shading to add vulnerability to her portrayal. At this point  we don't hear the whispers of the dreams that a hundred years of sleep should have informed her of.

Gonzalo Garcia is the prince select named Désiré,and it certainly is desire that drives him. Once he gets a peek at Scheller he hops on the next boat provided by the Lilac Fairy. Intermission. And then, (I told you the dramaturge was on vacation), next stop a thorny hedge. What to do?
 
"THINK," gestures the Balanchine-trained fairy. So, Désiré does, then pulls out his sword and the thorny hedges part from each other of their own accord. After a long kiss, Aurora gets some red back in her cheeks and everyone wakes from the spell. Next the wedding.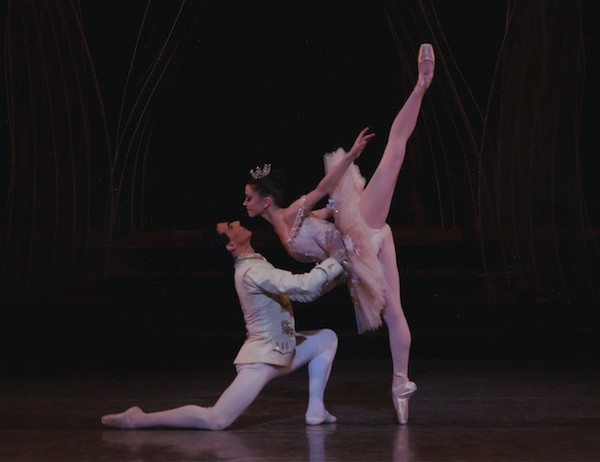 Megan Fairchild and  Joaquin De Luz in Peter Martins' The Sleeping Beauty; Photo Credit Paul Kolnik

It is marvelous how Martins incorporates young ballet students in this production: a tiny Red Riding Hood has shaky knees when she encounters The Big Bad Wolf in the woods. And the woods are trees held by very young dancers in yoga lotus positions. Adorable!
 
The divertissements in the wedding delight. White Cat and Puss In Boots purr and hiss and purr again. The Jewels are represented by the Gold – the handsome Chase Finlay takes the medal – with Diamond, Emerald and Ruby. Lauren Lovette (debut) and Ashley Laracey are fine in the fiendishly difficult Ruby variation. Le Crone (debut) as Diamond shows she can sparkle as bright as the big bling (Krohn and Reichlen). All casts of Emerald (Sara Adams and Brittany Pollack both in debut performances as well as Lauren King) underscore the breadth of talent in the company. The highlight are the court jesters especially the phenomenally athletic Daniel Ulbricht.
 
What should be the glory of the wedding guest offerings is the pas de deux of Princess Florine and the Bluebird. But somehow this does not quite happen. Erica Pereira is not ready for the challenges the role presents and looks utterly lost. The other ladies unfortunately are hampered by the lack of partnering skills of their respective gentlemen: Troy Schumacher, Antonio Carmena and Anthony Huxley. Schumacher must have been told, between his first and second performance, that the role was named Bluebird rather than Blue Dude - so there was improvement, but no fancy flight. Antonio Carmena offered a beautiful beginning but lacked the stamina to finish in style. Huxley was too even to grow wings.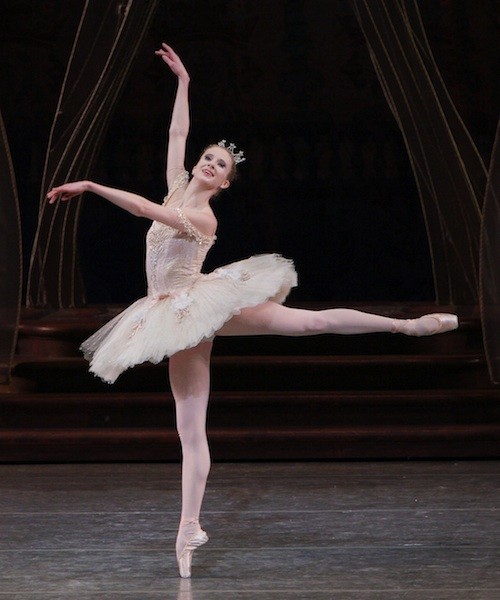 Sterling Hytlin in Peter Martins' The Sleeping Beauty; Photo Credit Paul Kolnik
Still the good outweighs the not so good and the throngs of children in the production give hope that each and every day in the near future will be filled with Bluebirds. Hats off to Martins. It is undoubtedly his finest production of an evening-length ballet. Why the growing sun image evocative of the court of Louis XIV is displayed in the end when costumes resemble the times of Louis XV is a minor matter. It's festive.
 
The grand pas de deux of the wedding is well done. Scheller and Garcia almost don't believe they got hitched without a hitch. He happily breezes through his variation. She looks ever the gorgeous bride throughout the coda. Megan Fairchild sparkles and delivers even if her aura does not emanate as widely as Scheller's and Joaquin de Luz attacks his material with verve. Sterling Hyltin and Robert Fairchild (in his debut) are the most intimately connected. He loves and she loves and they love, so why am I not as enthralled as I want to be? Is it because Robert Fairchild is not a danseur noble? He
is
a natural mover who has a knack for a syncopated attack- an American prince, with Jazz in his blood. That is a compliment, even if that does not make him my perfect choice for the part. Tiler Peck carries a large head, which brings the advantage of an expressive face with clear features. Her lines are not as harmonious as Scheller's, but she wins me over with her technical prowess and good-natured enthusiasm. Tyler Angle a musical, elegant dancer is her excellent partner.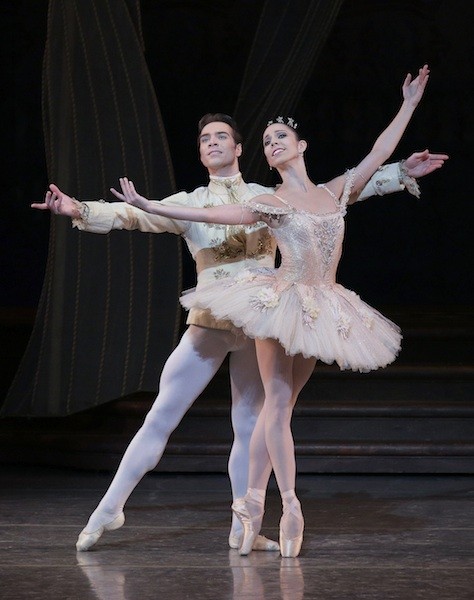 Ana Sophia Scheller and Gonzalo Garcia in Peter Martins' The Sleeping Beauty; Photo Credit: Paul Kolnik
While I followed all the Auroras with interest, it is Scheller, who makes me dream of a truly great performance to come. While this might or might not happen at this Saturday's matinee, I am certain that she will not make us wait a hundred years. We are fortunate this gifted dance artist is among us and very much awake.
For More Info:
Catch Ana Sophia Scheller this Saturday, February 23 at 2pm with Gonzalo Garcia as her Prince or say "Hello" when I watch my last Sleeping Beauty of the season - once again in solitude - at 8pm that day with Ashley Bouder as Aurora, Andrew Veyette as Prince Désiré, Janie Taylor as Lilac Fairy and Ringer as Carabosse. Your last chance is Sunday, February 24 at 3pm with Hyltin, R. Fairchild, Krohn, and Pazcoguin.
FRIDAY EVENING, FEBRUARY 15, 8 PM
(Conductor: Capps)PRINCESS AURORA: T. Peck; PRINCE DÉSIRÉ: T. Angle; LILAC FAIRY: Reichlen; CARABOSSE: Pazcoguin; TENDERNESS: *Gerrity; VIVACITY: *Sell; GENEROSITY: Wellington; ELOQUENCE: *Segin; COURAGE: *Mann; GOLD: la Cour; DIAMOND: Krohn; EMERALD: *Pollack; RUBY: Laracey; WHITE CAT: *Villwock; PUSS IN BOOTS: *Stanley; PRINCESS FLORINE: Pereira; BLUEBIRD: Huxley; LITTLE RED RIDING HOOD: ++Sanford; THE WOLF: *Scordato; COURT JESTERS: Schumacher, Villalobos, Laurent
SUNDAY EVENING, FEBRUARY 17, 7 PM
(Conductor: Sill) PRINCESS AURORA: Hyltin; PRINCE DÉSIRÉ: *R. Fairchild; LILAC FAIRY: *Krohn; CARABOSSE: Anderson;TENDERNESS: Smith; VIVACITY: Sell; GENEROSITY: Laracey; ELOQUENCE: Dronova; COURAGE: Pazcoguin; GOLD: *Danchig-Waring; DIAMOND: *LeCrone; EMERALD: *Adams; RUBY: *Lovette; WHITE CAT: Villwock; PUSS IN BOOTS: Stanley; PRINCESS FLORINE: Scheller (replaces King); BLUEBIRD: Carmena (replaces Ball); LITTLE RED RIDING HOOD: ++Abraham; THE WOLF: Applebaum;
COURT JESTERS: Ulbricht, Ippolito, Peiffer

TUESDAY EVENING, FEBRUARY 19, 7:30 PM
(Conductor: Sill) PRINCESS AURORA: M. Fairchild; PRINCE DÉSIRÉ: De Luz; LILAC FAIRY: Mearns CARABOSSE: Kowroski;TENDERNESS: Smith; VIVACITY: Adams; GENEROSITY: Laracey; ELOQUENCE: Dronova; COURAGE: Pazcoguin; GOLD: Finlay; DIAMOND: Reichlen; EMERALD: King; RUBY: Pereira (replaces A.Stafford); WHITE CAT: Lovette; PUSS IN BOOTS: Danchig-Waring; PRINCESS FLORINE: *Pollack (replaces Scheller); BLUEBIRD: *Schumacher (replaces Carmena); LITTLE RED RIDING HOOD: ++Vanik; THE WOLF: Thew;
COURT JESTERS: Ulbricht, Ippolito, Peiffer
WEDNESDAY EVENING, FEBRUARY 20, 7:30 PM
(Conductor: Otranto) PRINCESS AURORA: *Scheller; PRINCE DÉSIRÉ: Garcia; LILAC FAIRY: *Lowery; CARABOSSE: Ringer;TENDERNESS: LeCrone; VIVACITY: King; GENEROSITY: Wellington; ELOQUENCE: Segin; COURAGE: Muller; GOLD: J. Angle; DIAMOND: Krohn; EMERALD: Adams (replaces Pollack); RUBY: Pereira; WHITE CAT: Villwock; PUSS IN BOOTS: Stanley; PRINCESS FLORINE: Pollack (replaces A.Stafford); BLUEBIRD: Schumacher (replaces Carmena); LITTLE RED RIDING HOOD: ++Sanford; THE WOLF: Scordato; COURT JESTERS: Ulbricht (replaces Schumacher), Villalobos, La
---
The Dance Enthusiast Shares IMPRESSIONS/our brand of review, and creates conversation.
For more IMPRESSIONS, click here.
Share your #AudienceReview of performances. Write one today!
---
The Dance Enthusiast - News, Reviews, Interviews and an Open Invitation for YOU to join the Dance Conversation.