IMPRESSIONS: Rachid Ouramdane at New York Live Arts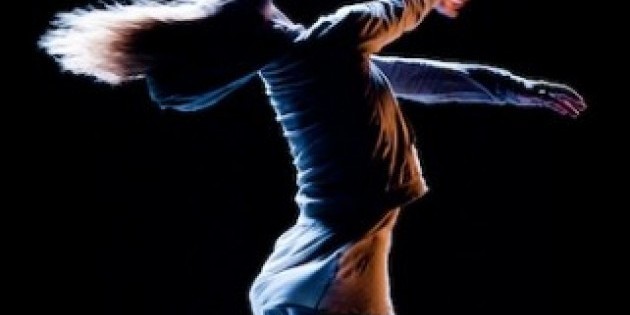 Ordinary Witness
IMPRESSIONS: "Ordinary Witness"
At New York Live Arts Oct 12, 2011
Presented by New York Live Arts & FIAFs Crossing The line 2011
Concept and Choreography: Rachid Ouramdane
Performers: Jean-Baptiste Andre, Lora Juodkaite, Mille Lundt, Jean-Claude Nelson, Georgina Vila Bruch
Lights: Yves Godin
Video: Jenny Teng and Nathalie Gasdoue
Music: Jean-Baptiste Julien
---
There Are No Words...
© Cory Nakasue for The Dance Enthusiast
The more they tried to explain what happened, the more they tried to remember, the less they could recall. The documented subjects in Rachid Ouramdane's
Ordinary Witness
grappled with words to describe the way torture had changed them. No one was at a loss for words, in fact the subjects were quite verbose; explaining the isolation, shame, and search for meaning after their experiences. But, when it came to recalling the events and people involved with their ordeals, they faltered. Facts and memories disintegrate in their efforts to find language for the unspeakable.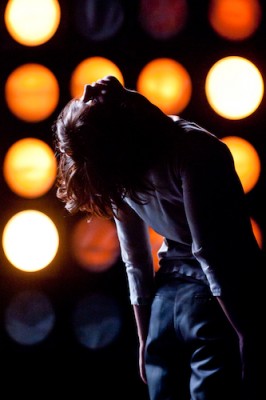 Ordinary Witness, Photo © Ian Douglass
Picking the locks of the mind with movement, Ouramdane's performers use extreme physical contortions to articulate what must be an experience that contorts one's sense of reality. Amid a group of dancers walking in shadows, silent and faceless, lone dancers splinter off and slowly dislocate joints,melting their spines and limbs into disfigured knots before they resume their meditative, but aimless journey. A section that could have easily been an exhibition of double-jointedness, through meticulous direction and lighting, becomes a metaphor for finding a human limit.
---

The liminal coupled with a sense of helplessness is nowhere more apparent than in the centerpiece of the evening- a fifteen minute solo consisting of nothing but turns. Spinning. Spinning- so fast, it is more like fifteen minutes of blur. The vortex  is harrowing. I am reminded that the sheer persistent beauty of this section is created by a woman- a human being.  How is she enduring this?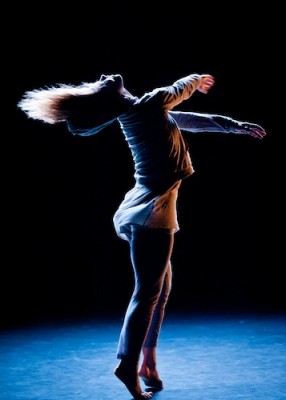 Ordinary Witness, Photo © Ian Douglass
Movement sequences that hint at relationships which involve a discrepancy of power, are interspersed with more stunning video testimony from people who have been held prisoner. "Hint" being the operative word. The emotional restraint employed in this work was matched by the commitment of the dancers to find, not display, the absolute edges of corporeal experience (minus one or two moments that veered into the decorative.)
---
When you come right down to it, we are all the unreliable narrators of our stories. Our minds are mysteries to ourselves. Memories of the past are largely constructions of the present, even more so when those memories involve trauma. The body, however, is undeniable.
The body as witness and political landscape challenges our histories and the stories we create to move forward--as a nation or an individual. Representations of the body as a document are necessary to remind us that the narratives, laws, and allegiances created by human beings, aren't always for human beings.
 
---
---
The Dance Enthusiast Shares IMPRESSIONS/our brand of review, and creates conversation.
For more IMPRESSIONS, click here.
Share your #AudienceReview of performances. Write one today!
---
The Dance Enthusiast - News, Reviews, Interviews and an Open Invitation for YOU to join the Dance Conversation.