Related Features
Contribute
Your support helps us cover dance in New York City and beyond! Donate now.
IMPRESSIONS: Rocío Molina's "El Aire Mueve" Presented by VIII Dutch Flamenco Biënnale 2021 with Eduardo Trassierra, Yerai Cortés, and Rafael Rodriguez Hidalgo 'El Cabeza'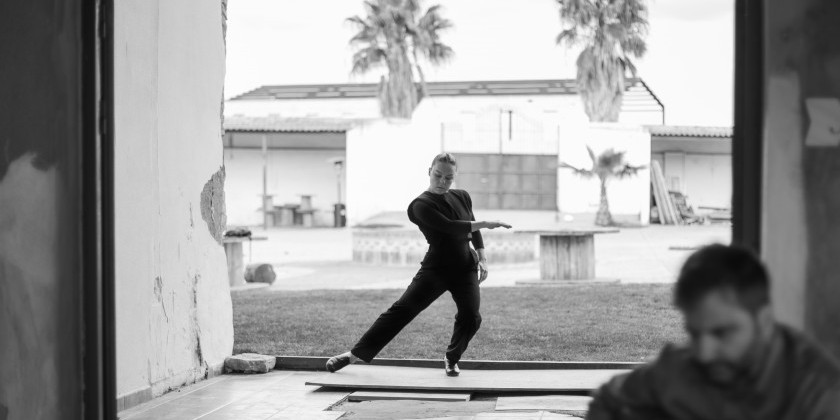 Dancer/Choreographer: Rocío Molina
Guitarists: Eduardo Trassierra, Yerai Cortés, Rafael Rodriguez Hidalgo 'El Cabeza'
Presenter: VIII Dutch Flamenco Biënnale 2021
Cinematographer/Sound Design: Félix Vázquez
---
Filmed on February 3, 2021, at the olive farm just outside Seville, Spain, that is Rocío Molina's home and studio known as Bollulos de la Mitación, this project was created for the Dutch Flamenco Festival in place of Molina's Al Fondo Riela. It was to be the live festival finale of this January/February 8 edition traveling to twelve cities in the Netherlands and Belgium, which had to be canceled because of Covid-19. Festival Director Ernestina van de Noort (Evdn) briefly introduces the project, quoting Molina, as un paseo, a stroll rather than a show. 
This enthralling stroll through the inner world of one of flamenco's child prodigies careens between dualities. Only artists, such as Molina, with a mastery of traditional and contemporary disciplines, can slip back and forth effectively between invention and contemplation to the tried and true.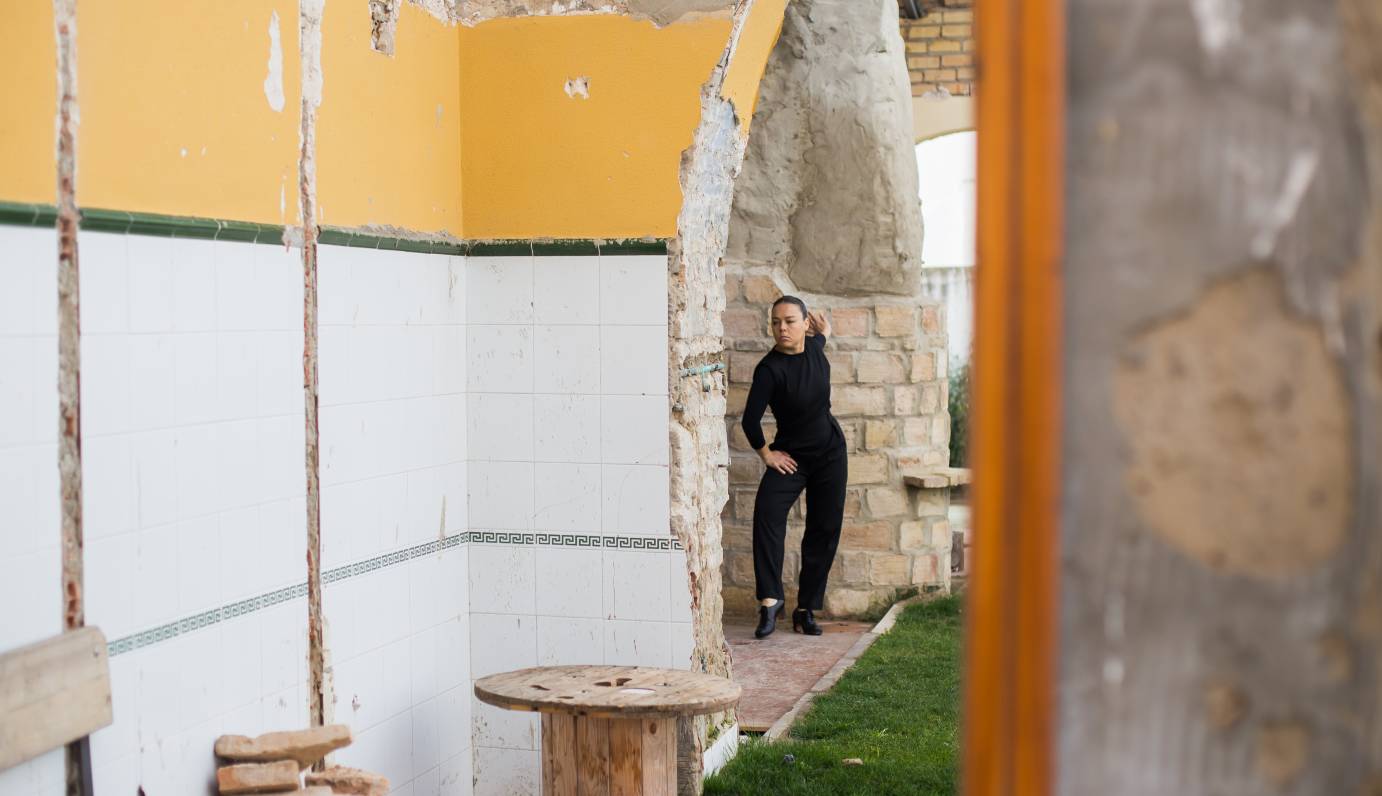 Rocío Molina's El Aire Mueve Presented by VIII Dutch Flamenco Biënnale 2021; Photo by Maria Agar
Framed by an arched passageway, Molina first appears as a sinuous silhouette in black pants and top on the grass of the courtyard accompanied only by birdcalls. With her hair pulled in a tight single braid down her back, she quietly calls to her guitarist Eduardo Trassierra to begin playing a Farruca. She hints at the chestnuts of the traditionally male solo as she makes her slow, direct approach into the tunnel, slicing the air with an arm or a sideward lunge, undercutting the severity with undulations of her torso, arms, and wrists. Stilling herself, she raises her arms in the grand old style, yet flipping one wrist up, the other down, a singular signal of her independence from the norm. Her footwork on the stones of the passageway spark, tastefully matching the guitar. Bringing her fists close to her torso, she shakes them like someone hissing YES! As the guitar repeats the last two notes, she slowly walks towards the farmhouse. The music fades as Rocio snaps a lemon off a branch. 
Now in a short, black skirt and a black polka-dotted shirt tied at the midriff (bought in a vintage shop in Amsterdam when she performed at the 2017 Biënnale as explained to Evdn), Molina enters a high-ceilinged room, greets Trassierra playing a Taranto, and finishes eating her fruit. Decked in an untucked silk shirt, a vest, and bandanna, Trassierra is at much at home in flamenco as Molina, both having been steeped in their studies of it since they were kids. They connect at their first steady gaze.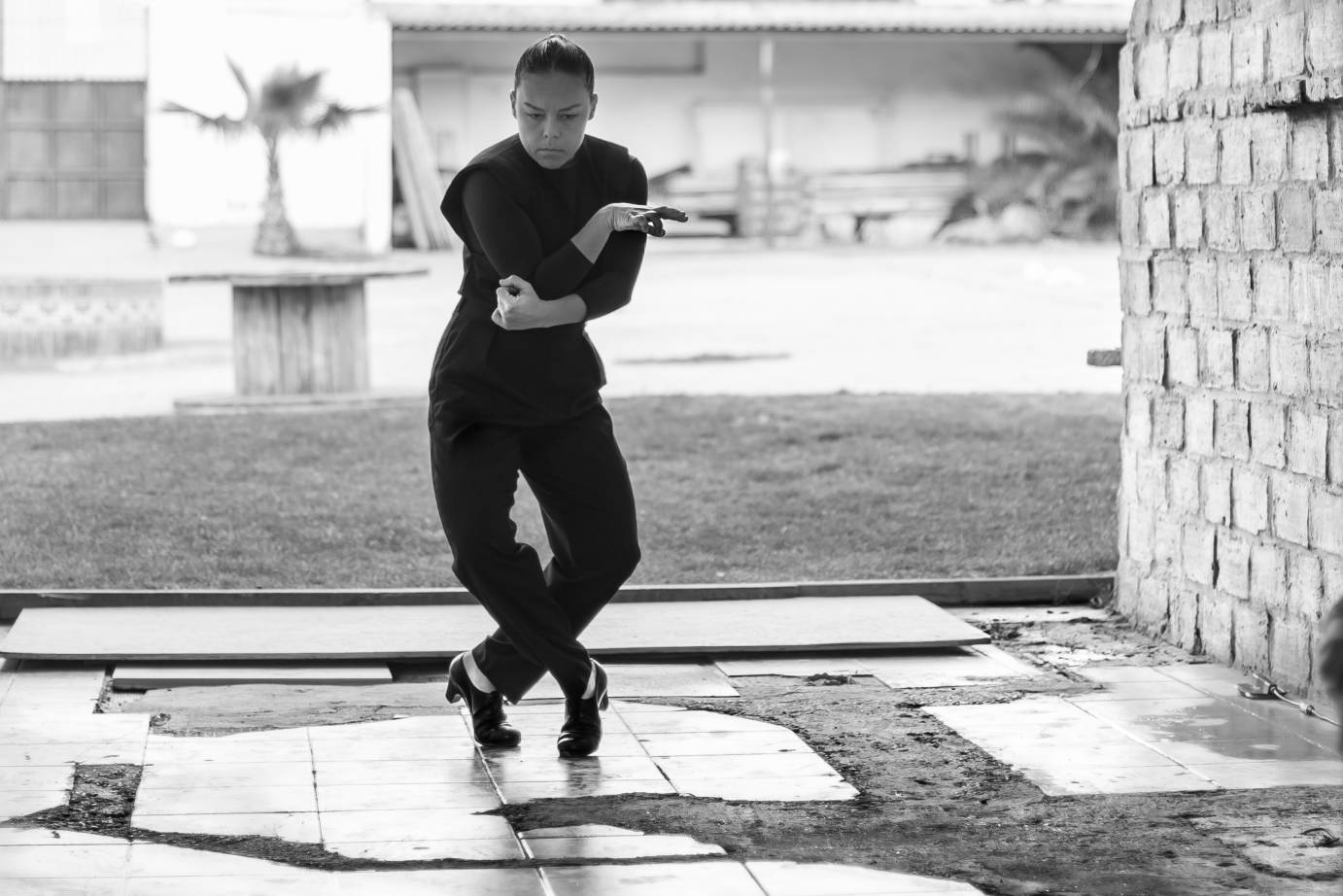 Rocío Molina's El Aire Mueve Presented by VIII Dutch Flamenco Biënnale 2021; Photo by Maria Agar
From the toss of a lemon seed, Molina makes an homage to peasant earthiness and erotic freedoms such as flinging a skirt crouch high. Molina gives the illusion of carrying her weight as though it were her house. She sways, tittering on tiptoe between the known and unknown before attacking the floor with her feet, equal parts speed and clarity, exactly in sync with Trassierra. 
She ends the solo calmly looking out the window, opens it, puts on cymbals, and unravels her braid. The camera circles the room once, twice, three times until we see Molina in another costume with another guitarist Yerai Cortés, who was born in 1995 in Alicante. In this Alegrías, though it resembles little the kind played in a flamenco club, Molina sharpens her focus with the dominance of a predator and the fury of the prey; she embodies both. Her arms circle forward like some kind of animal hungry to possess and swallow the energy in front of her.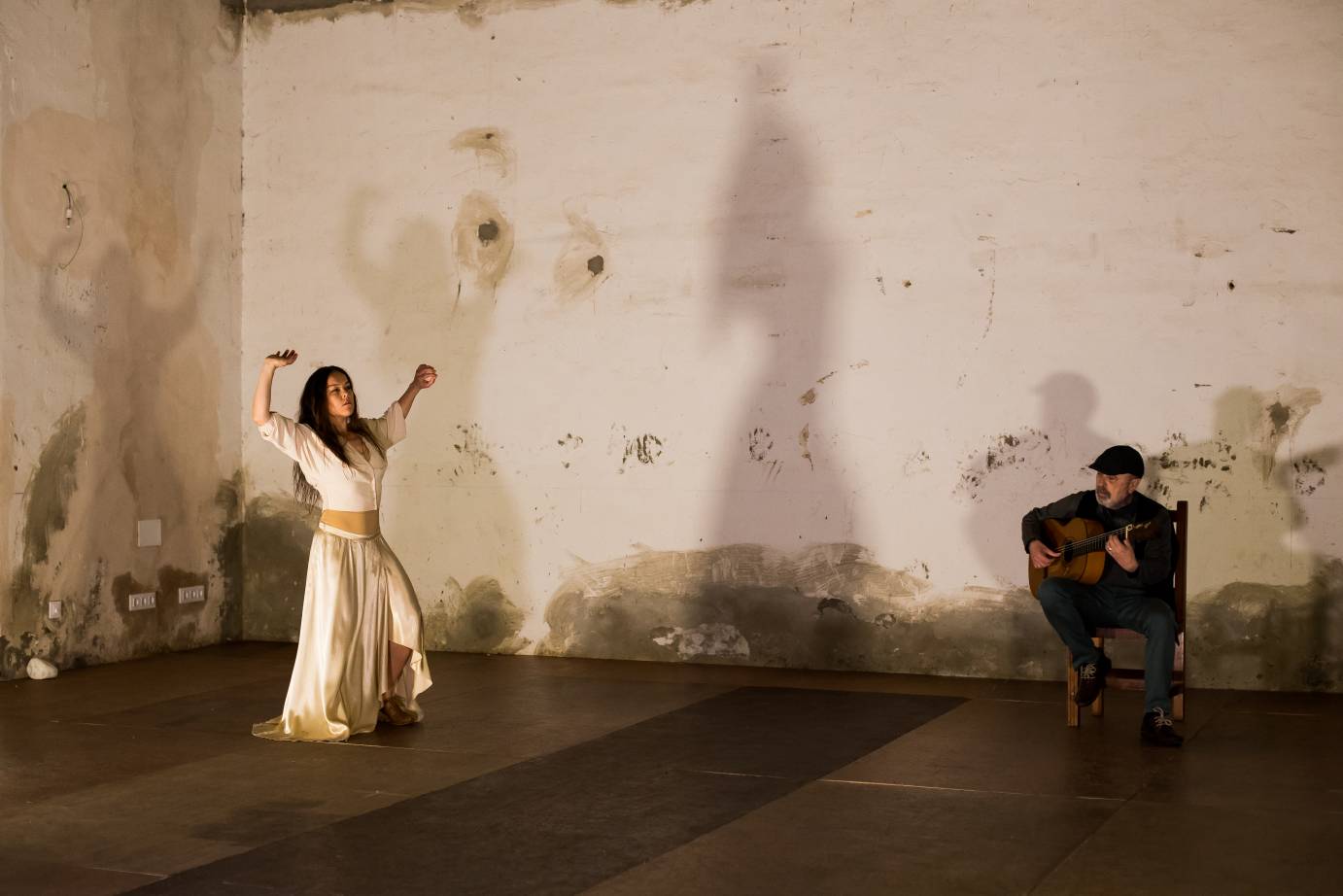 Rocío Molina's El Aire Mueve Presented by VIII Dutch Flamenco Biënnale 2021; Photo by Maria Agar
Once again, the window serves as a transition. After closing the window and releasing her hair, Molina appears in a satin skirt hung loosely from her hips, dragging on the floor, the shadows of her form chasing her as the most senior of the three guitarists, Rafael Rodriguez Hidalgo, El Cabeza, plays a Zambra. Your insides ripple in response to his masterful playing; his sound reverberates off the bare walls. Born in Sevilla in 1957, Rodriguez started studying flamenco at age thirteen with Andrés Vázquez at the school of Niños Ricardo, and then later, being a fan of Jimi Hendrix and Deep Purple, he played with rock bands. 
Dancing mostly with her eyes closed, Molina touches the air as though she is reading Braille; she responds to those floating messages with tiny twitches. The other solos seem like warm-ups for this thrilling seance. The lighting conjures memories of the John Singer Sargent flamenco painting of 1882, "El Jaleo," with its hue as soft as limelight. 
Molina counters the fierce aggression of the previous dance with a nearly complete surrender in this Zambra, a form reminiscent of the Arab presence in Spain. Actually, she stirs from her reverie to slap the floor and fling her head back; with her hair in her face, she cradles her head with seductive softness. This solo brings to mind Molina's program a few years ago at Baryshnikov Arts Center, in which she seemed as wild as Janis Joplin.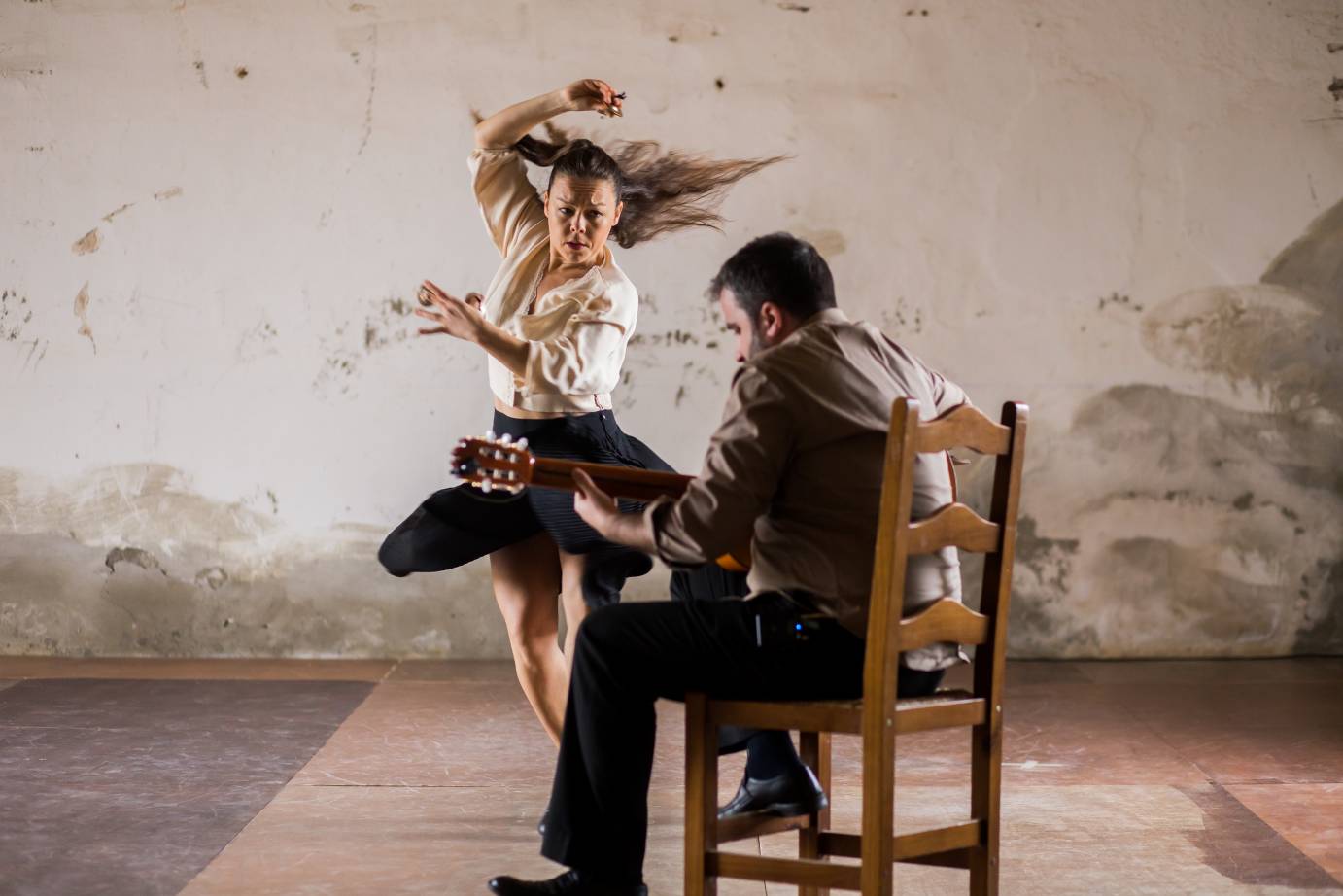 Rocío Molina's El Aire Mueve Presented by VIII Dutch Flamenco Biënnale 2021; Photo by Maria Agar
The camera pulls back as she opens the heavy old door to walk out into the twilight. The wind whistles; a dog barks in the distance. Molina walks down a dirt road, barefoot in white, her arms dangling by her side, like a sleepwalker. The cinematic potency proved irresistible to the editors who cut between Molina moving in real-time and shots in slow motion, soft focus, or in reverse as she wanders off between the olive rows. Rodriguez plays a Rondeña, as he sits outside by a light that makes the peeling wall more tangible, his playing impossibly romantic.
Feeling the dirt, lying in it, echoing the curve of the olive trees, Molina revels in her natural roots, perhaps another homage to the gypsies who created flamenco 200-plus years ago, their hard life sweetened by the poetry of their art. As night closes in, the camera stays on the road with Molina faintly visible as a ghost flickering in and out of sight. 
---
Molina will open the 8th edition of The Dutch Flamenco Festival on November 7, 2021 with Al Fondo Riela.
---
The Dance Enthusiast Shares IMPRESSIONS/our brand of review, and creates conversation.
For more IMPRESSIONS, click here.
Share your #AudienceReview of performances. Write one today!
---
The Dance Enthusiast - News, Reviews, Interviews and an Open Invitation for YOU to join the Dance Conversation.