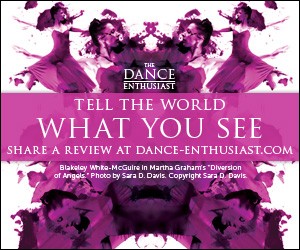 Related Features
IMPRESSIONS: Ronald K. Brown's Evidence at The Joyce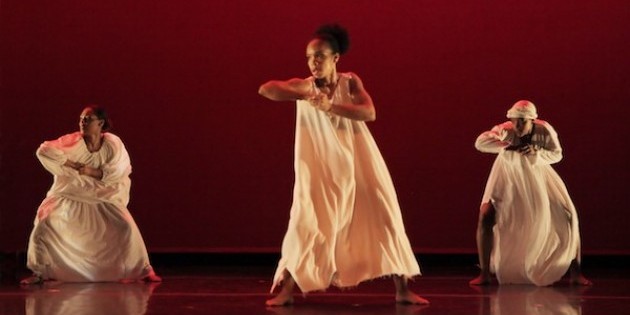 IMPRESSIONS: Evidence, A Dance Company
Order My Steps, Ife/My Heart, Incidents, Torch
Presented by: The Joyce Theater
Choreographer: Ronald K. Brown
Performers: Ronald K. Brown, Arcell Cabuag, Shayla Caldwell, Maresa D'Amore-Morrison, Coral Dolphin, Solomon Dumas, Otis Donovan Herring, Annique Roberts, Clarice Young
Lighting Design: Dalila Kee (Order My Steps, Ife/My Heart); Brenda Gray (Incidents); Clifton Taylor (Torch)
Costume Design: Omotayo Olaiya (Ife/My Heart, Incidents); Keiko Voltaire (Torch)
Music: Kronos Quartet and Bob Marley (Order My Steps); Ursula Rucker (Ife/My Heart); Staple Singers, Aretha Franklin, Wunmi (Incidents); Teddy Douglas & DJ Zinhle, featuring Busiswa Gqulu mixed by RKB (Torch)
February 12-17, 2013
February 25th, 2012
---
Erin Bomboy for The Dance Enthusiast
Evidence, an energetic, soulful dance company captained by Ronald K. Brown, reaches out and touches us. Brown's dances are designed to extract maximum emotion, by creating work that leaves a bold imprint. His powerful tool of persuasion is his presentational movement style. Nimble weight changes thrust into the floor and flexible torsos writhe and wriggle. The West African-inspired steps, peppered with snippets of ballet and social dance, are exuberantly rhythmic.
The opening piece on the A program,
Order My Steps
, exhibits this premise in its first moments; Solomon Dumas, in a tangerine-colored tank top, strides onto the stage clutching his heart, emotion etched on his face. He seduces with a lyrical solo chockfull of splendid pirouettes and charged gestures before the full cast joins the redemptive
narrative.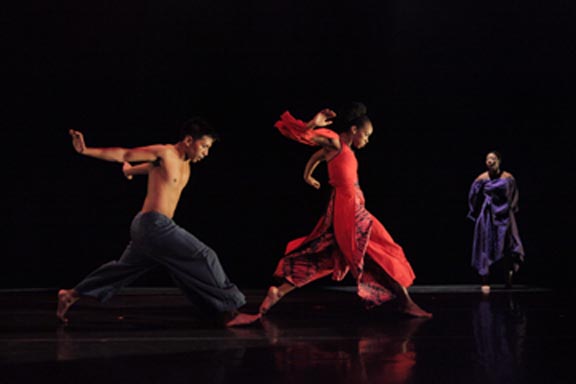 Ronald K. Brown's Evidence in Upside Down Photo Ayodele Casels
Ife/My Heart, a solo danced by Alvin Ailey's marvelous Matthew Rushing, emphasizes both the irresistible possibilities and inherent limitations of Brown' specific styling. Tethered to center stage, Rushing appears an endless rippling blur as his body pops and undulates. It's exciting at first but grows dynamically and spatially static.
Brown seems to have a clear recipe for assembling his dances. He opens with a slower, more meditative montage before transitioning into a flurry of cadenced movement. Torch, a world premiere dedicated to the memory of Brown's friend Beth Young, echoes this format. Annique Roberts, a preternaturally composed performer, clambers on top of the shoulders of the gathered company before death-dropping into their arms. The dancers spend the remainder of the piece grooving to the clubby South African sounds of Teddy Douglas and DJ Zinhle. Torch is beautifully danced and enormously infectious, but it draws attention to Brown's repetitively blocky dance construction.
 
Ronald K Brown's Evidence in Incidents; Photo Ayodele Casel
Much of Brown's work moves to poignant, pop-inflected music. In Order My Steps, the company performs to Kronos Quartet and spoken text by Brown, then segues into a spirited finale set to Bob Marley's "Exodus". The contrast between the sparse strings and the inspiring message of Marley underscores the premise of the piece, which explores individuals struggling and stumbling through life before discovering their true purpose. Still, at times, Brown's musical choices smother the point. In Incidents, an all-female piece inspired by historical texts about the lives of slaves, the emotional potency of the dancing is lost due to the proliferation of extraordinary, heart-twisting songs by the Staple Singers, Aretha Franklin, and Wunmi. The movement seems extraneous.

While Brown may not always win your heart, he overwhelmingly succeeds at creating dance that is joyful, accessible, and distinctive.
---
The Dance Enthusiast Shares IMPRESSIONS/our brand of review, and creates conversation.
For more IMPRESSIONS, click here.
Share your #AudienceReview of performances. Write one today!
---
The Dance Enthusiast - News, Reviews, Interviews and an Open Invitation for YOU to join the Dance Conversation.