IMPRESSIONS: Rovaco Dance Party 2022, in Which The Dance Enthusiast Experiences the Warmth of Indian Hospitality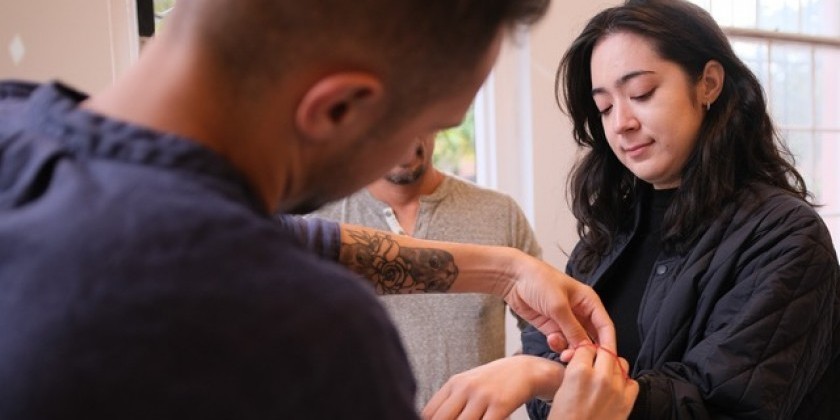 Performance Date: September 25
Venue: Triskelion Arts
---
Award-winning choreographer Rohan Bhargava's Rovaco Dance Party 2022, now in its fourth iteration, invites the viewer to experience the warmth of Indian hospitality. Upon entering Triskelion Arts, we become Bhargava's guests. A Kalava (the protective red thread representing wellness and prosperity) is tied around our wrists while Indian refreshments are proffered on Triskelion's outdoor patio. Agarbattis (Indian incense) perfumes the air as DJ Kazvma (the choreographer Cameron McKinney, The Dance Enthusiast review) plays Lizzo and remixes popular songs such as Outkast's Roses. The mission of the Dance Party, explained by Bhargava, is to offer guests an experience of Indian culture while providing performance opportunities for South Asian artists.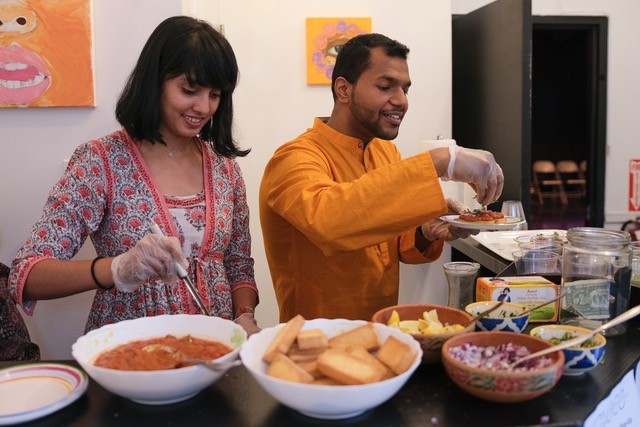 Chef Ashmita Biswas, who prepared Indian snacks for the evening, and events manager Shivam Goel; photo by Alice Chacon
Bhargava, the artistic director of Rovaco Dance Company and our host for the evening, beams with easy-going affability from his 150-watt smile. He is so darned likable. Primed for an evening of discovery and fun, guests respond with vigorous clapping and happy, expectant faces. The Brooklyn community that he built after moving to New York from India comes together to offer their support.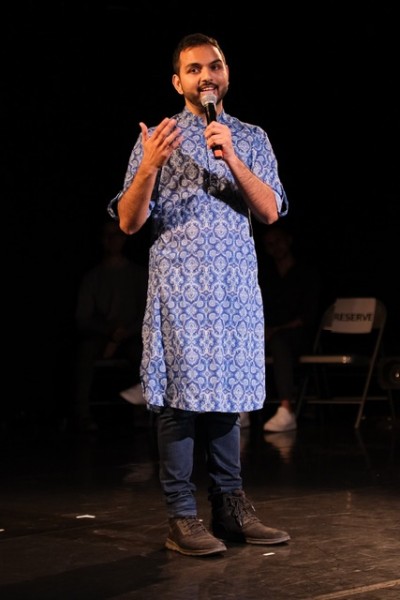 Choreographer and host, Rohan Bhargava; photo by Alice Chacon
Bhargava's forthright desire since 2020, as expressed in his remarks, is to shed the 'British colonial' influence of his New Delhi upbringing and embrace the constrained Indian part of himself. Though the British relinquished control of India in 1947, after 200 years of rule, vestiges remain. According to Bhargava, to be associated with Western culture is to be sophisticated. This may be a matter of caste, the country's system of hierarchy that is part of the Hindu religion. Although now illegal, the caste system remains unofficially in evidence. Higher castes are wealthier and more apt to afford expensive western offerings. 
Homosexuality (Bhargava is queer) was said to be tolerated before British rule. The British established a law criminalizing homosexuality, that after nearly 150 years, was finally struck down in 2017 by the Indian Supreme Court. Though there are active LBGTQ communities in cities, gay marriage is still illegal, and queerness is not fully accepted. The challenge of growing up queer in India, says Bhargava "has pushed me to address the taboo of sex and relationships and to give voice to queer narratives through my work." His search for a fully authentic embodied identity has become paramount. 
Six offerings were introduced, three dances choreographed by Bhargava, and three music events. The final duets of music and of dance were the strongest of the evening.
Dancers Anna Pinault and Devika Chandnani in Rohan Bhargava's Waada (Promise); photo by Alice Chacon
Against the backdrop of heightened social protest dances in the US, Bhargava's work appears tame. Waada (Promise) opened the evening.  Performed by two women, the dance is an updated version of The Wedding (2015) choreographed by Bhargava, and originally danced by him and another man. Deep lunges, rhythmic shoulder shrugs, splayed fingers, and the grabbing of wrists interrupt the sense of flow between Anna Pinault and the captivating Devika Chandnani. Purportedly a queer love duet (although any gender could be substituted) the dancers wrap one inside the other, lift each other, caress a shoulder, and mildly exist in one another's orbit with momentary flashes of strife. Nuances in the movement reflect gestures found in both Indian classical dance and postmodern work. This early Bhargava work puts forward a serviceable depiction of a couple who experience the vagaries of a comfortable life.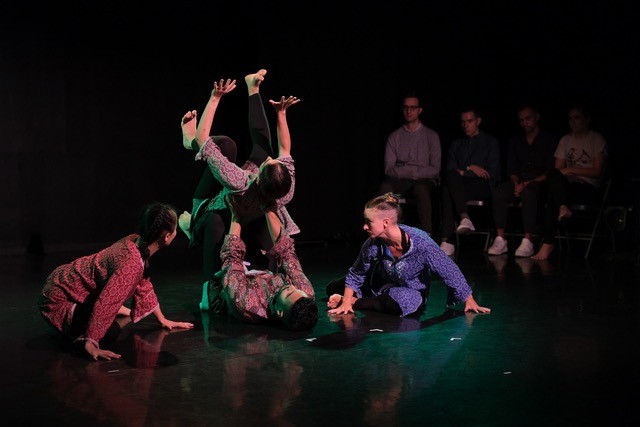 (L-R) Karma Chuki, Siddhartha Dutta, Devika Chandnani, and Isabele Rosso in Madaari (The Monkey Master), choreographed by Rohan Bhargava; photo by Alice Chacon
Bhargava's work in progress, Madaari (The Monkey Master), a quartet danced by Chandnani, Siddhartha Dutta, Karma Chuki and Isabele Rosso, is set to Venezuelan composer Saul Guanipa's composition based on Roz, by indie Indian singers Ritviz & Nucleya. The dance —at this point an amalgam of forms including Bollywood, hip-hop, contemporary, and street jazz— reflects Bhargava's studies of western genres since age seven. Madaari also recounts his experience of Indian street performers and their monkeys, showing the ways in which humans subjugate, control, and possess. Memorable abstract kissing or chewing each other's torsos, hugging, and escaping movements come to the fore. Gestures recalling the maxim of the three wise monkeys who "see, hear, and speak no evil" develop into larger, rhythmic movements.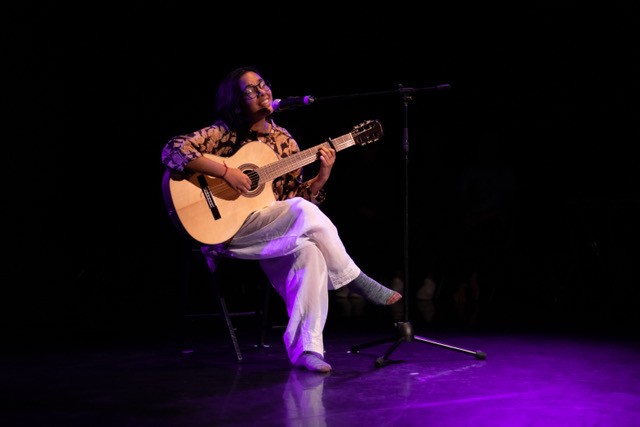 Guitarist Ria Modak; photo by Alice Chacon
The musical offerings were especially strong. The popular Indian American activist and accomplished classical guitarist, Ria Modak, piquantly accompanies their clarion singing of ghazals (brief love poems originating in Arabic poetry). Modak recounts the road to equilibrium after a recent breakup as "surrendering to the divine, taking one foot in front of the other." Erik Gundel's, guitar and electronic sampling, "a work continually in progress", featured nature sounds on synthesizer, and expert guitar playing contrasting with one extended underlying note. 
Guitarist Erik Gundel; photo by Alice Chacon
Riveting was the superb saxophonist Max Bessesen and drummer Stephen Boegehold. Bessesen's three works inspired by movement, Fluttering/Folding, A Dim and Foreboding Dawn, and Cellar Dance, evoke a flinty and surprising sound that carries the listener on far-ranging emotional odysseys. Bessesen, who studied music in India, is unafraid to push his range and individual expression. 
Saxophonist Max Bessesen and drummer Stephen Boegehold; photo by Alice Chacon
Aaiye (Welcome), the delightful final dance duet, most directly and successfully captures the singular Bhargava sense of hospitality and humor. This performance work was a satire on overfeeding, a key element of Indian hospitality, especially by grandmothers, mothers, and 'aunties'. Woven seamlessly, a series of playful vignettes inspired by Nukkad Natak (a style of Indian street theater) amble with good-natured hip shaking and slapstick.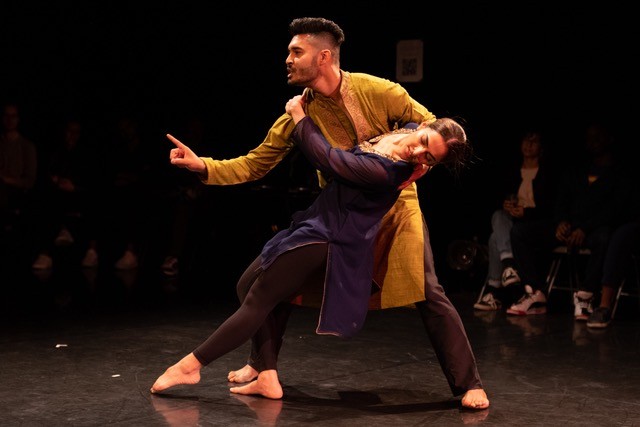 Devika Chandnani and Siddhartha Dutta in Aaiye (Welcome), choreographed by Rohan Bhargava; photo by Alice Chacon
A hand is offered by Chandnani to the charming Dutta but is revoked as he reaches. In turn, Dutta offers his hand and with perfect timing pulls it back when she reaches. Ha, they're even.
The work ends with the artists encouraging guests to take to the stage to dance. Accompanied by DJ Kazvma, Rovaco Dance Party 2022 everyone dances the night away.
Guests at Rovaco Dance Party 2022; photo by Alice Chacon 
Having left a culture that both nourished and repressed, Bhargava is searching to mend this bifurcation. He is nearing a sense of self and discovering new ways to articulate his movement ideas. Though not yet fully realized, Bhargava is on his path and with time and fortitude, his work should come to ample fruition.
---
The Dance Enthusiast Shares IMPRESSIONS/our brand of review, and creates conversation.
For more IMPRESSIONS, click here.
Share your #AudienceReview of performances. Write one today!
---
The Dance Enthusiast - News, Reviews, Interviews and an Open Invitation for YOU to join the Dance Conversation.