IMPRESSIONS: Sean Donovan and Sebastián Calderón Bentin's "The Reception" at HERE with Jane Comfort, Leslie Cuyjet, Hannah Heller and Ishmael Houston-Jones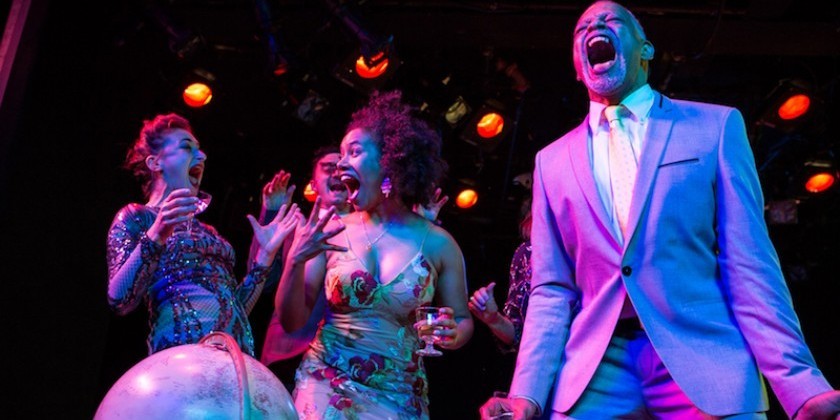 June 23, 2017
HERE, New York, NY
Created: Sean Donovan and Sebastián Calderón Bentin in collaboration with the company
Co-Directed: Sean Donovan and Sebastián Calderón Bentin
Performed: Jane Comfort, Leslie Cuyjet, Sean Donovan, Hannah Heller, Ishmael Houston-Jones
Set Design: Neal Wilkinson / Costume Design: Felix Ciprián
Lighting Design: Amanda K. Ringger / Sound Design: Brandon Wolcott and Tyler Kieffer
Stage Managed: Randi Rivera / Assistant Stage Managed: Caroline D'Angelo /Technical Direction: Carl Whipple
---
Yes, I'm here for the reception!
Sean Donovan and Sebastián Calderón Bentin's The Reception presented by HERE ignites party-vibes and acts as the perfect escape for wallflowers.  
Patrons arrive to bright lights and the syncopated thumping of club music. A sleek circular wooden platform floats in the center of the room. Atop this pedestal sits an assortment of household items: an illuminated world globe, a two-sectioned sofa, a woven rug, a nautical signal tripod, and crates of glass jars jammed with colorful contents. Bottles of wine and drinking glasses ricochet light off of silver serving platters on a table nestled to the side.
The cast calmly walks to their places. Shades of indigo hug their frames as they slip into a long suspension. They snap from this dream state into emphatic partygoers: wiggling, gyrating, and chatting while sipping of sloshing liquid.
Each participant adds to the collective euphoric vibe like coasting on a broken roller coaster in a land of lollipops and libations. Under this fun, though, lies an ominous foreboding.
L-R: front: Hannah Heller, Leslie Cuyjet, Jane Comfort; back: Sean Donovan and Ishmael Houston-Jones. Photo: Maria Baranova
Their conversations become audible. Jane Comfort animates about ageism, Leslie Cuyjet recalls a tale of street harassment, Hannah Heller agonizes about the state of her "brand," Ishmael Houston-Jones throws shade to million-dollar condos in Alphabet City, and Donovan obsesses about tarts. In a tragic loop, these scenes repeat with increasing exacerbation.
A perilous sound galvanizes everyone, except Heller, to push the furniture to the edges of the space. She doesn't hear anything and jams her head into the sofa cushion with uncertainty. They reconvene for a dance sequence, accumulating in and out of unison, walking back and forth along a straight line facing the audience. Biceps press into their sides, hands relax, knees soften, step together, step cross.
The sinister sound returns, and they find the source underneath a floorboard. Neon blue light spills from the now-empty rectangular space. Frantically, they return the plank and pile all the furniture on top. If they suppress it, then it's not real.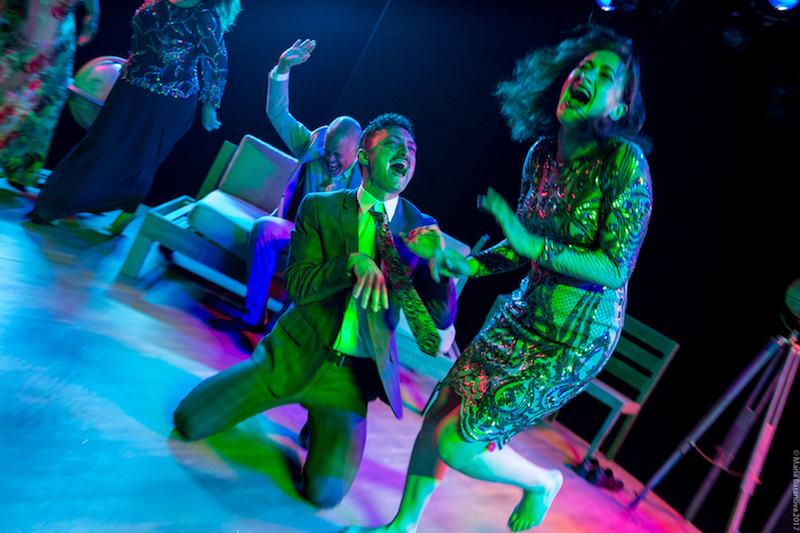 L-R: Ishmael Houston-Jones, Sean Donovan and Hannah Heller. Photo: Maria Baranova
They manage several walking revolutions around the stacked mass. Each meditative pass is punctuated with changes to their focus and body positions. We've returned to another loop.
So enthralling is this moving sedation that a new transformation almost escapes our consciousness. The platform becomes a ship with a giant sail. The creaking of wet planks circles us with buoyant sound waves.
The performers respond with unified delight and suppressed recognition of the impending shipwreck. They remain comfortable, yet weary in the company of their tipsy comrades. Lights fade, and only the glow of the world globe remains.
We are left to contemplate the consequences of their conduct. If we are all on this sinking ship, do we party on the way down or build a life raft? Given our current political climate, my vote (and I think Donovan and Bentin would agree) is for the latter. The uncertainty of their survival mimics our own. It's unclear if they persevered or perished.
---
The Dance Enthusiast Shares IMPRESSIONS / our brand of review and Creates Conversation.
Check out our other IMPRESSIONS here.
Share your #AudienceReview of this show or others for a chance to win a prize.