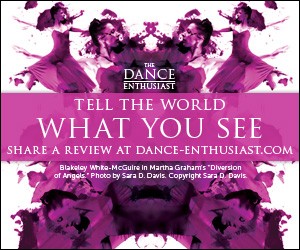 Related Features
IMPRESSIONS: Sneak Preview of Jen Abram's "Any Resemblance"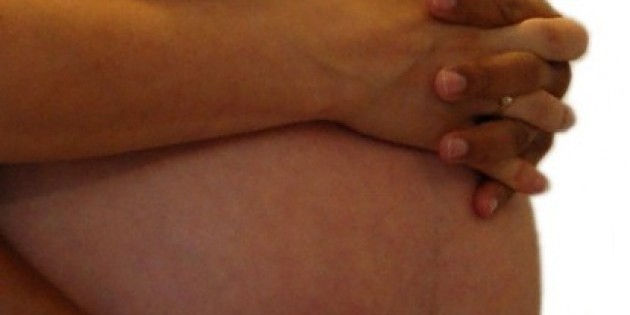 IMPRESSIONS: Jen Abrams
Any Resemblance
A work in progress: PREVIEW
Preparing to premiere in June 2013 at La MaMa Experimental Theatre
Performed by Jen Abrams and Maria Bauman
Devised by Jen Abrams, in collaboration with Maria Bauman, Lindsay Comstock, Syreeta Mc Fadden and Matt Tennie
Video by Matt Tennie
October 2012
---
Trina Mannino for The Dance Enthusiast
It's not every day that an artist invites strangers, friends and colleagues into her kitchen to show her latest dance creation. But this evening about ten of us settle in the apartment Jen Abrams' shares with her wife, Katherine Pradt, to witness Any Resemblance.
The work is one episode of a multi-part series exploring the fictional lives of Maddy (Maria Bauman) and Audrey (Abrams), a same-sex, interracial married couple as they navigate the joys and obstacles related to the pregnancy of their first child. (In real life Abrams is also currently pregnant.) Tonight we are introduced to Audrey in her eighth month.
"It's really important to me and has been for a long time to put queer people in my work as a normative, but not to point to the 'queerness' in particular," says Abrams. 
She believes there are many aspects of their relationship that soon-to-be parents face, whether they are queer or straight. Those are worth investigating.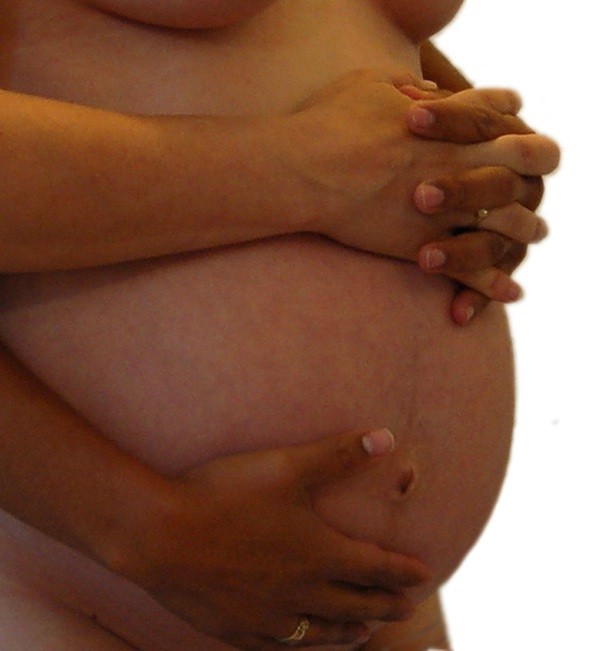 Photo Courtesy of Jen Abrams
With yellow cabinets, an island on wheels, parsley laid out on a cutting board and grapes in a big glass bowl, the scene is ready to unfold. It looks so familiar that I wonder where my own mother is in this story.
"Lights up," is called out and Audrey walks in the door with a bright, "Hi babe" to her partner, Maddy. Their chemistry is palpable yet tender.
"I was a little anxious about that," says Bauman about their chemistry.  "Jen and I are great friends but to take on that specific intimacy that's about being married to someone is a whole other level of commitment."
When a touchy subject is introduced such as when Audrey (Abrams) says, "I feel fat," Maddy (Bauman) wriggles between Abrams' pregnant belly and the countertop without touching either and tenderly wraps her arms around Abrams' middle. This moment is so intimate and revealing it need not be translated in words.
In another instance,
Maddy
(Bauman) confesses that she fears that their child will look like her birth mother - white. One of the most challenging aspects of the work for both artists is to have a candid ongoing dialogue about the role of race in the project.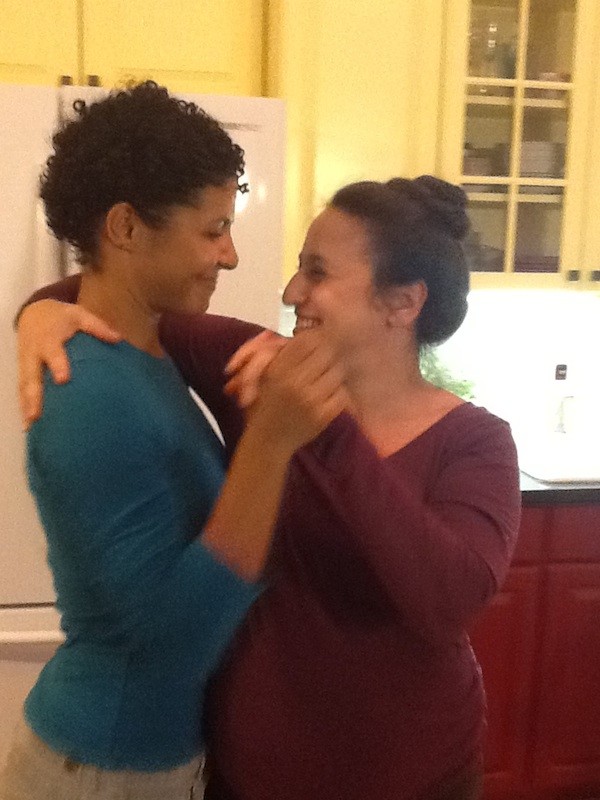 Maria Bauman and Jen Abrams ;Photo by Trina Maninno
"I think it's scarier than a nude scene," says Abrams when I ask how she and her collaborators discuss race relations.
To deal with the issue in a diplomatic way, Abrams stated ground rules prior to the first rehearsal. Collaborators are encouraged to speak up when something makes them uneasy, and they don't judge someone if they raise a difficult point or make someone momentarily uncomfortable.
Abrams and her collaborators have a knack for seamlessly integrating movement, dialogue and video in their work.  Any Resemblance is more similar to television than traditional concert dance or theater, albeit it in a highly conceptual format.
Videographer, Matt Tennie, enriches our viewing experience as he projects abstract images of Abrams' naked pregnant body in a bathtub and displays characters' thoughts like "she will love her birth mother more" on the refrigerator. We enter our characters world.
Any Resemblance will premiere in its entirety in June 2013 at La MaMa Experimental Theatre, and will span 28 days to coincide with a full ovulation cycle. It will not only include live performances such as this one, but will feature the characters' blog and Facebook posts. The social media component was conceived while Abrams was brainstorming ways in which she could draw an audience and keep them engaged. She turned to a surprising source for inspiration.
"What's going on with those shows that allow them to draw people in all of the time?" asks Abrams, referring to cult television hits such as
Mad Men
and
Battlestar Galactica
.  "It's that they have ongoing narratives and the ability to time shift."
We will be there as
Maddy
and
Audrey
go for doctor visits, speak to their sperm donor and express their hopes and fears for their child. These storylines appear to be perfect water cooler fodder, but more importantly, they share an intimate look at what any American family today experiences when trying to have a baby.  
For more info on Jen Abrams
Click
here
---
The Dance Enthusiast Shares IMPRESSIONS/our brand of review, and creates conversation.
For more IMPRESSIONS, click here.
Share your #AudienceReview of performances. Write one today!
---
The Dance Enthusiast - News, Reviews, Interviews and an Open Invitation for YOU to join the Dance Conversation.