Related Features
Contribute
Your support helps us cover dance in New York City and beyond! Donate now.
IMPRESSIONS: Two Takes on South American Dance — Companhia de Dança Deborah Colker and Che Malambo at the Joyce Theater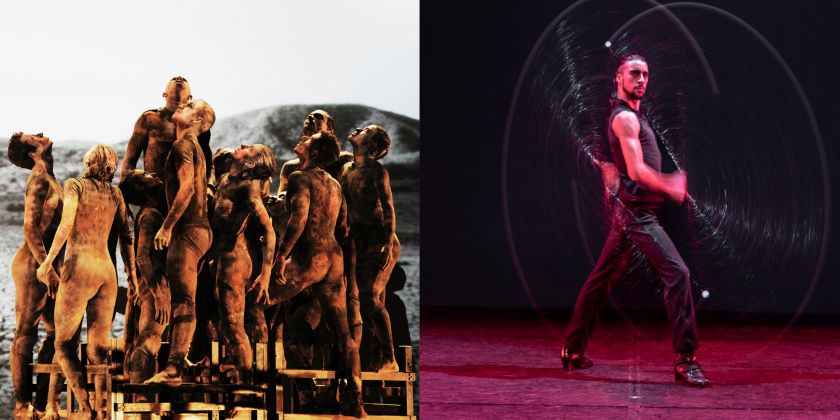 Companhia de Dança Deborah Colker on February 8, 2020
Choreography: Deborah Colker // Music: Jorge Du Peixe and Berna Ceppas // Film Direction: Deborah Colker and Claudio Assis
Dancers: Angelica Bueno, Bianca Lopes, Gabriel Guimaraes, Guilherme Gomes, Jaime Bernardes, Leony Boni, Luan Barcelos, Luisa Vilar, Mozart Mizuyamal, Olivia Pureza, Phelipe Cruz, Pilar Giraldo, Vitoria Lopes, Yasmin Mattos
---
Che Malambo on February 11, 2020
Choreography, Staging, Lighting, and Musical Composition: Gilles Brinas
Dancers: Federico Arrua, Fernando Castro, Francisco Ciares, Claudio Diaz, Franco Martinez, Federico Gareis, Walter Kochanowski, Matias Gallardo, Gabriel Lopez, Matias Gimenez, Matias Rivas, Fernando Jimenez
---
Regional flavors are topping the Joyce Theater's dance menu this season. Recent performances by the Brazilian Companhia de Dança Deborah Colker and Argentinian Che Malambo both channeled local narratives in diverse, multi-dimensional ways.
Colker's company performed Cao Sem Plumas (Dog Without Feathers), a decorative dance and video installation inspired by Joao Cabral de Melo Neto's celebrated poem of the same name. Colker is candid about her motivation to chronicle the customs of the Capibaribe River in the city of Recife. Embodying swamp-like creatures, the dancers are clad in dark unitards and covered in muddy brown makeup from head to toe. Over eight vignettes, the performers evoke a variety of fauna and showcase avian gestures, bobbing their heads and fluttering fictional wings.
Companhia de Dança Deborah Colker; Photo by Cafi
Throughout the hour-long work, a large-scale film projects onto the back wall and, at times, onto to the dancers themselves, creating layers of texture. Colker co-directed the cinematography with filmmaker Claudio Assis, and their video features extreme close-ups and high-resolution images of the soil, river, local residents, and dancers caked in mud. The film eventually profiles the sugar cane industry, which has historically damaged the native lands of Brazil. 
The choreography mixes together contemporary ballet vocabulary — pirouettes, arabesques, and grand jetés — with regional dances such as those of the Maracatu festivals. The athletic dancers beat the ground like a drum with their hands and bounce into twisting jumps, switch leaps, and capoeira kicks. Jorge Du Peixe and Berna Ceppas collaborate on the score, which includes samba mixed with electronic synthesizers to bring together the sonic past and present.
Companhia de Dança Deborah Colker; Photo by Cafi
 As the first female choreographer for Cirque du Soleil's Ovo (2009), Colker is adept at integrating stagecraft into movement. Gringo Cardia's stunning sets transform the stage into the wetlands. In one scene, long fabric strips hang from above to create a grassy sugar cane field. In another, grid-like cages encroach upon the dancers' space, symbolizing the invasion of farm technology into the forest.
The poem guides the piece, but even without referencing it directly, Cao Sem Plumas sends clear messages about environmental destruction. Colker states in the program notes, "I did not intend Cao Sem Plumas to be political, but it ends up being so . . . It is my most explicitly Brazilian work. The show is about inconceivable things . . . we destroy nature, children, everything that is full of life." 
Companhia de Dança Deborah Colker; Photo by Cafi
Colker's display of devastation provokes the audience and pulls at the heartstrings of those seeking a greener world. However, the metaphor remains solely onstage and lacks a direct call to action. Supporting information in the program or links to organizations that are working to prevent environmental ruin would have fortified Colker's message and made her piece all the more effective.
Che Malambo, an all-male percussive dance experience, takes a different approach to cultural exhibition. The company reinvigorates Zapateo, the 17th-century dance of Argentine gauchos (cowboys) from the Pampas region. Performing rhythmic footwork, drumming, and lasso-throwing, the cast of twelve takes the audience through an Argentinian country tale.
Che Malambo; Photo by Frank Wiesen
Gilles Brinas, originally a French classical dancer and choreographer, is the conceiver, artistic director, and lighting designer for the production. He became enamored by the traditional Malambo form and auditioned dancers throughout Argentina to create this world-touring ensemble.
In contrast to Colker's piece, these sets and costumes are simpler. Throughout the eighty-minute performance, the men wear the same black tight-fitting pantsuits with sleeveless tops. Besides an array of colored lighting, there is neither a backdrop nor a video installation. 
Each performer has a distinct character. For example, Matias Gallardo is serious and competitive while instigating a duel. Franco Martinez jokes around in satirical phrases.  
Che Malambo; Photo by Frank Wiesen
The percussion of the feet, the hand-held bombo drums, boleadoras (lassos with stones at the end), and some occasional yelling generate the score except for one musical interlude where two dancers play the guitar. However, most of the show focuses on the body's ability to create sound.
While the program notes state that the footwork imitates the sound of the gauchos' horses, the choreography seemed similar to flamenco and Irish-step dancing. The percussion itself was impressive, but not original. Showcases of Japanese Kodo drumming and even productions like Stomp or the Israeli Malumana have tried this format before.
Che Malambo displays its uniqueness in the lasso work. The men circle them at high speeds and even grip the whips with their mouths. One daredevil showman, Walter Kochanowski, flings the lasso so close to his head that it launches a spray of sweat like little sparked explosions.
Che Malambo; Photo by Diane Smithers
More political and provocative, Colker's work fit seamlessly in a concert setting. Che Malambo had less narrative structure, and its virtuosic style would have better suited a stadium or outdoor festival.
When programming international companies in New York, it seems trendy for venues to feature culturally identifiable elements or themes. The regional issues of Brazil and Argentina can shock and awe, but by only presenting the most iconic or spicy images of a country, the presenters often omit more nuanced, individual stories. Perhaps there exists a fear of the marketability of subtler cultural expression, but theaters need to put more faith in their audiences. The most effective performances are not those that scream out boldly, but instead examine complex characters, deep storylines, and universal truths.
---
The Dance Enthusiast Shares IMPRESSIONS/our brand of review, and creates conversation.
For more IMPRESSIONS, click here.
Share your #AudienceReview of performances. Write one today!
---
The Dance Enthusiast - News, Reviews, Interviews and an Open Invitation for YOU to join the Dance Conversation.