Related Features
Contribute
Your support helps us cover dance in New York City and beyond! Donate now.
IMPRESSIONS: TOOL IS LOOT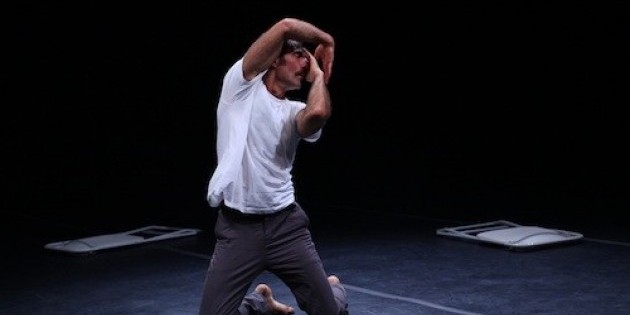 IMPRESSIONS: TOOL IS LOOT
at The Kitchen
September 30th, 2011
Choreography, Libretto, and Performance: Wally Cardona & Jennifer Lacey
Original Musical Score: Jonathan Bepler
Lighting Design: Thomas Dunn
---
Connecting the Dots
By Cory Nakasue
As soon as I took my seat and skimmed my program, I knew this piece would involve a constellation. Was it the fact that an astrophysicist (among other experts like sommeliers and architects) was involved in the process of making
Tool Is Loot
? Was it because last year (almost to the day) I saw a section of this piece in process at EMPAC based on a meeting with an astrophysicist? Am I psychic?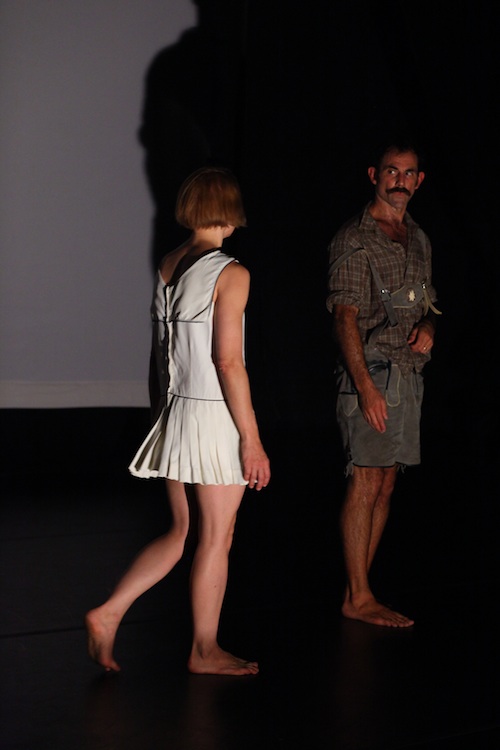 Photo ©Paula Court  
The answers: Yes. Probably. I don't think so, but I'm highly impressionable. And none of it really matters anyway.
Wally Cardona and Jennifer Lacey created this piece with an ocean between them and under the influence of "encounters," with non-dance specialists; none of the material actually appearing in the finished work. However, the fingerprints of these "outsiders" as they're called in the program are all over this Rubik's Cube of a piece. The rigorous research process of these encounters that were made into several solos before the final evening-length work is impressive, but invisible—the effect being more of a marinade than an actual ingredient.
---
The multidimensionality of
Tool Is Loot
is mind-boggling while being stealthily poignant. Whether we're watching Lacey's intimate conversation with a chair (and bravo for the commentary on the ubiquity of the folding chair in contemporary dance) or Cardona's physically broader compendium-of-all-human-
Photo© Paula Court
experience, you are moved. You are in the hands of dance insiders and experts of composition.
The piece is revealed in episodes, mostly solos and sparingly used duets that reprise and evolve as if reincarnating from alternate worlds. The solo that you thought was a re-enactment of a melodramatic film (a la silent films of the 1920s) comes back to haunt you quite literally, as a Rumi-esque meditation on loss, and then shape-shifts into a bit silliness that goes berserk and peters out.
---
The movement material and performances more than stand up to the monumental structure and vision of the piece; no mean feat considering the mind altering lighting design by Thomas Dunn and wildly diverse sound program by Jonathan Bepler. Lacey's unfaltering ability to be absolutely present within each moment and interaction is eerily authentic. Cardona's blend of emotional specificity and physical dynamism is arresting to say the least. Whether they are simulating love-making with folding-chairs or simply folding chairs, they are compelling performers. Both are able to seamlessly weave in and out of theatricality, the abstract, and the Meta. For instance during moments when the solos are performed to voiceovers that describe the movement on stage, they are able to walk a fine line between expressivity and literality. Most importantly they areable to create a sense of intimacy and vulnerability amid a circus of cerebral gymnastics.
The climactic ending has no movement and no performers. Just us, the audience, held captive by our own physical sensation, immersed in white lights and escalating sound. Was there a constellation?
Photo© Paula Court
You betcha, right at the end, along with the crescendo of the Big Bang and the birth of galaxies. I felt connected to everyone in the theater, every lighting instrument, and every speck of dust on the floor…a very Carl Sagan moment.  
A testament to the fact the most personal things in life are often the most universal.
---
The Dance Enthusiast Shares IMPRESSIONS/our brand of review, and creates conversation.
For more IMPRESSIONS, click here.
Share your #AudienceReview of performances. Write one today!
---
The Dance Enthusiast - News, Reviews, Interviews and an Open Invitation for YOU to join the Dance Conversation.