Related Features
Contribute
Your support helps us cover dance in New York City and beyond! Donate now.
IMPRESSIONS: The Soft Light Signature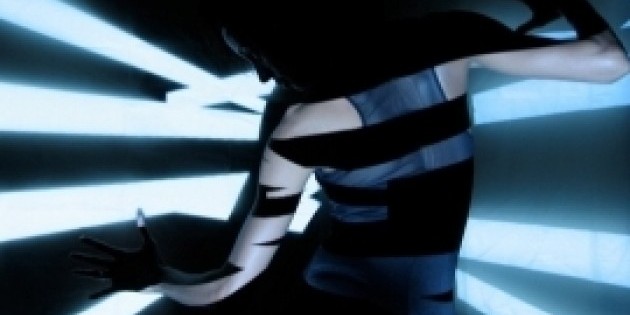 Choreography: Patrick Lovejoy
Dancers: Kristina Bethel-Blutn and Candice Schnurr
Joyce Soho, New York, New York – May 9,2010
Gorgas 2010
From the moment Kristina Bethel-Blunt and Candice Schnurr enter the space, they defer to the huge panels of projection screen that dominate the stage, taking their places behind them as tasteful blue lines scroll across the expanses of white. In a barely-lit silhouetted prologue, the two become hints of shadows against amber as they perform a series of self-contained, stationary undulations, a section that lingers longer than it should until it becomes an awkwardly intimate sort of shower scene. Once the notion of voyeurism has entered my head it begins to color the rest of the evening's performance, informing the production as a whole.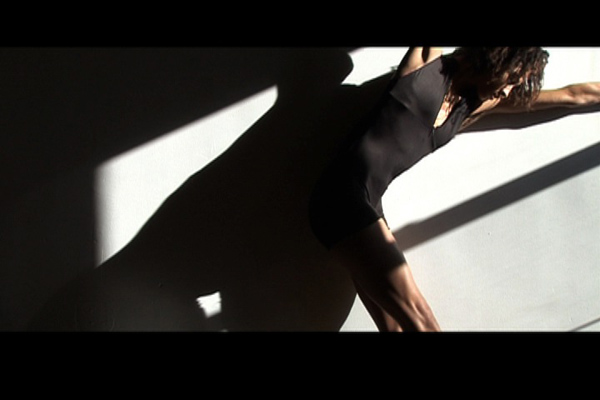 The Soft Light Signature - Photo of Kristina Bethel-Blunt by Patrick Lovejoy
According to the program, Patrick Lovejoy considers himself to be a filmmaker and video artist first, and a performing artist second. It is clear that the dancers and choreography are incidental to this performance's vision. They just happen to be fine movers with gloriously honed bodies accustomed to creating meticulously geometric angles and churning into controlled shapes. They could just as easily have been anyone else: contestants on "America's Next Top Model" posing for the camera's shutter; go-go dancers at a trendy night club; hapless passers-by captured by the screen's linear graphics as they walk from one destination to the next.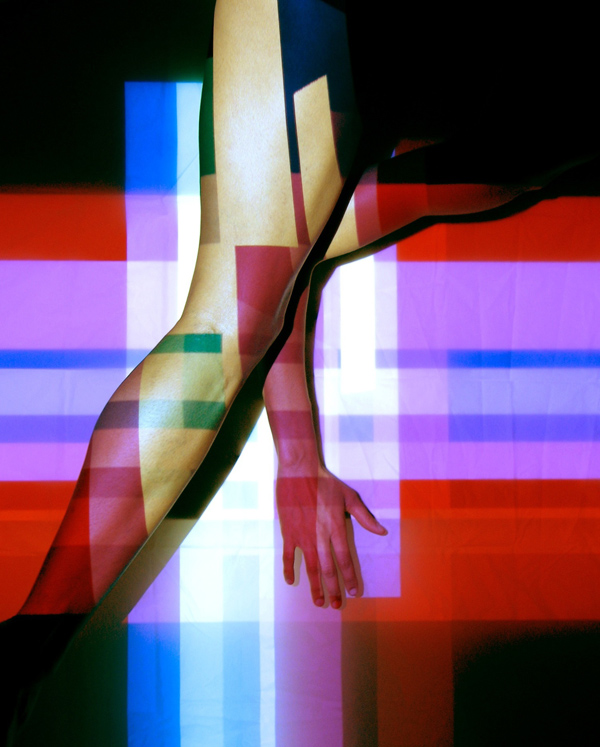 The Soft Light Signature - Photo by Patrick Lovejoy
As one section bleeds into another the performers alternate between moving behind the screens where they quickly lose their individuality to become a generic writhing body, or in front of the screens, where they are only lit as per the whim of the computer-generated lines that glide and throb across their squirming torsos, thrust busts, and canted hips.
The two performers are kept in isolation from one another, always on separate planes that never intersect. Similarly, the piece is bereft of connections with the audience.
Gazes maintain a downward cast, yet in the flamenco guitar-accompanied section (dutifully saturated in reds), there is a coy peer over Schnurr's shoulder.  
The Soft Light Signature - Photo by Patrick Lovejoy
As a whole, this work left me vaguely unsettled, though it was visually attractive. Showcasing fine-bodied dancers captured by flickering lights as they exhibit clean shapes is a completely valid choreographic venture. However, with dancers of this caliber and a video/performing artist at the helm boasting a resume that includes stints with "Cirque du Soleil" and "Stomp" as Mr. Lovejoy does, I yearned for a more integrated and complete experience.  
The Soft Light Signature - Photo by Patrick Lovejoy
If the purpose of the work was an exercise in the disparateness of technology and flesh, or that arises from technology projected on flesh, then it was successful.
However, I fear this was an unhappy byproduct born from the inequality between the two. If the work's goal was to reveal something about the interplay of light, technology, and human form, as I suspect it was supposed to be, I wish there had been more of a conversation between the three as they interacted throughout, rather then the technological aspect dominating until the performers became inconsequential and relegated to a world of superficial prettiness.
---
The Dance Enthusiast Shares IMPRESSIONS/our brand of review, and creates conversation.
For more IMPRESSIONS, click here.
Share your #AudienceReview of performances. Write one today!
---
The Dance Enthusiast - News, Reviews, Interviews and an Open Invitation for YOU to join the Dance Conversation.