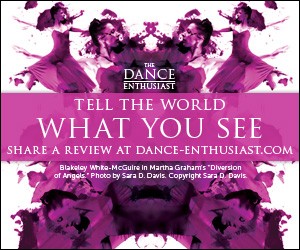 Related Features
IMPRESSIONS: Tweeting SARA DU JOUR Live in 3D
Gr8 things r happening #SARADUJOUR LIVE in 3-D
Triskelion Arts, Williamsburg, Brooklyn, NY
February 16, 2013; 8:00PM
Concept and choreography: Nicole Bridgens and Jordan Isadore
Performers: Andrea Amdall, Nicole Bridgens, Eloise DeLuca, Jordan Isadore, Sienna Powell and TJ Spaur
---

‏
Contributing writer Trina Mannino recently saw SARA DU JOUR LIVE in 3-D at Triskelion Arts. She was so inspired by SARA's savvy technology skills that she wrote her IMPRESSION of the performance in tweet form.
 
---
@Trinamannino for @dancenthusiast
Wearing my 3d glasses & about 2 enter SARA's world. Where's her signature glitter? She left it @ home I guess :( #getenthused
Bridgens & Isadore effectively show the quirky collision between @saradujour_1 & her digital ways. Girl is #multidimensional
SARA is donning her signature look: #highshorts #topknot #nude #skanktank #socks @americanapparel
http://instagram.com/p/V0EYaVHQH0/
SARA may exist in r world 2nite but she brought some things 2 us from internet land like #youtube & nostalgic #youvegotmail
They invent clever ways 2 show what it would be like if online platforms were tangible items. A hanging mobile w/cute stuff = pinterest. LOL.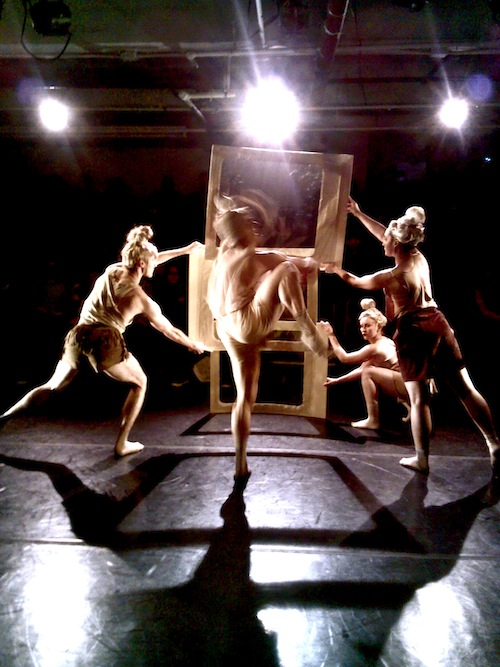 SARA DU JOUR Live in 3-D; Photo Eddie Tallman
2 b "liked" in SARA'S world is 2 receive a strange gaze or air kiss. OMG, I am a lucky one! #friending #liking #facebook
A fun game of "follow" the leader ensues. An audience member is crowned the lucky winner when she has the most followers. #twitter
SARA digresses f/ the digital theme & honors/ spoofs legendary dancers. I'm confused but enjoy the montage #nijinsky #fuller #westsidestory
@saradujour1 pays homage 2 #marthagraham. @MarthaGrahamDC what do you think?
http://instagram.com/p/V0F4_mHQJ1/
TJSpaur's interpretation of SARA while dancing #dyingswan is the perfect amount of sass & class. Where can I buy his fringe shorts? #fiercedancing #sexyshorts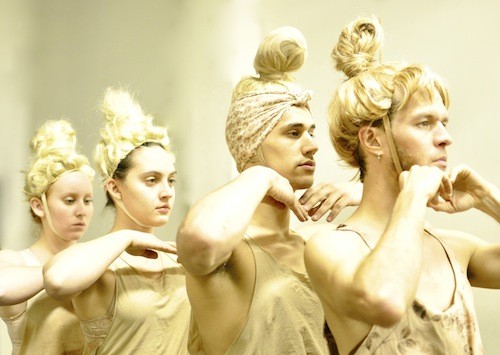 SARA DU JOUR Live in 3-D; Photo Eddie Tallman
Oh the drama, SARA is undergoing a reboot! Isadore gagas his way thru a striking solo & shows SARA's vulnerable side. We lock eyes 4 a min & I'm haunted. #gumby #staredown
It's like the f-ing Wizard of Oz. SARA isn't in flesh tones anymore. Dayglo anyone? #florescent #spandex
Live in 3-D ends 2 quickly. Hoping Bridgens & Isadore have a follow-up: SARA DU JOUR in Living Color…
Shows over folks but the party is getting started @SARAdujour1 @dancenthusiast #triskelionarts
https://twitter.com/Trinamannino/status/302958440198852608/photo/1
After the show I listen 2 SARA'S wacky playlist. LOVE.
http://www.youtube.com/watch?v=AyZAJQgrXKk&list=PLjZYzCnuh0_nEFIsJOb6PSndTFvocSoNR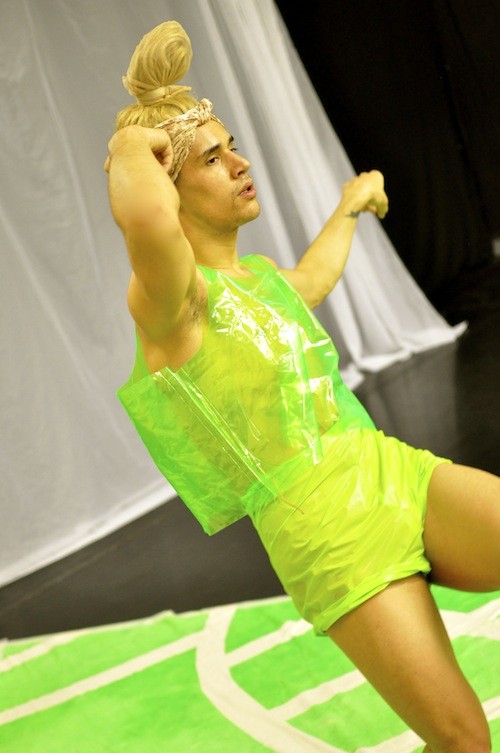 SARA DU JOUR Live in 3-D; Photo Eddie Tallman
---
The Dance Enthusiast Shares IMPRESSIONS/our brand of review, and creates conversation.
For more IMPRESSIONS, click here.
Share your #AudienceReview of performances. Write one today!
---
The Dance Enthusiast - News, Reviews, Interviews and an Open Invitation for YOU to join the Dance Conversation.