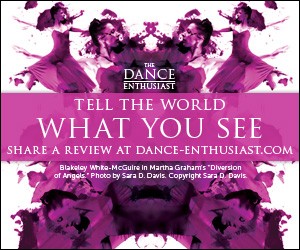 Related Features
IMPRESSIONS: Urban Bush Women's Hair Parties at the 92Y at Harkness Dance Festival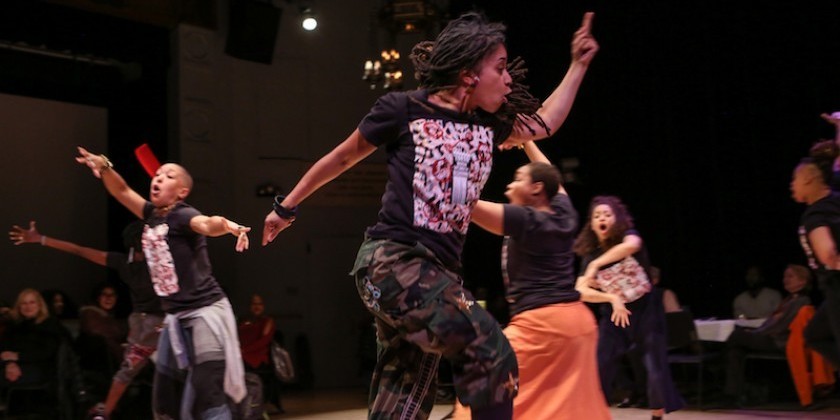 March 23, 2018
Conceived & Choreography: CHANON JUDSON AND SAMANTHA SPEIS
 in collaboration with THE COMPANY
Performers: DU'BOIS A'KEEN, CHANON JUDSON, COURTNEY J. COOK, JAIMÉ DZANDU, ROCHELLE JAMILA, SAMANTHA SPEIS, TENDAYI KUUMBA 
Music: THE ILLUSTRIOUS BLACKS (MANCHILDBLACK AND MONSTAH BLACK) 
Production Manager: SUSAN HAMBURGER 
---
Developed out of its 2017 premiere of Hair and Other Stories and 2001's HairStories, Urban Bush Women presents Hair Parties, an evening of storytelling, dance, and spirited conversation that uses hair as a lens to talk about systemic racism. Though interdisciplinary, education-based work is nothing new, art where dialogue is an essential part of the performance is seemingly everywhere right now: work that blurs lines between audience and artist, that is both performance and hangout, and that contains both off-the-cuff and set material.
What commences in these settings can be poignant revelations and interactions. But, they can also be unpredictable. Audience members may not follow prompts, they may be reticent to share thoughts with strangers randomly seated next to them, or, they may not be ready to partake in candid conversation. This happens a bit in Hair Parties (even though UBW members graciously remind us to participate). Despite some unfocused chatter, the experience is energizing and thought-provoking.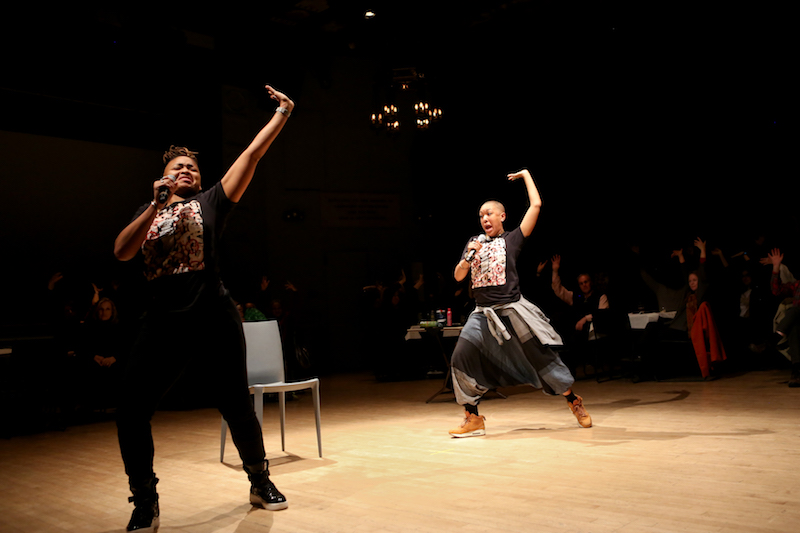 Urban Bush Women's HairStories; Photo credit: ©Julie Lemberger / www.julielemberger.com
The magnetic seven-person troupe supplies this energy. Company members dance, sing, act, emcee, and, in this case facilitate. Instead of traditional proscenium seating, concertgoers can choose to sit wherever they'd like at several long tables surrounding the center of the space. Hair Parties is the first project where founder Jawole Willa Jo Zollar has handed full directorial and choreographic control to associate directors Chanon Judson and Samantha Speis. This gives the piece a fresh, adventurous feel.
The evening toggles between performance, film excerpts, and conversations led by company members. We see the performers in tableaus braiding and brushing one another's' hair as if they're in a beauty parlor or a friend's kitchen. Tendai Kuumba, Du'Bois A'Keen and others break out in original song in midst of some these scenes. They also provide transitions into moments of conversation. The artists set guidelines before we have the first of a few table-wide discussions.  One says, "listen for understanding . . . Be aware if you take space, make space."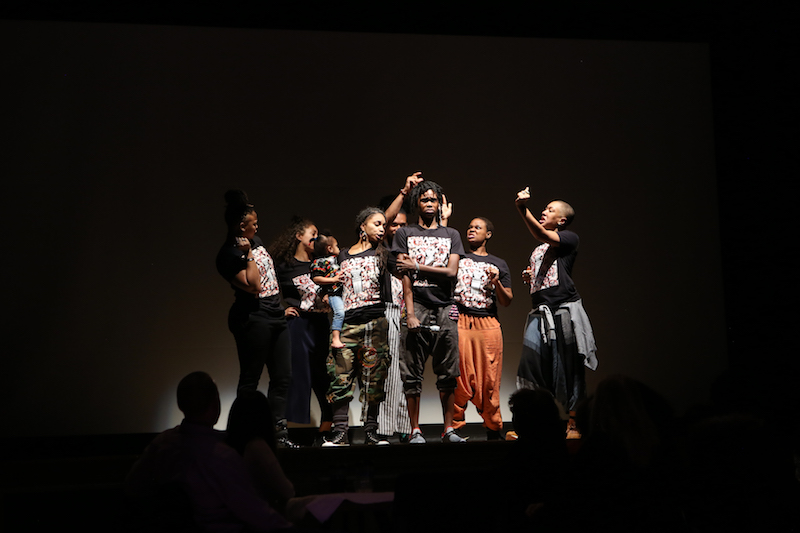 Urban Bush Women's HairStories; Photo credit: ©Julie Lemberger / www.julielemberger.com
There are also moments of comedy. A quippy elevator scene presents stereotypes in two ways. In the first, the ensemble plays a group of Black people who respond to Judson's "nappy" hair, scoffing at its unruliness. This culminates into a rhythmic chant, "You think she needs a comb? I know she needs a comb." As the chant gains speed and becomes more antagonistic, all the way from the back of the room we see Judson's eyes become apoplectic. During the second, the all-Black company transforms into a gaggle of white folks preening and admiring Judson's "exotic" 'do. A bold woman goes so far as to try to touch a tuft — a definite NO. When will people learn that this is a disrespectful invasion of personal space?
For me, a white woman, whose hairstyle volleys between neat and unkempt, learning more about the nuances of the African American hair experience is illuminating. In one scene, performers explain terms like "Kitchen," the unruly hair at the nape of the neck; "Peruvian Silky," smooth, coveted hair used in expensive weaves; "Creamy Crack," a chemical relaxant to straighten hair; and I am familiarized with the dreaded hot oil treatment, a ubiquitous, often dangerous routine, which Black women undergo to straighten their hair. Performers soon embody those same phrases, dancing like beads of crackling hot oil. Their chests pop and their bodies unwind from twisted positions like whirling dervishes to sounds of Ludacris' "Move B*tch."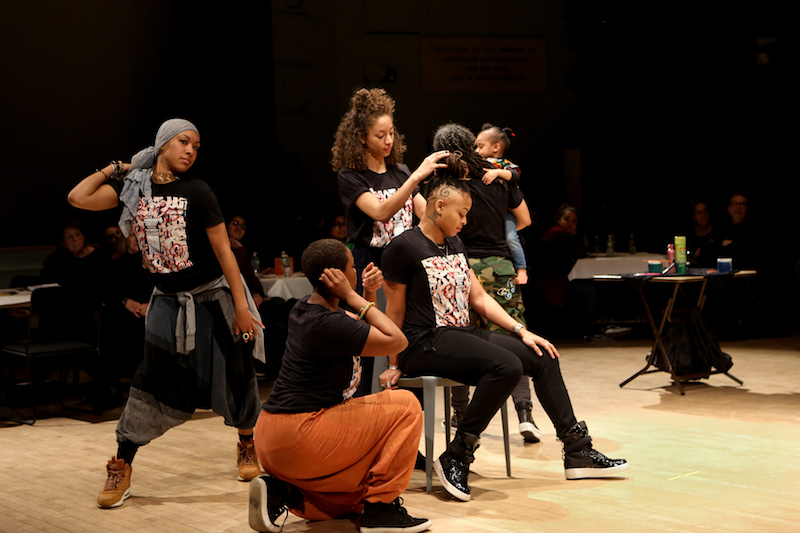 Urban Bush Women's HairStories ; Photo credit: ©Julie Lemberger / www.julielemberger.com
In addition to pointing out Western culture's historically typical ideal of beauty — specifically a preference for straight, glossy, and oftentimes blonde locks — Hair Parties also susses out a fixation on traditional and youthful femininity.
During the table talk portion of the evening, the conversations bring us closer together. I recall my pixie cut of several years, and the odd, backhanded remarks people made about it: "not everyone could pull that look off," or "you look good for someone with hair like that." A woman sitting near me talks about feeling invisible as she enters her sixth decade. In a short video within the work, a company member mentions that her mother cried, "How could you do this to me?" when she shaved her head. Conversations we have among our neighbors serve as a salve to uncomfortable and embarrassing memories — nods to mothers pulling too hard while braiding hair and laughs at the popular '80s perm.
But Hair Parties is not all giggles and festive vibes. Attendees are required to do deep work. In one instance, a company member asks us, "Where do you talk about racism?" She encourages us to select one of the room's four corners. Each corner respectively represents home, school and work, social media, and nowhere.
A bunch of students along with a mixed group of participants occupy the school, work and home spaces; only two people select social media; and a small group chooses nowhere. I'm surprised by the few people in the social media group, especially since my Facebook feed is chock-full of posts about inequity and race. (Is this a sign of how fearful we are to talk about these issues in public?) One woman feels the "nowhere" designation is misleading, saying these conversations are happening all around her. Another shares that she and her friends no longer talk about race because they don't need to anymore; they're living and breathing it.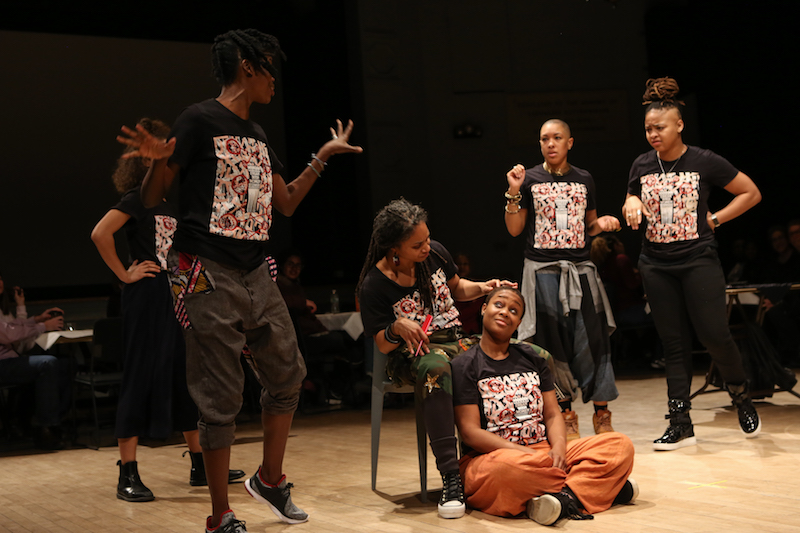 Urban Bush Women's HairStories; Photo credit: ©Julie Lemberger / www.julielemberger.com
Of course, people can't be in more than one place at once, and I realize several participants in the room probably straddle a few of the corners and the even spaces in between. Still, I felt an air of deflection on behalf of the participants in the "nowhere" corner. Does this suggest that some people believe we're living in a post-racial America? It's certainly not an easy topic to grapple with.
After the performance, I had a moment to speak with Judson who maintains that these conversations are not meant to be convenient or comfortable. "If we're going to talk about undoing racism" she says, "we're going to be breaking ground, so it will feel destabilizing."
The success of Hair Parties rides on the willingness of those in attendance to break ground with the company and other audience members.  What happens if some aren't ready to listen or feel put on the spot? Judson shares that having the group breath together often is important so they ". . . see light at the end of the tunnel."
Even if Hair Parties doesn't land with those who were expecting a traditional dance performance, the artists of Urban Bush Women remain undeterred. "We're inside this practice for the long run," says Judson. "The company is nearly 35-years-old. This is the underpinning of the work all of the time."
---
The Dance Enthusiast Shares IMPRESSIONS/ our brand of review and Creates Conversation.
For more IMPRESSIONS, click here, and for a 2014 interview with UBW, click here. 
Share your #AudienceReview of performances for a chance to win a prize.