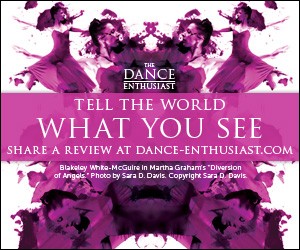 Related Features
IMPRESSIONS: Wolf & Swan Company's "Shadow of a Dragon Wing" at La MaMa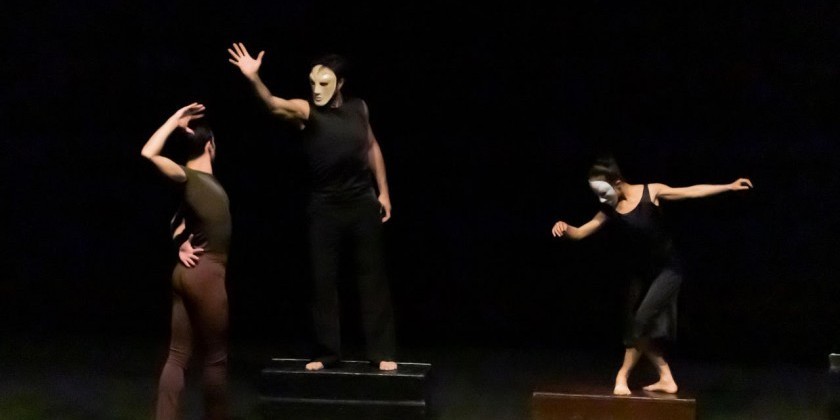 September 14, 2019
Choreography: Wilma Casal
Dancers: Amanda Egan, Hope K. Ruth, Giacomo Bavutti, Sierra Kay Powell, Wilma Casal
Actor: David Bennent
Musician: Dorian Wallace
---
"And this world has room for everyone . . . the way of life can be free and beautiful, but we have lost the way."
The words of Charlie Chaplin's speech from The Great Dictator, spoken by actor David Bennent, open Wolf & Swan's Shadow of a Dragon Wing. Comprised of three pieces — Dust in My Wings, Ancestral Shadows, and Dragon Blood, all choreographed by Wilma Casal — the evening investigates themes of power, fear, and injustice.
Dust in My Wings explores a character at odds with her place in the world, haunted by inner voices and memory. Varying aspects of one personality are performed by five dancers: Amanda Egan, Hope K. Ruth, Giacomo Bavutti, Sierra Kay Powell, and Casal. Deeply rooted in both classical ballet and modern dance, the movements are sculptural yet expansive, boundless yet detailed. Asymmetrical port de bras carve through space with inquisitiveness, and dancers repeatedly lean back into waltzes, surrendering to the air around them.
Although emotionally driven and beautifully danced, certain theatrical choices are confusing. At one point, a performer dressed as a wolf appears, dances with Bennent, places wooden blocks in the hands of two dancers, and then leaves, never to return. In another instance, two standing screens show images of wolves and swans in their natural habitats — the symbolism remains unclear for me.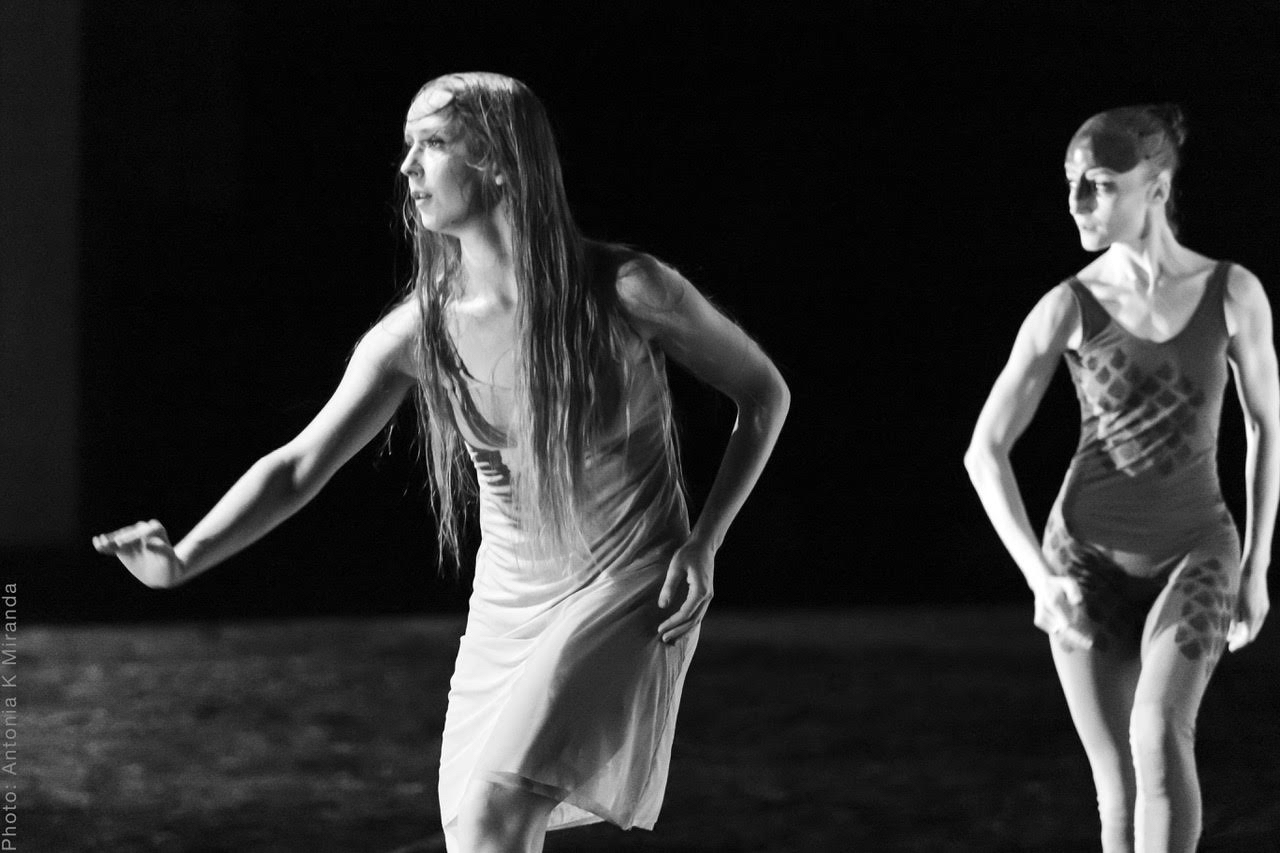 Wolf & Swan Company; Photo by Antonia K. Miranda
However, the way in which Casal constructs movement makes you pay attention. An accomplished ballet dancer in her native Germany, Casal was drawn to the technique of Martha Graham at a young age. Giving up a promising career in Europe, she came to New York to study, perform, and eventually teach Graham technique. Embedded in that style — the deep, guttural contractions; the powerful grounding of the pelvis; the visceral spirals that wring emotion from the torso like water from a towel— is raw emotion and authenticity.
Like Graham, Casal tells stories of the often-unseen struggles of a psyche wrestling with contradiction. In Ancestral Shadows, a ghostly figure (Ruth) watches the interactions of her descendants (Egan, Powell, and Casal). She increasingly becomes aware of the burden her legacy places on their shoulders. Reflecting their movements — lush and sweeping or percussive and angular — Ruth moves through helplessness and anger as she attempts to influence and encourage.
In Dragon Blood, Giacomo Bavutti refuses to conform to the injustices he perceives. The masked performers around him seemingly follow an institutional power he cannot understand or join. With desperate leaps and bounding runs, he manifests his fear and fury. At the close, during a breathtaking series of double pirouettes into a high side tilt, Bavutti becomes inviolable and, at least for a moment, Wolf & Swan has found its way to freedom and beauty.
---
The Dance Enthusiast Shares IMPRESSIONS/our brand of review and Creates Conversation.
For more IMPRESSIONS, click here.
Share your #AudienceReview of performances. Write one today!