IMPRESSIONS: "You Are Here," a Sculpture, Sound & Performance Installation Commissioned by Lincoln Center for the Performing Arts
July 30, 2021
Concept, Choreography and Co-Direction: Andrea Miller // Co-Director: Lynsey Peisinger
Composer and Sound Artist: Justin Hicks // Production Design: Mimi Lien 
Costume Design: Oana Botez // Dramaturg: Iyvon E.
Performance: Emily Terndrup (Rehearsal Director), Lauryn Hayes, Christopher Kinsey, Nouhoum Koita, Misa Lucyshyn, Gary Reagan, Connor Speetjens, Taylor Stanley, Haley Sung, Georgia Usborne, Amadi Washington
Portraits: Elijah Schreiner (Fiorello H. LaGuardia High School of Music & Art and Performing Arts), Ryan Opalanietet (The Eagle Project), Taylor Stanley (New York City Ballet), Muriel Miguel (Spiderwoman Theater), Valarie Wong (New York-Presbyterian Hospital), Egyptt LaBeija (BAAD! Bronx Academy of Arts and Dance), Jen Suragiat (Lincoln Center Theater)
---
Who tells our American story, and what is told? Ultimately, who do we want to author our history? On this occasion in July, choreographer Andrea Miller decides. Around and in the peaceful Lincoln Center reflecting pool, Miller creates a powerful spoken and movement narrative for 25 civilian portraitists who represent many of America's ancestries, that grapples with the subjects of death, queerness, discrimination, gender equality, broken promises, land, respect, sustainability, community. Intersecting the succession of six stories on the evening this reviewer attended, the GALLIM company of 12 dancers, dressed like the sequined skin of fish, mark the territory. Akin to soldiers marching to battle, the dancers' shuffling cadence provides the level undertone for the demanding narratives. While entering smooth water and climbing grass stairs, the dancers link the narratives.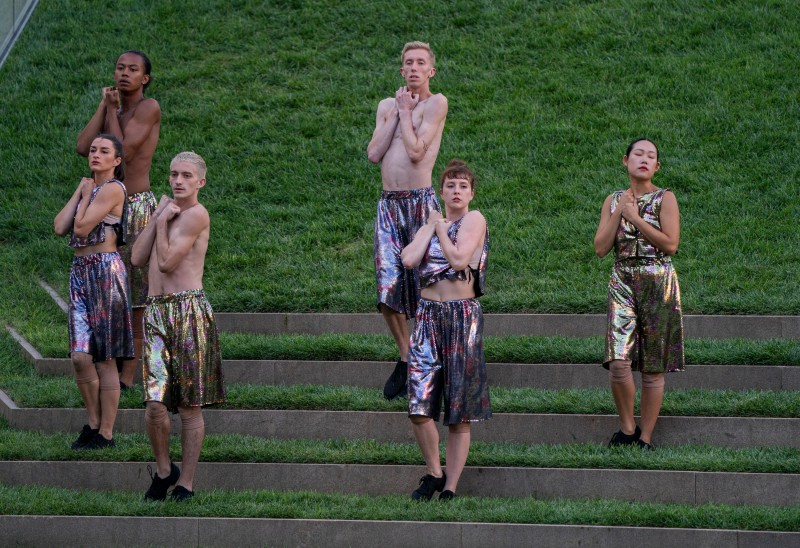 GALLIM in You Are Here; Photo by Stephanie Berger
Big and bold, this production oppugns the pandemic that opened the floodgates of hurt. "Stand by lights and sounds. Have a good show everyone," jovially intones host Elijah Schreiner, Fiorello H. LaGuardia High School technical theater teacher. A tambourine man, Justin J. Hines, then ruffles the metal discs in the breeze as the dancers enter, treading pavement in their black sneakers. The dancers line up horizontally to the pool and ritually enter the water in waves of three and two to recorded breath and original sounds. Arms fling above heads, feet stamp, chests arch to sky, bodies tilt. Water slung by the dancers becomes part of the choreography. The action builds until hands reach for one another and a quiet circle is formed. "Stand by, Muriel. Muriel, go."
The septuagenarian Spiderwoman Theater director, Muriel Miguel, known as Bright Sun, lists her native lineage. Costumed in Mexican clothing, her ample body seated in a chair, Miguel recounts the Covid death of her loved one and the fear she encounters daily for the lives of family members and friends. "I kept on floating, and I tried to stop myself. We can't leave now. We talk to trees. My placenta is buried beneath one of our trees," says she. Her hand reaches for the clouds and for the earth.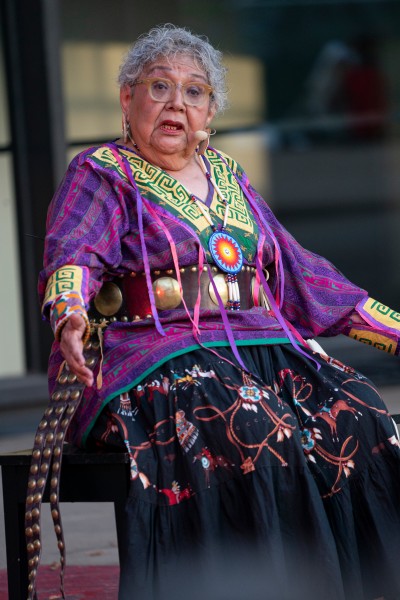 Muriel Miguel in You Are Here; Photo by Stephanie Berger
Other cameos include those of Taylor Stanley, the renowned New York City Ballet dancer, donning an army green baseball cap, who crumples and extends in a long, improvised solo to his recorded voice. He speaks of seeing choreographer George Balanchine's Jewels that took his breath away and set his body vibrating. He speaks of his desire for connection, for addressing the soul of another human being, for finding love.
Two dancers lead Jen Suragiat, Lincoln Center Theater Executive Assistant, into the pool. Her fuchsia dress and long black hair spread, while the dancers revolve her floating body as they hold a microphone to her lips. She harangues, "People are suffering. They're hurting. It's not about you right now." She sings and hums and ends with "The sun is shining. Today is a good day."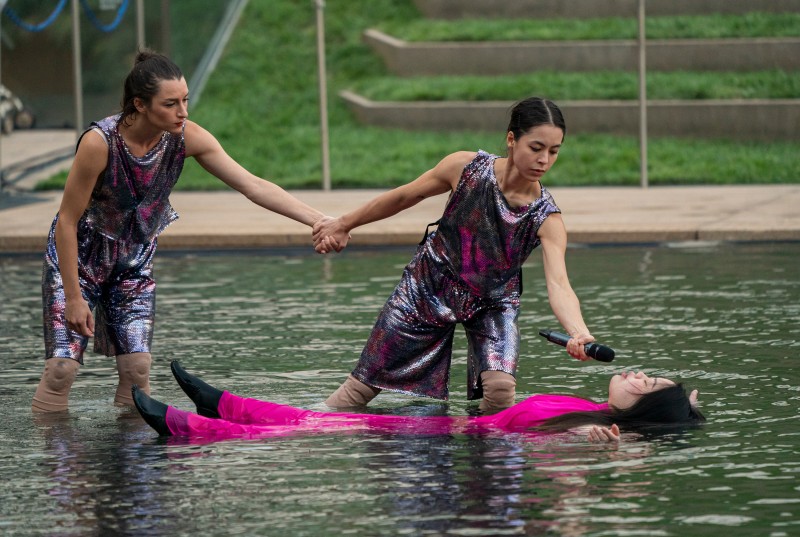 Jen Suriagat with GALLIM dancers in You Are Here; Photo by Stephanie Berger
The portrait crux of You Are Here is that of New York-Presbyterian Hospital critical care nurse, Valarie Wong. To the recorded sounds of "lub dub," Wong jogs steadily around the pool. "I remember when I was assigned my first Covid patient. I started to cry, thinking it was a death sentence. The number of patients — we could barely cope. My whole unit got sick." The "lub dub" sound of her heart, her patients' hearts, the audience's hearts reminds us that we live despite contingencies of the last 18 months. "The present is the gift." Like a symbol of renewal, Wong streams a long white cloth above her head as she continues to run.
Delicate dancing sculptures formed from everyday dresses, shirts, and pants are stuffed with plant material and festooned with bunches of small petaled flowers. The eight 6' sculptures semi-circle the pool. In contrast with the 6-ton Henry Moore reclining bronze sculpture situated in the east end of the pool, the active sculptures are a reminder of the ephemeral while the immovable bronze reminds us that we are still here.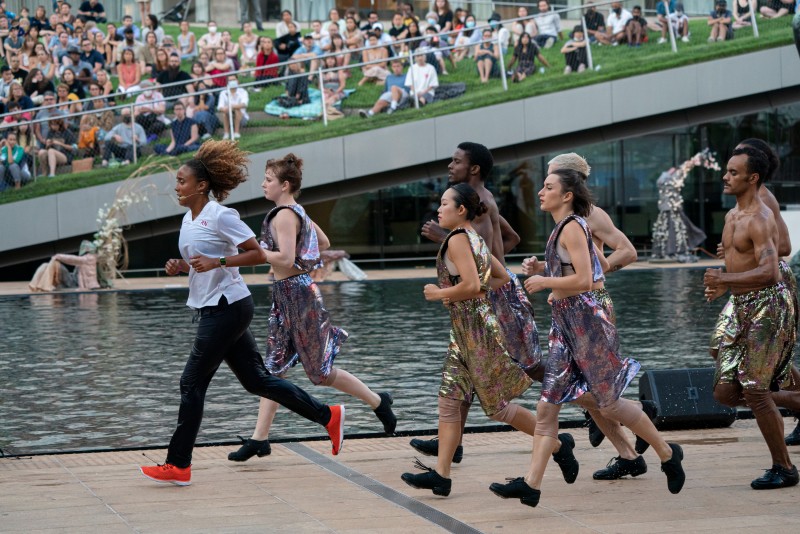 Valarie Wong and GALLIM in You Are Here; Photo by Stephanie Berger
Egyptt LaBeija, ballroom queen from The Royal House of LaBeija, decked-out in a form-fitting red satin dress and high, high heels lip-synchs "Treat Me Like a Lady." Despite LaBeija's obvious femme talents, this ending, along with the dancers frolicking in the water and lanky dancer Gary Reagan infectiously singing "I Want to Dance with Somebody," seems a gratuitous attempt to lift the spirits after over an hour of somber and effective incantation. It is as if we should suddenly all be happy now that we've been baptized in and confronted by reality.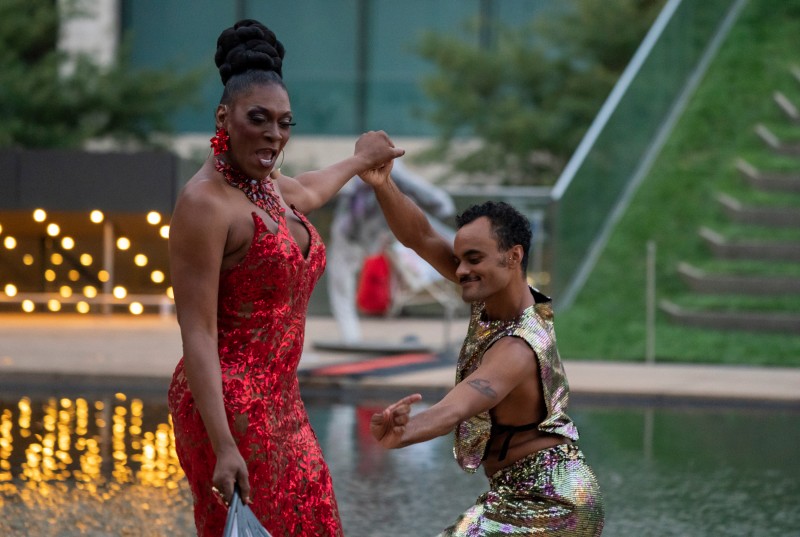 Egyptt LaBeija and Taylor Stanley in You Are Here; Photo by Stephanie Berger
---
The Dance Enthusiast Shares IMPRESSIONS/our brand of review, and creates conversation.
For more IMPRESSIONS, click here.
Share your #AudienceReview of performances. Write one today!
---
The Dance Enthusiast - News, Reviews, Interviews and an Open Invitation for YOU to join the Dance Conversation.