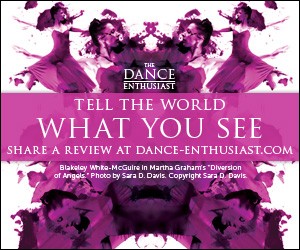 Related Features
IMPRESSIONS: "being Here…" by Marjani Forté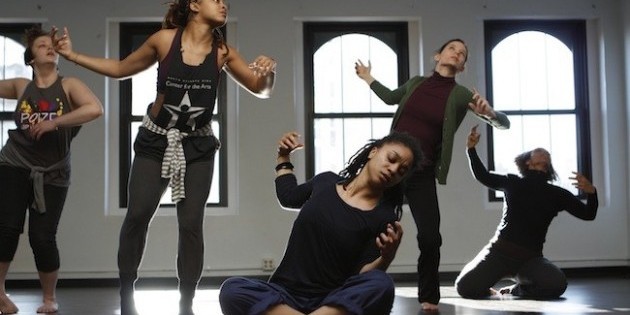 IMPRESSIONS: being Here… by Marjani Forté
Danspace Project, New York, NY
March 22, 2013
Choreographer: Marjani Forté
Performers: Rebecca Bliss, Tendayi Kuumba, Jasmine Hearn, Autumn Scoggan, Alice Sheppard, and Samantha Speis
Composer: Everett Saunders
Set Design: Johann Mittnacht
Lighting Designer: Carol Mullins
---
Erin Bomboy for The Dance Enthusiast 
We hear Samantha Speis before we see her. As the lights come up, we find Speis sitting on a disheveled duvet, its stuffing shredded and spilling into downy pools. Crumpling feathers in her hands, she veers from disturbed laughter to frantic hysteria. The audience twitches uneasily witnessing such extended, unbridled emotion.
That's the point of Marjani Forté's new, fifty-minute piece,
being Here…
She insists the audience confront their own prejudices about mental illness and addiction in a half-dozen vignettes highlighting six fervent and compassionate dancers.  
Marjani Fortè's being Here... in rehearsal (left to right): Autumn Scoggan, Tendayi Kuumba, Samantha Spies, Rebecca Bliss, and Alice Sheppard; Photo © Wah-Ming Chang
Set against a background hung with crinkly black rectangles, bodies manifest inner turmoil through jutted chins, contorted wrists and ankles, and arched backs. Dancers compulsively shift weight from one foot to another as a solitary shoulder tortuously stretches upwards. Crimson-tinged lips spew profanities, sputter verbal nonsense, and twist grotesquely.
Abandoned by society and unable to receive the care they require, the mentally ill often turn to addictive substances to overcome the ravages of isolation. Tendayi Kuumba obsessively slurps on her arm as dancers slither slowly behind her — a gripping image of drugs fed to tame the inner beast. Maddened when she can no longer obtain her fix, Kuumba bottoms out into a fit of howling wails.
Forté examines the effects when the mentally ill enter the public sphere. Tacit social rules are flouted as one dancer drags her hand lightly across the laps of the front row. A simulated subway car becomes an uncomfortable prison when one performer verbally harasses the strap-hangers.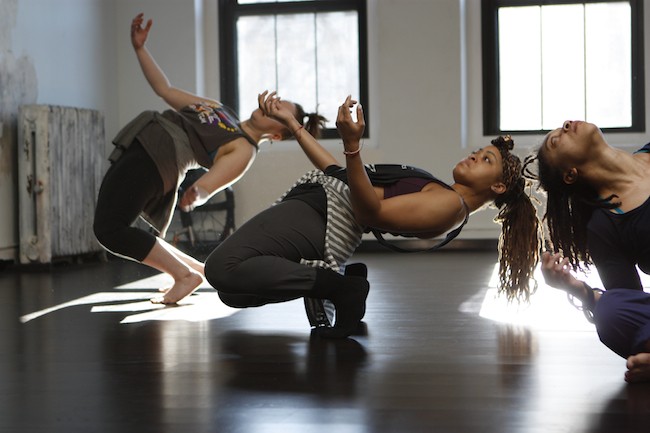 Marjani Fortè's being Here... in rehearsal (left to right): Autumn Scoggan, Tendayi Kuumba, and Samantha Spies; Photo © Wah-Ming Chang
Everett Saunders' score slants to the literal as he knits together John Coltrane's "After the Rain," Nina Simone's "Misunderstood," and snippets from Malcolm X's speech about learning the language of your oppressor. 
being Here… builds to a riveting climax of redemption and acceptance. Alice Sheppard rockets around in her wheelchair, one side lifted high in the air. She frolics with a grinning Rebecca Bliss before the situation turns darkly combative. Joined by Speis in the center, Sheppard claws and assaults herself in a brutal desire to extinguish her demons. The remainder of the group, flattened against the sidewall, echoes this exorcism like an agitated Greek chorus. The piece culminates with the dancers touching their fingers to the center of their chest in a gesture of self-forgiveness — a lesson in empathy for them and us.
---
The Dance Enthusiast Shares IMPRESSIONS/our brand of review, and creates conversation.
For more IMPRESSIONS, click here.
Share your #AudienceReview of performances. Write one today!
---
The Dance Enthusiast - News, Reviews, Interviews and an Open Invitation for YOU to join the Dance Conversation.