Related Features
Contribute
Your support helps us cover dance in New York City and beyond! Donate now.
IMPRESSIONS:Louise Lecavalier/Nigel Charnock/Edouard Lock
Dance Enthusiast Writer Cory Nakasue takes a field trip to London's Dance Umbrella Festival
IMPRESSIONS:Louise Lecavalier/Nigel Charnock/Edouard Lock
Children & A Few Minutes of Lock
October 25th, 2011 at The Place: Robin Howard Theatre- London,England
*part of Dance Umbrella 2011
Choreography: Nigel Charnock, Edouard Lock
Performers: Louise Lecavalier, Patrick Lamothe, Keir Knight
Lighting: Alain Lortie
---
Dancer from the Dance
Cory Nakasue for The Dance Enthusiast
---
There are two distinct parts of my dance life: my dance life before I saw Edouard Lock's
2,
and my dance life after. It changed me. From then, on I wanted everything to be as ferocious and defiant as Louise Lecavlier's horizontal "air" pirouettes (a signature La La La Human Steps move).  My first time seeing Louise Lecavalier perform was in the filmed version of
2
almost twenty years ago. To see her at the age of 53 still performing, was like a reunion with a part of myself from the past, and an inspiring glimpse into the future.
Photo © Massimo Chiarradia
The Lecavalier of my recollections was a punk rock terminator, a mechanized warrior who having exhausted all of her weapons launched her body at every available target, obstacle, and enemy. Not much has changed. There is still a palpable sense of danger in everything she does. While brandishing a large aluminum shaft on stage, Japanese samurai style in Nigel Charnock's Children, she loses grip a couple of times and even drops the shaft once. Sitting in the front row of The Place Theatre, I find I'm a tiny bit worried that the beam may actually fly out of her hands and hit me. It doesn't. This is not a criticism of her expertise, but an example of the fine line she walks between executing precise choreography and all-out movement anarchy. I wouldn't call it recklessness, just a pathologically high standard of personal investment and lack of self-consciousness. This ability of hers makes it challenging to tease out the choreographer's efforts, and nearly impossible to see the efforts of anyone who shares the stage with her.
---
I had originally signed on to view another collaboration that involved Lecavalier, but due to illness it was replaced with this program at the last minute. I'm not sure how much preparation went into the new program choreographed by Charnock and Edouard Lock, but it served as a very decent substitute.
Charnock's overwrought, romantic duet dealing with vulnerability and need was awash in relationship-dance cliché's: lots of desperate embracing, clutching, grasping, run-of-the-mill catches and lifts--that Lecavalier can make work. Her partner Patrick Lamothe, however, could not find anything interesting to do with the choreography, and at times didn't even bother to attempt it--the dance equivalent of a poem recitation given by someone with marbles in their mouth.
---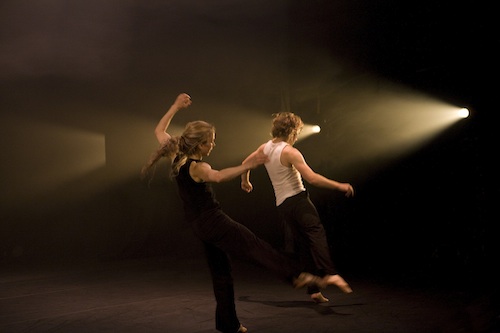 Photo © Massimo Chiarradia
The piece does have moments of honest interaction between the two. Lights, in their many forms figure heavily in the piece, illuminating the relationship, if you will, or aspects of the performers. These moments are few and far between and often overshadowed by ham handed theatrics and a convoluted pop music sound score. In fact, the only times Lecavalier seemed awkward was during these moments of broad, comedic effort. I don't think play-acting figures into her repertoire.
The second part of the Lecavalier marathon was an odd treat: a few minutes from Salt and 2, from the La La La Human Steps days. This portion of the evening felt tacked on and a bit exploitative. Could Lecavalier at 53 still defy gravity and move at the speed of light? I'd be lying if I said I didn't have a morbid curiosity as to whether or not she could pull it off. She did.
---
Lock's choreography and Lecavalier's dancing stand the test of time. The precision and speed of Lock's work demands an attention from both performer and audience that elicits an immediate emotional response. There is simply no time to process it. The same could be said Lecavalier's performance work. Her depth of expression more than compensates for what she has lost in physical ability, which is minute. She's still a force, but now, less machine, more creature.
Photo © Massimo Chiarradia
A commonly held opinion is that Lecavalier WAS La La La Human Steps---not an opinion I agree with. Lock's work has grown while maintaining his signature balletic arguments with numerous dancers. The movement is most certainly the message, but one can still tell the dancer from the dance.
---
The Dance Enthusiast Shares IMPRESSIONS/our brand of review, and creates conversation.
For more IMPRESSIONS, click here.
Share your #AudienceReview of performances. Write one today!
---
The Dance Enthusiast - News, Reviews, Interviews and an Open Invitation for YOU to join the Dance Conversation.