Related Features
Contribute
Your support helps us cover dance in New York City and beyond! Donate now.
Impressions of: ABT Studio Company and The Royal Ballet School at NYU Skirball Center for the Performing Arts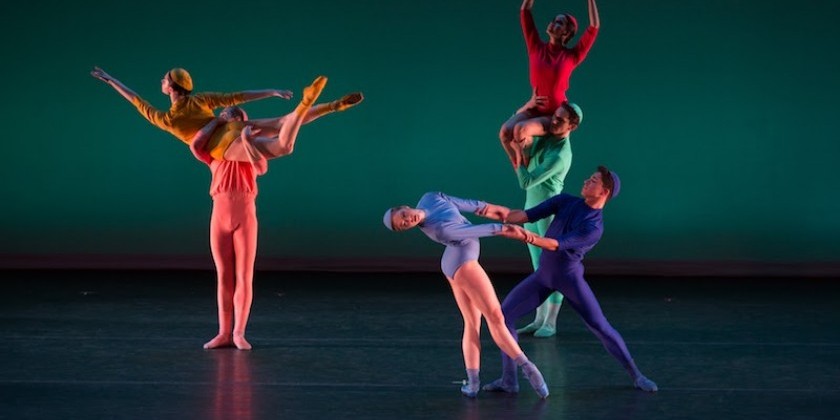 February 10 and 11, 2017
ABT Studio Company Dancers: Sierra Armstrong, Layla Burgess, Zimmi Coker, Luigi Crispino, Jarod Curley, Léa Fleytoux, Kiely Groenewegen, Simon Hoke, Andrii Ishchuk, Virginia Lensi, Meghan Lynch, João Menegussi, Javier Rivet, Mattia Santini
The Royal Ballet School Dancers: Rio Anderson, Jerome Barnes, Alice Bellini, Joseph Fawcett-Wood, Haoliang Feng, Sean Flanagan, Albjon Gjorllaku, Joonhyuk Jun, Joshua Junker, Alice Kawalek, Isabella Knights, Sae Maeda, Fernando Martin-Gullans, Nadia Mullova-Barley, Claudia Nicholson, Aiden O'Brien, Amelia Palmiero, Augustus Payne, Rodrigo Pinto, Fraser Roach, Yuki Sugiura, Ella Vickerman, Harry Wright
---
In 2003, the ABT Studio Company and London's Royal Ballet School established a unique exchange program in which their dancers take turns crossing the ocean for several days of master classes and coaching. These trans-Atlantic visits culminate with a joint performance. Last year, the 14 members of the ABT Studio Company traveled to London, while this year, 23 graduate students from the Royal Ballet School came to New York.
These young dancers, aged 17 to 20, performed this year at the NYU Skirball Center. The marquee event was the world premiere of a work made for dancers from both institutions. In a nice symmetry, the choreographer, Royal Ballet Artist in Residence Liam Scarlett participated in one of these exchanges while a student at the Royal Ballet School. Scarlett has created a mysterious and luminous work, set to the third movement of Philip Glass's second piano concerto and still unnamed at its premiere. The curtain rises on 11 dancers arranged around the stage in mottled lighting that suggests a moonlit forest, trees casting shadows in a dappled pattern against a deep-green backdrop. The dancers, dressed in elegant dove-gray skirted leotards for the women and high-necked unitards for the men, move with crystalline beauty in melting washes of movement. A trio for two men and a woman has echoes of Frederick Ashton's Monotones II, made decades earlier (1965). As with Monotones, Scarlett's new work seems like a study in pure formal beauty, with none of the Gothic touches he is known for. The ballet is a wonderful addition to both troupes' repertoires.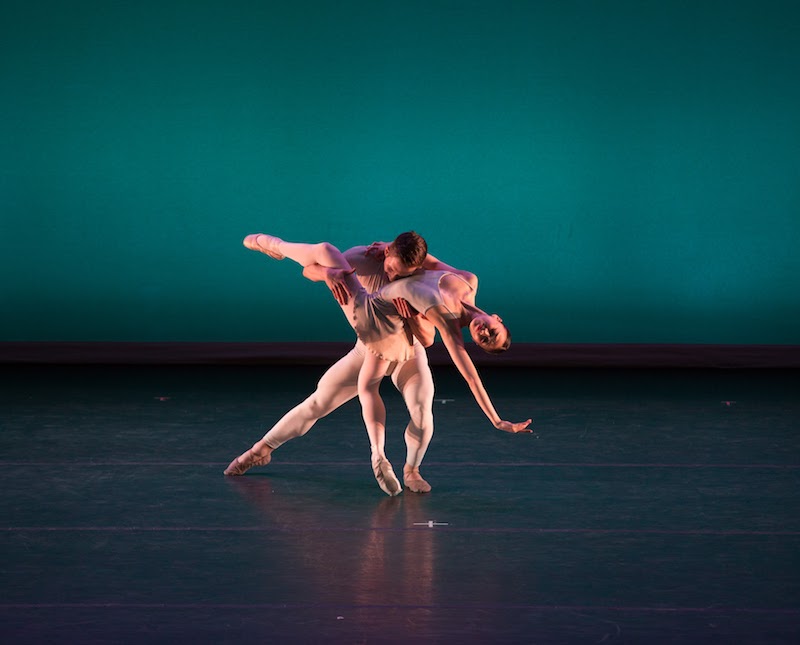 Sae Maeda and Albjon Gjorllaku in Liam Scarlett's World Premiere; Photo by Rosalie O'Connor
In addition to the Scarlett premiere, the Royal Ballet School presented three works spanning several decades and a range of styles. The school's choice of Helgi Tomasson's Concerto Grosso was particularly inspired as a showcase for these dancers. The RBS has a bumper crop of exceptional men in its graduating class, and they sailed through this high-octane and fiendishly difficult ballet, which Tomasson, who directs the San Francisco Ballet, choreographed in 2003 for five leading men in his own troupe. In Concerto Grosso, solos, duos and trios succeed each other in starbursts of virtuosity that explode across the stage like fireworks. Space-eating jumps and airborne turns predominate in the brisk allegro sections of the work's eminently danceable score, Francesco Geminiani's La Follia. I've seen many ballets set to this melodious and rhythmically exciting baroque score, but Tomasson's may be my favorite. The five dancers, uncredited in the program, wear jewel-toned unitards, each distinct, and each performer brought a distinct quality to his role: A dark-haired man in red had a weighted and leonine quality in jumps and turns. A dancer clad in dark teal hung suspended in the air in a series of double turns en l'air. A blond dancer in silver-blue performed an adagio solo with soft fluidity and beautiful lines.
Helgi Tomasson's Concerto Grosso; Photo by Rosalie O'Connor
The standout work among the ABT Studio Company's New York premieres was Marcelo Gomes' Kabalevsky Violin Concerto, made for two couples. In the performance I saw, Léa Fleytoux and João Menegussi performed the buoyant first movement with the light playfulness of a summer frolic. I loved the fresh exuberance of the choreography and of their dancing in it. Hand in hand, Fleytoux and Menegussi skim the stage with brisk fleetness. A blackout separates the first and second movements; when the lights return, Zimmi Coker and Luigi Crispino have replaced Fleytoux and Menegussi in the kneeling final pose. To the concerto's slow movement, these two perform a romantic moonlit duet. Coker moves with gentle ease and a hint of melancholy as she and the attentive, long-limbed Crispino negotiate Gomes' tricky partnering, filled with off-balance movements and complex supported turns. All four dancers participate in the work's final section, a vibrant coda with an impressive solo for Crispino. Kabalevsky Violin Concerto is a great gift to those ABT Studio Company dancers who had the good fortune to be cast in it. 
Zimmi Coker and Luigi Crispino in Marcelo Gomes' Kabalevsky Violin Concerto; Photo: Gillian Murphy
Less fortunate were the seven Studio Company dancers who performed Dana Genshaft's Chromatic Fantasy, another New York premiere. Genshaft's ballet has nice moments, but overall it's busy and lacks focus. Dave Brubeck's in-your-face, percussive jazz score does the ballet no favors. Reid Bartelme and Harriet Jung's costumes are also unfortunate: Technicolor beanies and color-coordinated pointe shoes and socks for the bare-legged women, Technicolor beanies with color-coordinated tights and tops for the men. The women's leotards, loose-fitting above the waist and tight-fitting below it, did not do justice to these performers' wonderful physiques.
In addition to the Tomasson work, the RBS performed excerpts from Frederick Ashton's Birthday Offering (1956) and Kenneth MacMillan's Concerto (1966). In Birthday Offering seven couples process onstage in costumes that have a formal cut and a fanciful cast — striped Victorian-cut bodices add whimsy to knee-length 19th-century tutus. (Andre Levasseur designed the marvelous costumes.) Ashton called Birthday Offering, set to music by Alexander Glazunov, an homage to Petipa. But the piquant angles at which the ballerinas hold their crowned heads, and a certain coquettishness in their classicism are pure Ashton.
Zimmi Coker and João Menegussiby in Ethan Stiefel's See the Youth Advance!; Photo: Rosalie O'Connor
The first thing you notice about the pas de deux from MacMillan's Concerto, set to the slow movement from Shostakovich's Piano Concerto No. 2 in F, is the backcloth dominated by an enormous orange sun. In front of it stand a man and woman dressed in simple, highly becoming costumes steeped in that same orange hue. (Costumes and set are by Jürgen Rose, a master colorist.) Sae Maeda and Joshua Junker performed this neoclassical duet with touching delicacy and understated emotion tinged with a hint of vulnerability, as the sun that towered over them seemed at once bright and burning, indefinably portentous. 
Former American Ballet Theatre principal dancer Ethan Stiefel created See the Youth Advance! for dancers from both troupes at its London premiere last year. New York audiences saw it danced by members of the ABT Studio Company only. The costumes (designed by Natalia Stuart) have a Jane Austen-era sensibility: The women wear cream-colored dresses with sashes and puff sleeves, while the men wear long-sleeved white shirts over tights in hues of red and blue. The costumes suggest the late-eighteenth-century period when Beethoven penned the ballet's lovely and well-chosen score: twelve variations on Handel's See the Conquering Hero Comes. I like the fact that Stiefel uses a large ensemble for this work. (One quibble I have with this program is that too many pieces were chamber-sized, which seemed unfair to the dancers, many of whom were able to perform in only one dance). In addition, See the Youth Advance! shows off the dancers with a touching directness. In terms of craft, Stiefel is still learning, but he already knows how to create a distinct stage world, here the balletic equivalent of a ball in Pride and Prejudice. Two dancers, Sierra Armstrong and Jarod Curley, particularly stand out for their gracious charm and winsome sweetness in an extended duet.
---
The Dance Enthusiast Shares IMPRESSIONS/ our brand of review and Creates Conversation.
Check out our other IMPRESSIONS here, including a brief review Liam Scarlett
Share your #AudienceReview of this show or others for a chance to win a $75 giftcard to Trader Joe's.