IMPRESSIONS: American Ballet Theatre in Alexei Ratmansky's Whipped Cream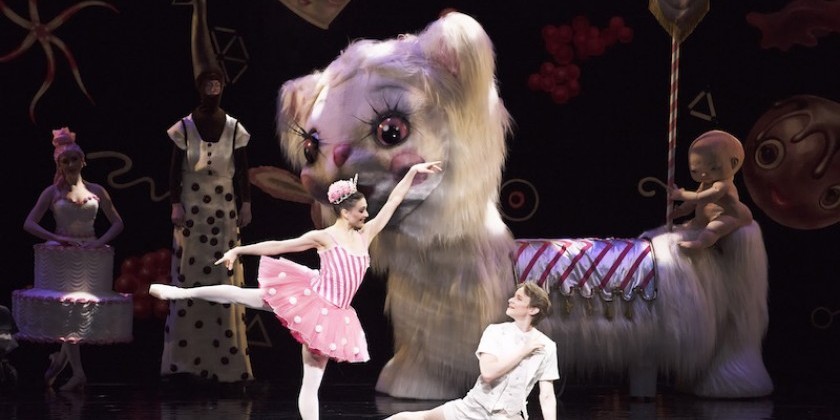 May 24, 2017
Choreography: Alexei Ratmansky
Music and Libretto: Richard Strauss
Set and Costume Design: Mark Ryden
Performance: American Ballet Theatre
Conductor: Ormsby Wilkins
Whipped Cream returns to ABT on Monday, June 26-Saturday, July 1. For info go to http://www.abt.org/
Pictured above: Sarah Lane and Daniil Simkin in Whipped Cream.
---
Are you the person who orders dessert first, sugar and spice and everything nice your vice of choice? If so, American Ballet Theatre has just the treat for you. Whipped Cream whisks together choreography by Artist-in-Residence Alexei Ratmansky with a little known score and libretto by Richard Strauss and fanciful sets and costumes by Mark Ryden.
Whipped Cream charmed California during its world premiere in March before receiving its New York debut in May. If you missed it, a week's worth of performances will occur at the end of June as part of ABT's season at the Metropolitan Opera House.
Like many story ballets, the illogical plot exists solely to incite the dancing. After their first communion, The Boy and his friends visit a confectioner's shop. It's hijinks galore when The Boy gorges himself on whipped cream, becomes ill, and is wheeled away to a doctor. The sweets in the shop spring to life, with marzipan, sugarplum, and gingerbread men high stepping through military drills. Princess Tea Flower falls for Prince Coffee although Don Zucchero and Prince Cocoa pledge their troth. A Chef stirs a bowl of whipped cream — perhaps he anticipates more little boys who can't say no?
Scene from Whipped Cream. Photo: Gene Schiavone.
Act II takes place in a grim hospital room where a green eye glows freakishly from the backdrop. A creepy Doctor administers medicine to The Boy, who, with the help of Princess Praline, escapes, only to be returned to his sick bed. Giddy liquor bottles, from which the Doctor has been tippling, come to life, and intoxicate the medical staff. The Boy is free, and Princess Praline sweeps him to her kingdom to celebrate with, naturally, whipped cream. Everyone lives sweetly ever after.
Ratmansky does what he can with such silly source material. Mellifluous and lively, the dances unfurl as if frosting edging a cake. A coy hip twist or a saucy shoulder wiggle add sparkle to the traditional features of a full-length ballet: amorous pas de deux, circles of promenading attendants, precise rows of corps de ballet. Strauss' score wafts and burbles, but it lacks the vertical heft and catchy melodies of great dance music, which keeps the performances from taking flight.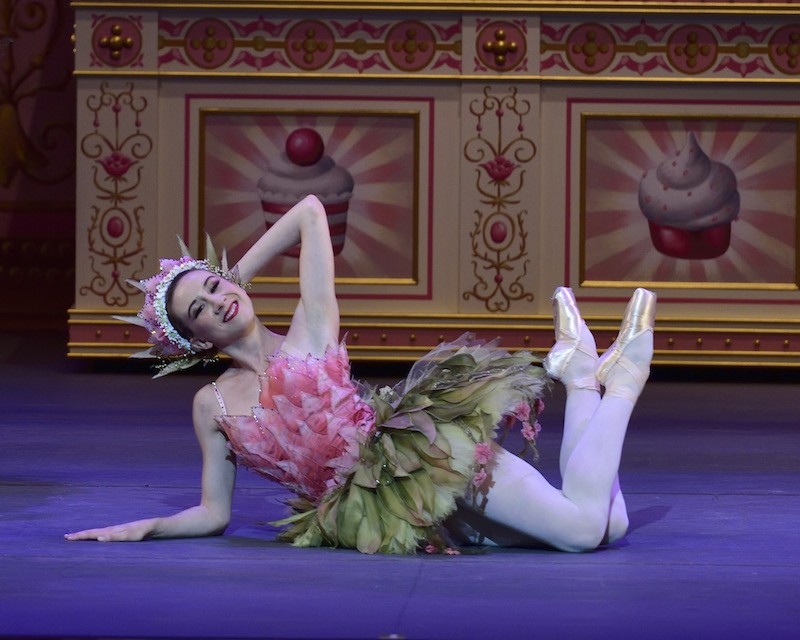 Isabella Boylston in Whipped Cream. Photo: Gene Schiavone.
Whipped Cream is all delectable highs and mawkish lows, like the peaks and valleys of, well, whipped cream. Ratmansky eases these emotional exaggerations by releasing the erectness of the spine. Thus, fairy tale tropes — true love at first sight, ordinary objects becoming animated — resonate as believable, particularly in the pas de deux between Prince Coffee and Princess Tea Flower where their hearts slant toward each other.
Much like The Boy's affinity for whipped cream, too much of a good thing proves to be just that — too much. Two princesses split our affection: Princess Tea Flower (Isabella Boylston, whose smiles blink on and off depending on the difficulty of the steps) and Princess Praline (Sarah Lane, off her leg but with consistent vivacity). Two male protagonists cut dashing figures: Prince Coffee (Alban Lendorf, hunky with voluminous port de bras) and The Boy (Daniil Simkin, impish with blistering coupé jetés).
Daniil Simkin and Alexei Agoudine in Whipped Cream. Photo: Gene Schiavone.
Two brief winking ballet blancs take the stage with a bevy of white-clad women. Act One ends with sixteen women cresting in pas de chats and whirling through waltz turns in a dreamy embodiment of the title. During Act Two, nurses attending the Doctor wield enormous syringes like machine guns. These group numbers delight with their stage-filling swoops and serpentine pathways.
For all its toothsome fun, the morality of Whipped Cream is ambiguous, suspect even. Indulgence is the theme, its most obvious iteration paralleled between The Boy and the Doctor, both of whom glut themselves. Yet The Boy wins the enthusiasm of a princess and a whimsical new home while the Doctor ends up drunk and humiliated. Is this a public service announcement for temperance? A referendum on how handsomeness and youth are forgiven more easily than old age and peevishness?
I'm thinking too hard about this. Whipped Cream has a purpose: to amuse and to delight, both of which it does with aplomb. Who wants dessert to be heavy?  
---
The Dance Enthusiast Shares IMPRESSIONS / our brand of review and Creates Conversation.
Check out our other IMPRESSIONS here.