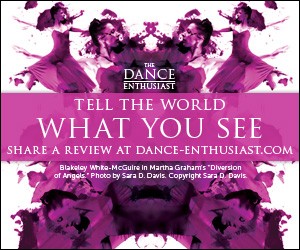 Related Features
Impressions of Amy Chavasse, Sarah Konner, Austin Selden and Jay Peng Zhang at Triskelion Arts
February 25-26, 2017
Emi, Amy, and Mimi, the Celebrated Love Partners and their Bicycle Emi Nomo
Choreography and performances by Amy Chavasse, Sarah Konner, and Austin Selden
Music by Joni Mitchell and Bill Back
Set by Amy Chavasse, Sarah Konner, and Austin Selden
Costumes by Patricia Branam
Calling the Goddess
Choreography and performance by Amy Chavasse and Jay Peng Zhang
Music by Jay Peng Zhang / Costumes by Amy Chavasse and Jay Peng Zhang
Lighting by David Glista
---
A trio in floral skirts and matching blouses gingerly steps over a Mylar terrain littered with broken tree branches. This scene, like an image from a fairy tale, opens Emi, Amy, and Mimi, the Celebrated Love Partners and their Bicycle Emi Nomo at Triskelion Arts.
The choreographers and performers, Sarah Konner and Austin Selden, are frequent collaborators while Amy Chavasse has developed solo and group dances for her namesake company and The University of Michigan Dance Department (where Konner and Selden were once her students). After years of seeing their work separately, it's fascinating to witness their aesthetics converging and influencing one another.
From l to r: Austin Selden, Sarah Konner and Amy Chavasse in ...Emi Nomo; Photo by Corey Ellis
Chavasse often enlists a palate replete with wacky props, costumes, and searing wit like an unwieldy vacuum that blew up a performer's outfit in Swimming the English Channel. The trio continues this tradition in their first collaboration. Patricia Branam's costumes are of a shrunken, off-kilter Elizabethan style with short hoop skirts that swoosh as the performers dart their hips and execute loppy jumps.
The tree branch and Mylar set makes a horseshoe shape, relegating the performers to a condensed space downstage. This configuration creates tension as the three engage in percussive song and partnering — skillful intertwining lifts and luxurious weight shares are a hallmark of Konner and Selden's work. Yet the confinement leads the partnering section to appear, at times, tentative. We desire to see these long-limbed, larger-than-life characters bust through, puncture, and rebound across Triskelion's deep stage.
Austin Selden, Sarah Konner and Amy Chavasse in ...Emi Nomo; Photo by Corey Ellis
Where the movement lacks fire, a complicated jaunty song commands us to lean in — partly because we can't believe our ears. Contrapuntal rhythms with accompanying footwork stir our imagination as the artists sing absurd lines like:
The door was left open and Emi Nomo disappeared/ Our cries for Emi Nomo have been replaced with sex.
Emi Nomo was bloody/ Emi Nomo's neck had been lacerated/ Emi Nomo will have to be shot.
Please ride my Emi Nomo please ride my bicycle
An orgasm is a bicycle/ Please ride my orgasm/ Please ride my Emi Nomo
With velvety voices, they're a fierce, deranged version of the Supremes. Despite its ridiculous premise, one cannot resist the trio who delights in the folly of it all.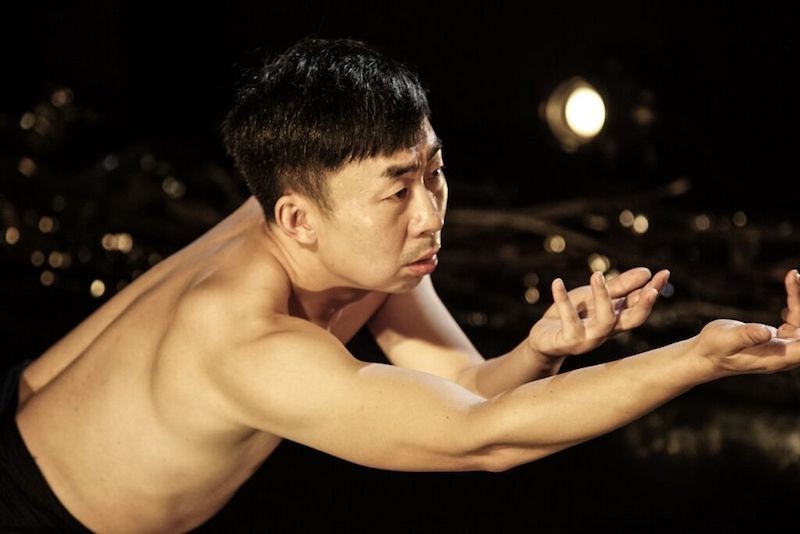 Jay Peng Zhang in Calling the Goddess; Photo by Corey Ellis
Following the tragicomedy, the program takes a starker turn. Shanghai-based Jay Peng Zhang, of the Tujia ethnic group from Western Hunan Province, offers traditional song in Calling the Goddess. Manipulating his breath to elicit guttural sounds and elongated deep notes, his control is rousing. Chavasse makes an appearance in her signature offbeat fashion. In a traditional head wrap and funky Mylar sheath, she augments Zhang's enigmatic tranquility. Fusing tradition with invention, Calling the Goddess forges a singular world that viewers can literally walk into as we're invited to encircle the two — an intimate and communal gesture.
---
The Dance Enthusiast Shares IMPRESSIONS/ our brand of review and Creates Conversation.
Check out our other IMPRESSIONS here.
Share your #AudienceReview of this show or others for a chance to win a $75 giftcard to Trader Joe's.