IMPRESSIONS FROM PARIS: Anne Teresa De Keersmaeker's "Così fan tutte" at the Paris Opera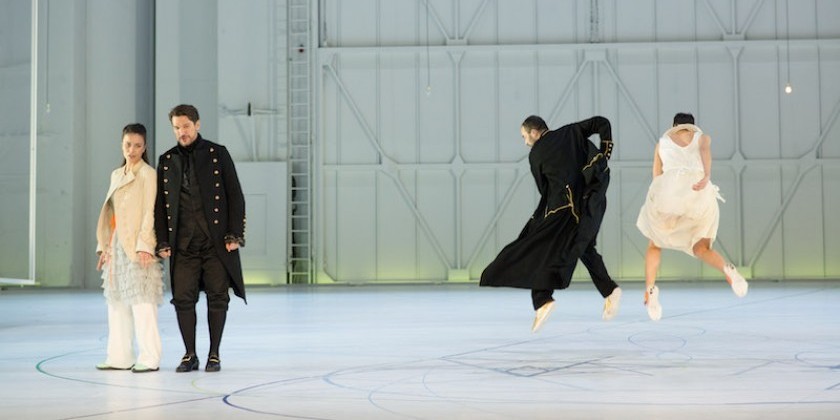 Opéra National de Paris
Palais Garnier
September 16-October 21
Set and lighting design: Jan Versweyveld
Costume design: An D'Huys
---
Anne Teresa De Keersmaeker's contemporary and unconventional production of Mozart's Così fan tutte for the Paris Opera is a triumph by any measure. Vivid and full of verve, her production takes audiences on a crisply energetic ride along the comic surface of this 1790 masterwork, whose libretto by Lorenzo Da Ponte pits four idealistic lovers against a worldly manipulator whose cynical view of human nature and libertine sexual mores capture the atmosphere of the time. 
Così fan tutte is an opera where double-entendres prevail in the singers' text. In traditional productions, the audience hears the double meanings as the singers pour out their desires and woes in gorgeous arias and ensemble singing. But De Keersmaeker wants the double meanings — often risqué — brought to the surface. In a brilliant stroke of direction, she succeeds at this by doubling the six principal roles with singer-dancer pairs.
Così is also an opera of disguises, plot twists, and partner swapping, the whole predicated on a story line that abounds in deception and self-deception. The audience must constantly read between the singers' lines. The dancers serve this function as well, as their blatant physicality expresses the couples' surging desires even as these four are convinced of their chasteness and constancy.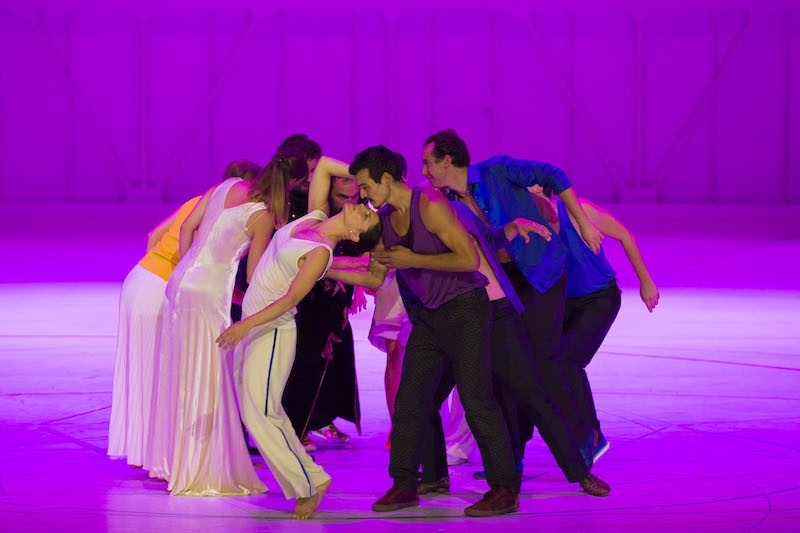 Anne Teresa De Keersmaeker's Così fan tutte at the Paris Opera; © Christophe Pelé 
The marvelous six principal singers are regulars on the international opera circuit, while the superb dancers who serve as their doubles are members of Rosas, De Keersmaeker's acclaimed Brussels-based dance company.
The dancer-singer pairs for the women were especially fine. In the role of Dorabella, Stephanie Lauricella (mezzo-soprano) and Samantha Van Wissen (dancer) gave wonderfully full-bodied performances. In the role of Fiordiligi, Dorabella's more-delicate and conscience-ridden sister, Ida Falk-Winland (soprano) and Cynthia Loemij (dancer) offered the evening's most-moving moment in a gravely beautiful aria. Falk-Winland, downstage in a luminous white silk gown, struggles against her desires, pleading that they remain "in the shadows." Facing the back wall behind her, Loemij stands in suspended stillness — and literally in shadow. In the role of the sisters' clever, lusty chambermaid, Despina, Maria Celeng (soprano) and Marie Goudot (dancer) nearly brought down the house with their energetic sexuality and pitch-perfect comic timing.
The Paris Opera's selection of a choreographer to direct its new production of Così fan tutte may seem unusual to American dance- and operagoers. But this is France, where, since the Baroque period, dance has held a privileged place in operatic productions. Among the choreographers who have preceded De Keersmaeker in the director's chair at the Paris Opera are Maurice Béjart and Pina Bausch.
At intermission I overheard a New Yorker in the audience say to her companion, "I like this even better than the Met's production, don't you?" I hope this marvelous production will one day tour to this side of the Atlantic.
---
The Dance Enthusiast Shares IMPRESSIONS/ our brand of review and Creates Conversation.
For more IMPRESSIONS, click here, including our 2017 and 2014 IMPRESSIONS of Anne Teresa De Keersmaeker's Rosas.
Share your #AudienceReview of this show or others for a chance to win a prize.