Impressions of: BODYTRAFFIC at The Joyce Theater with Works by Anton Lachky, Richard Siegal & Arthur Pieta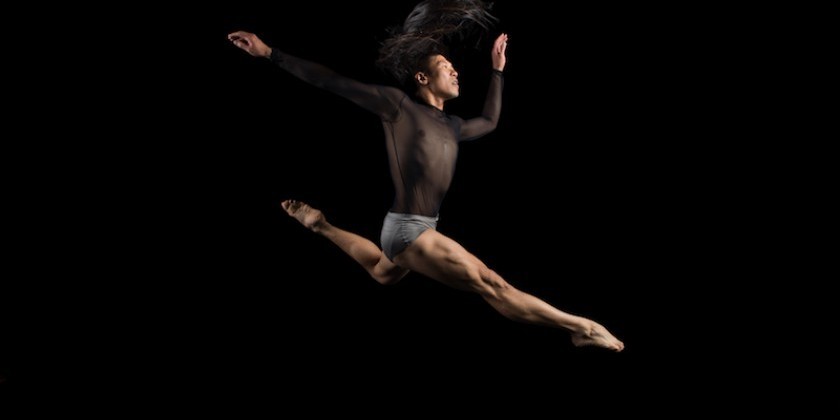 January 18-19 at 8:00pm
Artistic Directors: Lillian Barbeito and Tina Finkelman Berkett                                  
Company Manager: Dora Quintanilla
Performers: Lillian Barbeito, Tina Finkelman Berkett, Joseph Davis, Joseph Kudra, Lindsey Matheis, Matthew Rich, Guzmán Rosado
Production Manager: Burke Wilmore
---
What a treat to punctuate a night at The Joyce Theater with BODYTRAFFIC in its three-part bill charged with games, preludes, and death-defying dances.
Private Games: Chapter One (World Premiere) (choreographed by Anton Lachky) signals the green light to begin the evening. Two women stand and one man kneels within a center stage spotlight. Fog swirls around them, summoning the vibe of a mysterious epic Greek poem. Lindsey Matheis gently grazes the surface of the hair and left shoulder of Lillian Barbeito, who also acts as co-artistic director with Tina Finkelman Berkett. Barbeito offers the same attention to Guzmán Rosado, snaking her fingers through his hair. The trio dissipates as more join, weaving spastic isolated pelvic thrusts between virtuosic axel turns, spinning penchés, and elongated tendus. 
Barbeito reappears and introduces herself as Rose. She shares a diatribe about how she and her imbecilic husband (Rosado) like to play games. She commands him to transform into a dog, bubble bath, lemon, rotten avocado, and espresso. He grunts, snorts, and bends to her will. When he lands on pig, she joins his oinking because this is her favorite.
Members of BODYTRAFFIC performing Death Defying Dances by Arthur Pita. Photo by Yi-Chun Wu.
After more ensemble clumps and gyrating cheers in response to some imaginary action in the audience, the spoken narrative returns. Matthew Rich recites the prose this time around, but it remains ill fitted. If it didn't coexist with the movement, there would be no indication that the dance and story are related.
3 Preludes (choreographed by Richard Siegal) offers a silky indigo ballet/jazz number with flexed hands and classic gender roles. Two men in slacks and button-up shirts fight for Berkett's attention. They glide across the surface to woo her. She is not easily won but complies to be lifted, tossed, or playfully tugged. This pleasant number completes the first half of the program with Fred Astaire charm.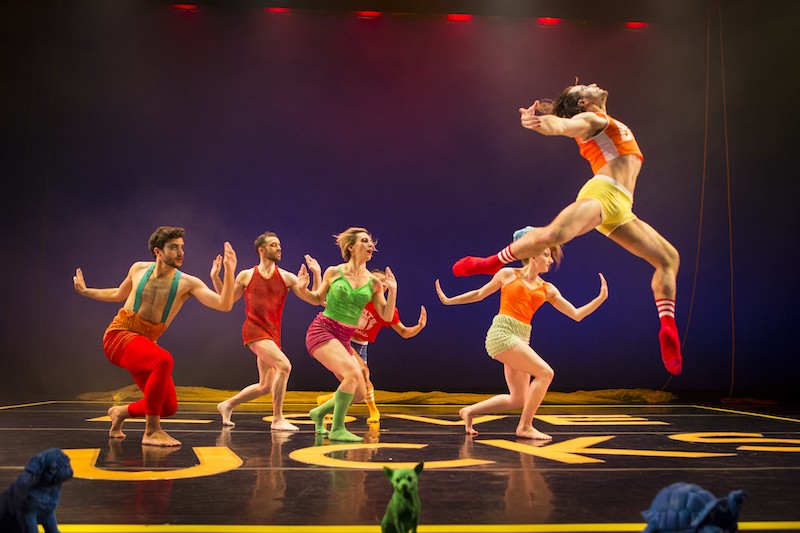 Members of BODYTRAFFIC performing Death Defying Dances by Arthur Pita. Photo by Yi-Chun Wu.
The night concludes with Death Defying Dances (choreographed by Arthur Pita). This work pays homage to American singer and songwriter Judith A. "Judy" Henske — "the Queen of the Beatniks." Her morbid humor accompanies vignettes that embody the tragedy of love. Vibrant blue, pink, and orange light animates this moving portrait, saturating painted bird figurines sprinkled around the stage, costumes, and makeup. Six dancers mimic the words of each song with motion, beginning and ending this medley with a signature gesture of one being frozen by a kiss. The receiver planks as the initiator gently guides them to the floor. Between songs, the cast manipulates a bright yellow lacy fabric. It morphs from concealing the phrase 'Love Sucks' on the floor, to a backdrop, and then ends as a canopy. Visual opulence pushes to the forefront of a sophisticated lyrical dance piece.
BODYTRAFFIC begins with regal confidence and anticipation of the unexpected. Along the way, déjà vu signals you've seen some version of these works before, but youthful charm and dazzling moves manage the heavy lifting within a nascent design of these choreographed works.
---
The Dance Enthusiast Shares IMPRESSIONS/ our brand of review and Creates Conversation.
Check out our other IMPRESSIONS here, including a feature on BODYTRAFFIC 
Share your #AudienceReview of this show or others for a chance to win a $75 giftcard to Trader Joe's.