Impressions of: Erin Cairns Cella and Dages Juvelier Keates of E/D and Mei Yamanaka at Triskelion Arts
December 1-2 at 8:00pm
---
Yes, you are seeing double. On December 1-2, Triskelion Arts presented the work of E/D, BOUNCE BOUNCE, and Mei Yamanaka, now now. Each work offers unique duet pairings that heighten awareness to rhythm and stamina as well as literary repetition.
BOUNCE BOUNCE is an aerobic incantation animated by E/D (the collaborative alter-ego of artists Erin Cairns Cella and Dages Juvelier Keates). Dressed in gold sequin rompers and sneakers, they inhabit the percussive thump of music by Jascha Narveson. Their chests and limbs pulsate, speeding up or slowing down to mimic the sound. Although they move mostly in unison, moments of subtle variations and individual nuance pierce through the monotony. Cella lifts her arm slightly higher, or Keastes veers her bouncing pathway off a predetermined path. This repetitious rhythm coupled with their deadpan stares evokes futuristic fembots.
E/D's Erin Cairns Cella and Dages Juvelier Keates in BOUNCE/BOUNCE. Photo by Michelle Claire Gevint.
The work takes unusual twists and turns. Without warning, house and stage lights come up, and their personalities casually poke through. They toss back bottled water and take selfies with the audience. When darkness floods the stage, two isolated spotlights reveal that Cella and Keates have abandoned their running shoes. We wonder what else they left behind, but we cease our contemplation when they break into lip-syncing Kelly Clarkson's "Stronger (What Doesn't Kill You)." From manipulated androids to the stars of a cheeky adolescence slumber party, BOUNCE BOUNCE is an exhaustive game of endurance where we try to follow the bouncing balls.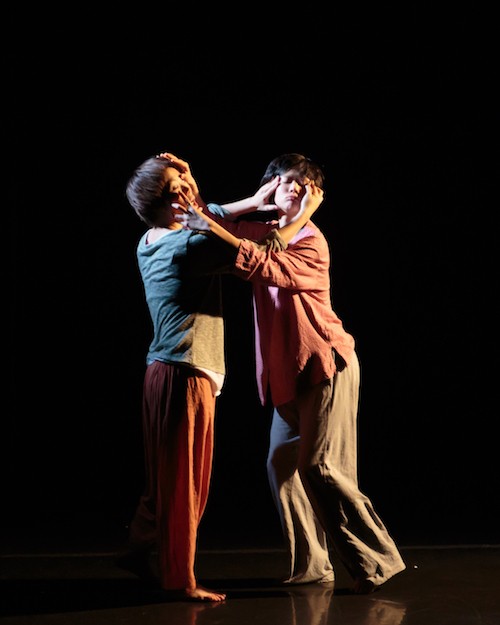 Mei Yamanaka (right) and Misuzu Hara in Now, now. Photo courtesy of the artist.
One can go several places with the phase 'now, now,' from an expression of worry to one of criticism. This work of the same name, performed by Yamanaka and Misuzu Hara is no exception. It composes a then and now nonlinear narrative that highlights moments of Yamanaka's life. It begins with a playful back and forth between Yamanaka and Hara. They dodge each other's reach while trying to step on one another's exposed toes. Their loose pants and baggy tops accentuate their aqueous limbs and undulating torsos.
The two move effortlessly, but with clear intention. Their bodies land so specifically in space that surprising moments of contact appear and disappear with ease. During one moment, Hara places a piece of white paper on Yamanaka's face. Each time the paper falls Hara reapplies the crumpled sheet with increased aggression. This act foreshadows the application of white paint to Yamanaka's face by Hara, who then disappears permanently. The experience of two becomes the story of one. Now, now evokes a thoughtful saga of motion where the viewer's mind may ebb and flow much like rhythm of the work.
---
The Dance Enthusiast Shares IMPRESSIONS/ our brand of review and Creates Conversation.
Check out our other IMPRESSIONS here.
Share your #AudienceReview of this show or others for a chance to win a $75 giftcard to Trader Joe's.