IMPRESSIONS: "Grand Hotel," The Musical by Encores! at New York City Center
Book: Luther Davis
Music and Lyrics: Robert Wright and George Forrest
Direction and Choreography: Josh Rhodes
Performance: Junior Cervila, John Clay III, Natascia Diaz, John Dossett, Irina Dvorovenko, Guadalupe Garcia, Nehal Joshi, James T. Lane, Jamie LaVerdiere, Eric Leviton, Robert Montano, Kevin Pariseau, William Ryall, James Snyder, Brandon Uranowitz, Daniel Yearwood, Heléne Yorke
---
During Grand Hotel, a couple intermittently tangoes through the melee of hustling bellhops, bustling maids, and jostling guests. Their presence appears unseen, but it's not unfelt because tango, like life, is a study of contrasts. Sinuous stroking and smoldering gazes yield to piercing flicks of the feet and an embrace that can feel like a vise to the follower, imprisoned as she is in the arms of a leader whose affections can swerve from fire to ice during one slinky salida basic.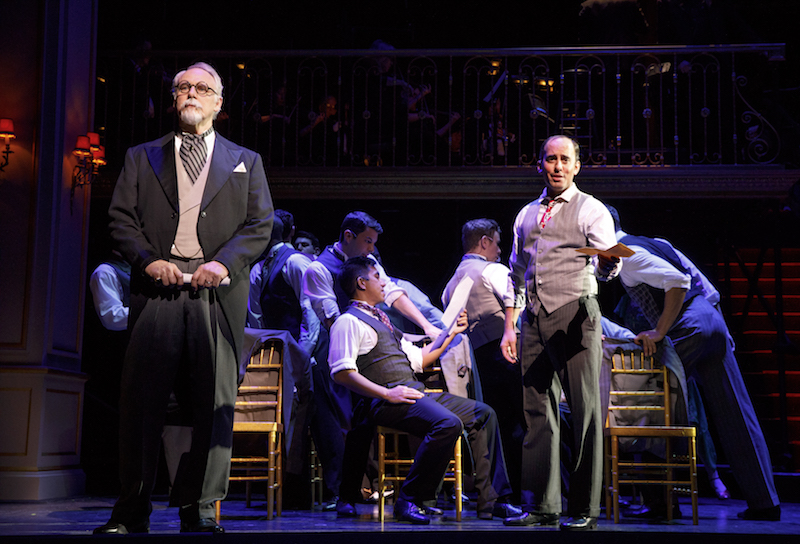 John Dossett and Nehal Joshi in Grand Hotel; Photo: Joan Marcus
These dramatic swings act as the beating heart of Grand Hotel, presented by Encores! at New York City Center. The work began life as a novel by the Austrian writer Vicki Baum, premiered as a play in 1930, and was made into a movie in 1932. Years of fits and starts passed before, in 1989, it received a splashy musical adaption and Broadway debut with direction by Tommy Tune. Taking place in 1928 Berlin, the "grand hotel" is a backdrop for earnestly delivered songs, saucy Charleston numbers, and a multi-narrative that pits life against death.
Otto Kringelein, a terminally ill bookkeeper, and Erick, a desk clerk who's about to become a new father, stand at the opposite poles of corporeal life: mortality and birth. Kringelein (Brandon Uranowitz, whose portrayal is in the details: pigeon-toes, a bowed spine) comes to blow his savings and, just maybe, live a little if he, a Jew, can get a room. After a clunky foxtrot with a sassy blonde expands into a high-flying quickstep, he says, "For the first time in my life, I'm happy." Erick, however, gets no fancy dances. He's forced to work while his wife endures a difficult labor. He misses the birth but celebrates his son's lusty cries when his wife calls to introduce them.
Irina Dvorovenko and James Snyder in Grand Hotel; Photo: Joan Marcus
The death of a dream — while less final than actual death — is equally charged. A ballerina at the sunset of her career, Elizaveta Grushinskaya (Irina Dvorovenko: husky-voiced, majestic) sweeps around Europe for her swan song. If, that is, she can locate the charisma and brio that defined her glory days. Grushinskaya's wry humor masks her pain at losing the only life she's known. Knocked-up Flaemmchen dares to dream that one day she might escape her small, shabby life for the silver-screen promises of Hollywood stardom. Of course, dreams come with prices, and dealing with the ethically bankrupt industrialist Hermann Preysing may cost too much.
The hub of these intersecting spokes isn't crabby WWI vet Colonel Doctor Otternschlag, who flumps in a gold-edged chair blustering about hotel guests. Instead, the impoverished Baron Felix Von Gaigern (hunky and heartfelt James Snyder) unites the storylines. His reluctant thieving affords him the chance to fall for Grushinskaya, avenge Flaemmchen's involuntary seduction, and mastermind an enchanting evening for Kringelein. The baron would enjoy a redemptive arc from dissolute playboy to upstanding lover save a bullet from Preysing that ends his life, integrity no match for life's caprices.
Garcia Cevila in Grand Hotel; Photo: Joan Marcus
Grand Hotel lands like a sloppy kiss with a poke in the side — its emotional sum greater than its performative parts, which have a shopworn razzle-dazzle to them. The score lacks distinction; the choreography wants for more rhythmical variety; and except for the luscious costumes, Jazz-Age Berlin is so faintly drawn that it might as well be present-day Milwaukee. The performances range from serviceable to unnoticeable, aside from Snyder and Uranowitz, who keep one-note roles from melting into schmaltz or crystallizing into melodrama.
Heléne Yorke and Brandon Uranowitz in Grand Hotel; Photo: Joan Marcus
And yet it's a treat, a champagne toast to all the weird and wonderful people who cross one's way. As the Doctor Colonel says at the end,  "Grand Hotel, Berlin. Always the same – people come, people go – One life ends while another begins – one heart breaks while another beats faster – one man goes to jail while another goes to Paris – always the same."
He decides to stay for one more day.
So would I.
---
The Dance Enthusiast Shares IMPRESSIONS/ our brand of review and Creates Conversation.
For more IMPRESSIONS, click here.
Share your #AudienceReview of performances for a chance to win a prize.