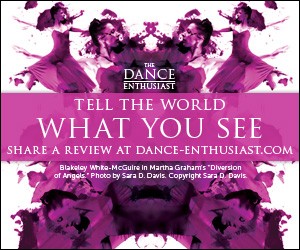 Related Features
IMPRESSIONS: Guggenheim's Works and Process with Jared Angle, Sara Mearns, Jodi Melnick, and Taylor Stanley
January 15, 2018
Solomon R. Guggenheim Museum
One of Sixty-Five Thousand Gestures
Choreography: Trisha Brown and Jodi Melnick
Performance: Jodi Melnick / Music: Hahn Rowe
NEW BODIES
Choreography: Jodi Melnick
Performance: Jared Angle, Sara Mearns, and Taylor Stanley
Music: Heinrich Biber, Robert Boston, György Ligeti / Music Performance: Robert Boston (harpsichord) and Monica Davis (violin)
Pictured above: Works & Process at the Guggenheim. One of Sixty-Five Thousand Gestures, Choreography by Trisha Brown and Jodi Melnick, Performance by Jodi Melnick.
---
It wasn't a match made in heaven. Instead, it was one forged on a dance floor sheened with perspiration and inspiration when Claudia La Rocco played cupid between uptown and downtown artists as part of Danspace's Platform 2015: Dancers, Buildings and People in the Streets. A grouping that included Sara Mearns, principal at New York City Ballet, and celebrated choreographer Jodi Melnick proved so revelatory that the two jumped at the opportunity to work together again when Jacob's Pillow gave Mearns a residency.
This time, Mearns invited fellow NYCB members Jared Angle and Gretchen Smith to participate with her. The result is the enigmatic, charismatic NEW BODIES (2016), which received an encore performance at the Solomon R. Guggenheim Museum as part of Works & Process where Taylor Stanley replaced an injured Smith. The trio incrementally evolves from individuals to a community over three sections set to harpsichord and violin solos. The sleek One of Sixty-Five Thousand Gestures, performed by Melnick and choreographed with the late Trisha Brown, opens the program.
Commissioned by Works & Process at the Guggenheim. NEW BODIES, Choreography by Jodi Melnick with Jared Angle, Sara Mearns, and Gretchen Smith. Photo: Robert Altman.
Melnick disassembles bodies, phrases, even pieces into repose and rigor. One half of a physique may remain soft and blank while, on the other side, the leg stretches into a cushiony lunge or the arm wheels briskly. A watchful dancer might rest upstage as the remaining two tip their bodies forward, arms streaming behind them. Melnick smudges the line between being and doing with it often appearing like the movement happens to the mover.
Abandonment — of actions, of each other — extends through the evening. Dancers surge through one or two assemblés before stopping unexpectedly, turning their backs, and strolling away. One catches another, that individual's leg cresting high, but then, interest redirected, glides through a lift with the third. These lapses are brief; walking away becomes walking toward, the transitions themselves where the work lives.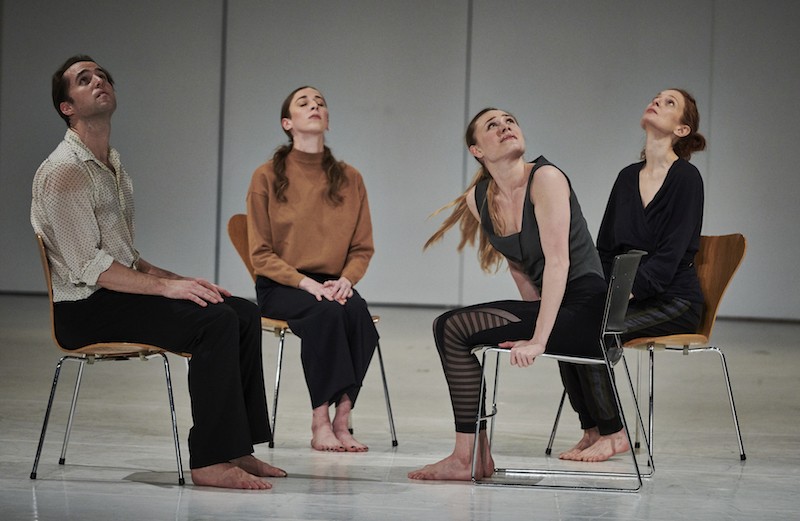 Commissioned by Works & Process at the Guggenheim. NEW BODIES, Choreography by Jodi Melnick with Jared Angle, Gretchen Smith, Sara Mearns, and Jodi Melnick. Photo: Robert Altman.
This, however, is no collection of noncommittal impulses united through jangly music and ashen lighting. From Melnick's striding entrance in One of Sixty-Five Thousand Gestures to the end of NEW BODIES where Mearns drips herself down a chair, the silky but precise quality remains constant, compelling. The artists waft and whir like animated ribbons regardless if it's a ballet section with skimming verticality or a jerky nod of the head. 
In postmodern fashion, the show never officially ends; instead, it ebbs when Melnick and Smith join the performers for a self-referential apotheosis that formalizes into a panel moderated by Danspace's Executive Director, Judy Hussie-Taylor. While the conversation runs from the practical (NEW BODIES will be reprised at the Spoleto Festival in June) to the enlightening (Mearns calls dancing in silence "intimidating"), one point stands above all: the gusto the artists have for each other, which the audience mirrors. It may be because this coolly calibrated balletic pedestrianism born of crosspollination feels like the new virtuosity of the 21st century.  
---
The Dance Enthusiast Shares IMPRESSIONS/ our brand of review and Creates Conversation.
For more IMPRESSIONS, click here, and for another review of Jodi Melnick, click here.
Share your #AudienceReview of performances for a chance to win a prize.