IMPRESSIONS: Gushue Moving Arts at Triskelion Arts
November 9, 2017
Choreography: Charles Gushue with Robert Daniel Holmes Maynard and Leslie Rogers, Rebecca Gushue
Performance: Charles Gushue, Robert Daniel Holmes Maynard, Leslie Rogers, Jenna Hanlon, Sarah Morrill, and Kristi Ann Schopfer
---
Gushue Moving Arts, a Philadelphia-based dance and performance-art company, is led by choreographers Charles and Rebecca Gushue, partners in art and life. If their recent program at Triskelion Arts is any indication, the company houses a broad range of artistic explorations. Why can't one company present both wacky performance art and classic modern dance? The Gushues dare audience members to be just as open-minded.
In Charles Gushue's An incomplete collection of things #notallmen do, two men dressed as women and a woman dressed as a man undergo a hilarious dissection of masculinity. Gushue challenges his supposed rival Robert Daniel Holmes Maynard to a CrossFit contest ("The two things that make me feel most like a man: cross-dressing and CrossFit!" Gushue exclaims). In party dresses and heels, they frantically perform a series of dumbbell lifts and pushups, pointing to the audience to cheer for them. In a moment reminiscent of Donald Trump's ubiquitous coinage of "fake news," Gushue pretends to win although he's completed about half as many rounds as Maynard.
Much of An incomplete collection is outrageously silly. Leslie Rogers plays "Wayne," the grotesque emcee in a gray fat suit and baseball cap. As he waddles around stage, occasionally croaking out announcements, his plush penis wags unceremoniously.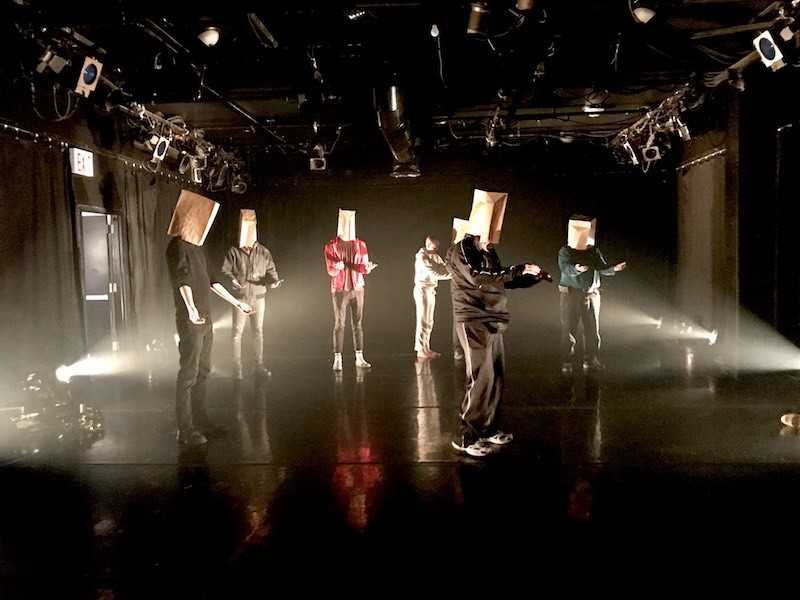 Charles Gushue's An incomplete collection of things #notallmen do; Photo: Gushue Moving Arts 
Gushue and Maynard ask "men" in the audience to leave, so everyone else can have a "safe space." Gushue coaxes us to move closer to the stage, offering chocolate, stickers, lotion, and sparkling rosé — lagniappes designed to entice women. Maynard performs a melodramatic solo, like something from So You Think You Can Dance, as Gushue pours rosé into Maynard's mouth. This refreshing dance sequence reinstates the fourth wall, relieving us from our participatory demands.
The audience members who were sent outside are dragged in with paper bags on their heads. In a ceremony of acceptance and forgiveness, "Wayne" marches across the stage, holding signs relaying different things that Gushue has said to seduce women. Gushue shouts, "catch me," as he jumps toward the bag-heads. They fail; thus Gushue repeatedly hits the floor with a thud. This scene suggests the recent revelations of sexual predators; our takeaway is that the behavior will never be forgiven. 
Stonefruit, choreographed by Rebecca Gushue, contrasts to the opener with digestible shapes and ideas. In the simple and striking beginning, three dancers walk in darkness, pausing when light illuminates them. Throughout, the lighting is as much a part of the piece as the movement, dictating the moments to which we are exposed.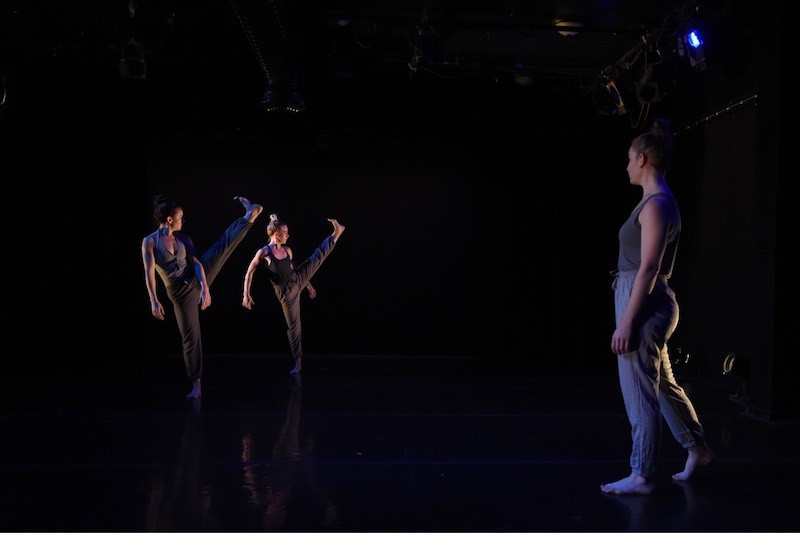 Rebecca Gushue's Stonefruit; Photo: Michael Loccisano
Stonefruit has a mechanical energy, which is highlighted by the gray costumes and heavy use of repetition, particularly in segmented arm gestures that evoke operating machinery. A thematic pointing gesture takes on different meanings depending on the context. At times, it is quick and obsessive; other times, it is slow and suggestive. In an abrasive, horror movie-like sequence, the dancers repeatedly throw themselves forward toward center stage in darkness, a light flashing just in time to illuminate their landing.
Performers Jenna Hanlon, Sarah Morrill, and Kristi Ann Schopfer are stunning; they evidence their diverse technical capability in cat-like balleticism and grounded, seamless partnering. In one gorgeous duet, Morrill and Schopfer wrap and fold around each other, changing levels with a battle-like intensity. The movement oscillates between high and lows — the dancers are up on their tiptoes before ducking underneath an imaginary obstacle.
Stonefruit ends with the cast progressing toward the audience, two facing us while one walks backward. Like much of the piece, this moment is compositionally satisfying but lacks substance. While a lovely piece, a clear development of plot never emerges, and about two-thirds of the way through, the work starts to feel arduous.
Gushue Moving Arts' latest feels like a compositional exercise in chaos versus control. It would be interesting to see the couple present an alternative program where these roles are reversed. 
---
The Dance Enthusiast Shares IMPRESSIONS/ our brand of review and Creates Conversation.
For more IMPRESSIONS, click here. 
Share your #AudienceReview of this show or others for a chance to win a prize.