IMPRESSIONS: Hilary Easton + Co.'s "Radiator" at Gibney Dance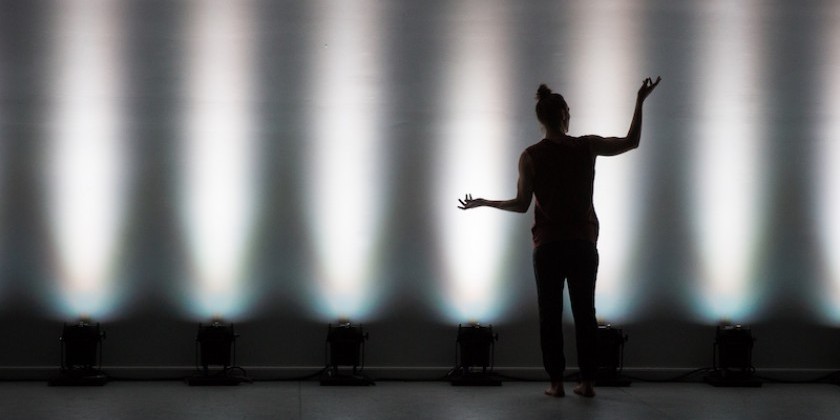 May 11, 2017
Venue: Gibney Dance: Agnes Varis Performing Arts Center
Choreographer: Hilary Easton
Performers: Alexandra Albrecht, Michael Ingle, and Jessica Weiss
Video: Tei Blow and Hilary Easton
Lighting Design: Asami Morita
Costumes: Márion Talán
Music: Section One: David Toop, Night Leaves Breathing; Section Two: John Godfrey, Hand Tinted; Section Three: Robert Fleitz, Paperwork; Coda: John Luther Adams, Above Sunset Pass
---
Longevity seems to mean something to choreographer Hilary Easton — she has been making dances since the early '90s and two of her dancers have been working with her for ten years. Her latest work, Radiator, reads like a letter from an intimate friend. Poetic and gentle, it reveals the beauty and truth that has inhabited Easton's world for all these years.
The hour-long dance follows the exceptional Alexandra Albrecht, Michael Ingle, and Jessica Weiss. At the outset, three square videos are projected onto the back wall. In them, each performer sits for a portrait. They blink, their shoulders soften, and their mouths relax into tiny smiles — the artifice often required of a dance artist stripped away to unveil the dancers' real selves.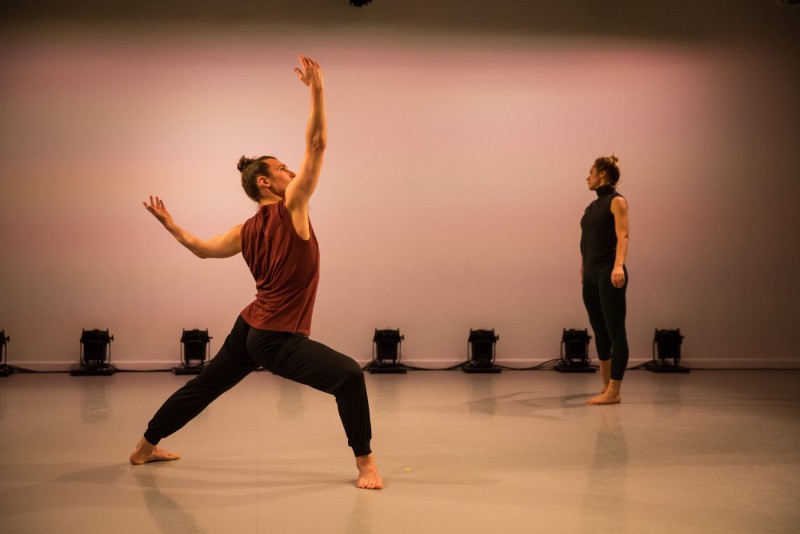 Michael Ingle and Alexandra Albrecht in Hilary Easton's Radiator; Photo: Scott Shaw
This sense of individuality continues in Radiator as the performers appear in the flesh. Each possesses strong technique and a velvety release in their joints. Easton's vocabulary nods to formalism but with an easy delivery. Prickly passés and majestic lunges are topped with cloud-like gestures broken at the wrist. Their synchronicity impresses as they jaunt in and out of unison. For all their adeptness, their sincerity leaves the biggest imprint on us.
Dancers rarely smile and emote in contemporary dance. When they do, it can leave a saccarine aftertaste. Radiator, on the other hand, captures honest, everyday reactions among the dancers — a subtle nod to someone on the subway or the sly whispers exchanged between friends.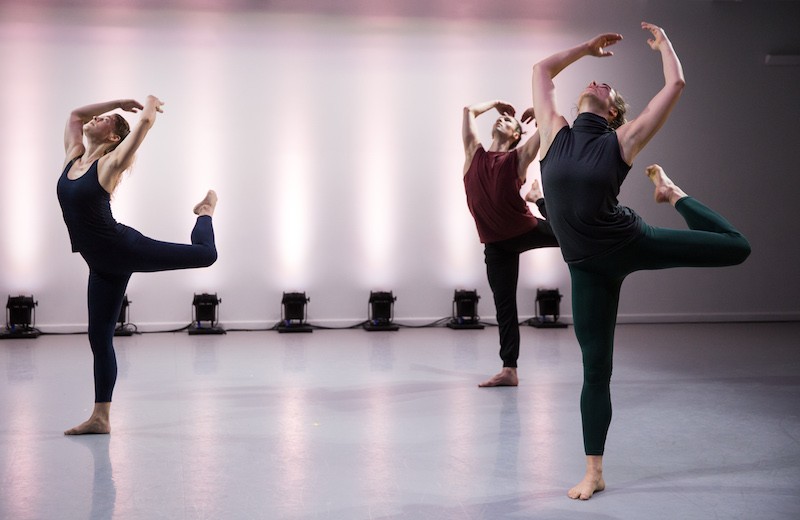 Hilary Easton's Radiator; Photo: Scott Shaw
The pastiche score further captures the gorgeous textures of quotidian life: a pencil against paper, the hiss and whir of a kettle or perhaps an old apartment radiator, tape being ripped off a cardboard box, a more traditional John Luther Adams score toward the end. These sounds frame Easton's linear, swirling configurations. References to circles abound as the dancers trace their toes in luscious loops. Bending at the elbow, arms carve the perimeter around the torso.
The choreography is most impactful when Ingle and Weiss orbit through a duet. At first, they perform separate material apart. Seamlessly, they begin to mirror tightly around one another, like two people stuck in a revolving door. This exchange exemplifies Easton's knack for evolving steps into a harmonious conversation.
Radiator whispers rather than shouts. That's not to say it's forgettable or weak. Instead, its radiance and poignancy reside in its tranquility. In a time of grandeur and constant distraction, Radiator demands we slow down to see the beauty that is often right in front of us.
---
The Dance Enthusiast Shares IMPRESSIONS/ our brand of review and Creates Conversation.
Check out our other IMPRESSIONS here.
Share your #AudienceReview of this show or others for a chance to win a $75 giftcard to Trader Joe's.