IMPRESSIONS: Jon Boogz & Lil Buck's "Love Heals All Wounds" at NYU Skirball
Date: April 14, 2018; 7:30PM
Directors: Jon Boogz & Lil Buck
Producers: Movement Arts Is (MAI) & Sozo Artists, Inc.
Choreography: Jon Boogz & Lil Buck in collaboration with performers
Technical Director:  Chisa Yamaguchi, Sozo Artists, Inc.
Lighting: John E.D. Bass
Performers: Jon Boogz, Lil Buck, "Ninja Nao" Campbell, Robin Sanders, SHEStreet, Keviorr "Tip Toe" Taylor, and Myles Yachts
Photos: JON BOOGZ (Left) and Lil Buck in Love Heals All Wounds 
---
"What's goin' on?"
City sounds fill the theater as spoken word artist Robin Sanders stares directly at us, repeatedly asking. Moments later the duo behind Love Heals All Wounds enters. Hands up in the air, they drop to their knees and whip their arms behind their backs, left with little more than the ability to bob from side-to-side.
So begins Jon Boogz and Lil Buck's first evening-length endeavor.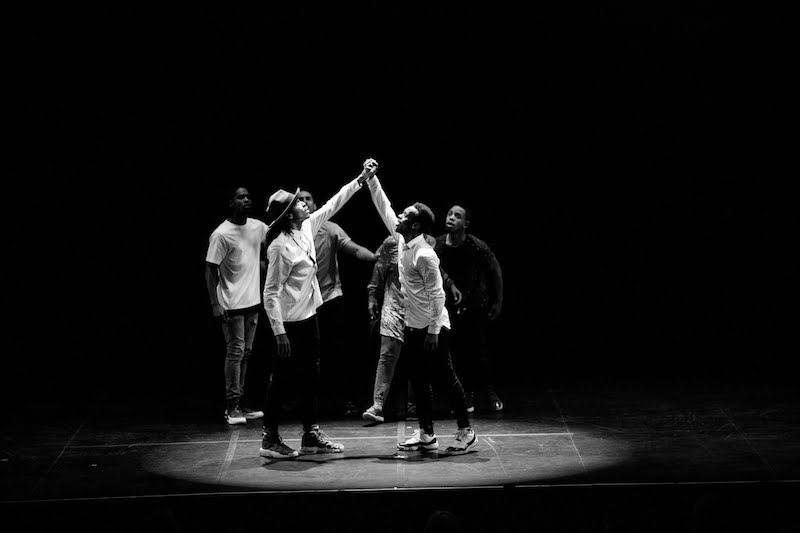 Lil Buck and Jon Boogz with the cast of Love Heals All Wounds; Credit: Tim Salaz
The two artists co-founded Movement Art Is (MAI) with a shared desire to inspire change. Boogz brings his popping talents while Buck adds his mastery of jookin' — a style born in his Memphis hometown. Their popular film Color of Reality (2016), made in partnership with painter Alexa Meade, marks an earlier foray into art activism, protesting gun violence.
This New York premiere — just one stop on an ongoing U.S. tour — brings protest to the stage. We are surrounded by racial division, police brutality, mass incarceration, immigration, climate change, feminism, and political corruption. Talk about timely. The use of street dance styles each born out of a specific time, place, and culture, point the conversation to inheritance — in this case, an inheritance of social struggles.
Lil Buck (left) and Jon Boogz; Photo by George Evan
Four fellow poppers and jookers join Boogz and Buck on stage, along with Sanders. Her phenomenal presence, commanding yet silky voice, and powerful word compositions quickly prove to be the thread uniting the 80-minute performance. She is the Greek chorus. Packaged in punchy nuggets, her every word holds meaning:
" . . . criminals turned Congressmen."
"Melanin has always been the target."
"We draw lines, but they ain't equal signs."
" . . . quick to unfriend anyone who is different."
"Only lay those bricks that build bridges."
"Her worth and work more priceless than gold: a woman."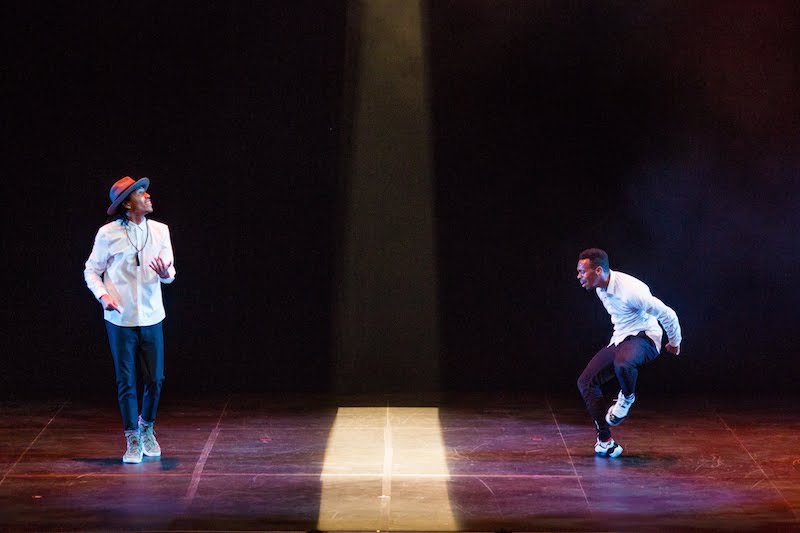 Jon Boogz (left), Lil Buck in Love Heals All Wounds; Credit: Tim Salaz
The poppers' sharp hits travel joint-to-joint juxtaposing with the fluid rhythms and suspensions of jookin'. Krumping and breaking also appear along with flares of ballet and full-bodied African dance. The melting pot of movement assumes an elegance, in line with the sweeping, often lighthearted soundscape. Still, the content is serious.
John E.D. Bass' lighting severs the stage in half, a nod to Trump's border wall and a broader metaphor for division. From opposing sides, performers attempt to break through their barricade with hinging stances, glides to and fro, and shoves flourished with shifting feet. Later they wrestle to remove one imaginary brick at a time. 
A pirouette on the tip of a tennis shoe holds a different, palpable weight when performed by a black man in an orange jumpsuit within the confines of a block of light. Other bodies, nearby yet isolated, unravel in their own frenetic solos. Boogz and Buck emerge in white shirts marred with red stains and convulse on the floor until the light fades.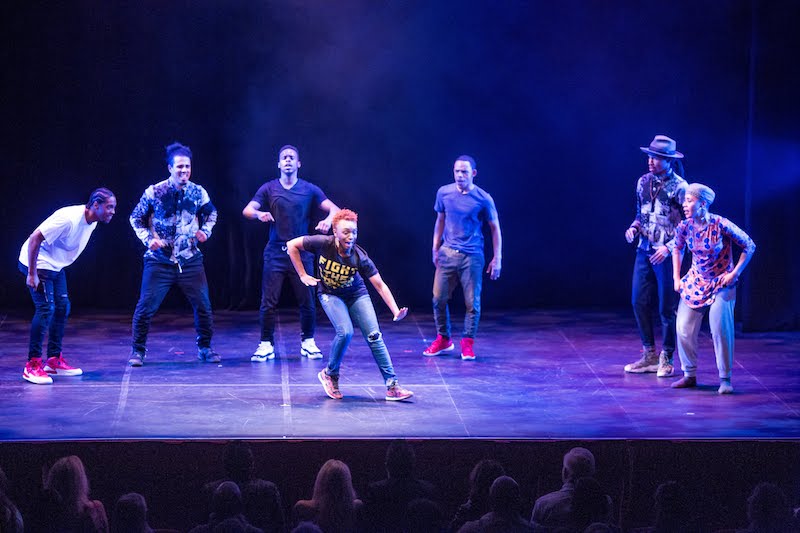 The cast of Love Heals All Wounds, choreographed by Lil Buck and Jon Boogz (Shown Center: Robin Sanders); Credit: Tim Salaz
In later sections entitled "Water," "Air," and "Fire," several trios deliver tricks, impressive toe balances, body isolations, and agile footwork. The choreography is visually exciting, particularly when delivered in committed unison, but it departs from the momentum of interpersonal dialogue built from the evening's start.
The mood shatters when all seven artists join together and exchange the "concert" framework for informality, community, and in-the-moment togetherness. Each artist improvises a phrase, intentionally breaking the fourth wall and encouraging the audience to clap and cheer. Given the evening's heavy content, this is a motivating place to land.
In Love Heals All Wounds, Boogz and Buck ask for more than an audience of passive witnesses. "Hearts and hands unarmed," Sanders directs. The cast takes each other by the hand and steps meaningfully forward toward us.
Everyone leaves with homework to do.
---
The Dance Enthusiast Shares IMPRESSIONS/ our brand of review and Creates Conversation.
For more IMPRESSIONS, click here.
Share your #AudienceReview of performances for a chance to win a prize.