IMPRESSIONS: Kinesis Project dance theatre's "TIMEPIECE, or: Another imperfect measurement of us"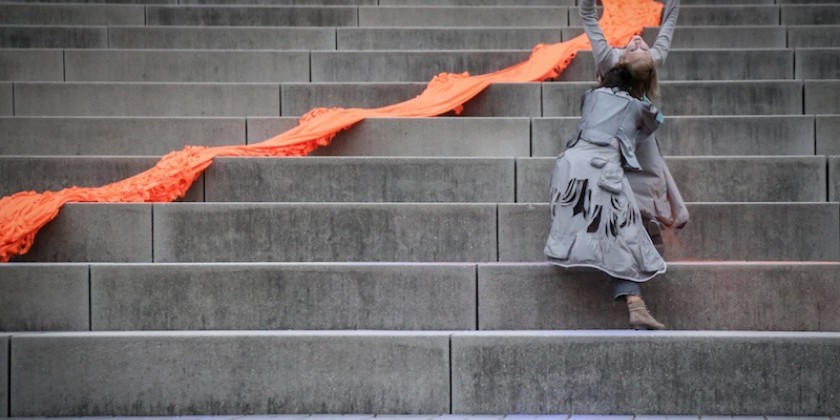 Date: September 17th, 2017
Venue: John Jay College of Criminal Justice
Choreography: Melissa Riker in collaboration with the dancers
Dancers: Zoe Allocco, Cassandra Cotta, Michael Greenberg, Michelle Micca, Therese Ronco, Marion Spencer
Composition, arrangement, band direction: Kate Jaworski / Composition and arrangement: Becky Turro
Musicians: Kate Jaworski, Hilary Hawke, Philippa Thompsen, Ian Riggs
Costume design and construction: Asa Thornton / Set design: Celeste Cooning
---
When creating site-specific work, a choreographer must surrender some control over the piece, opening up the performance to a chaotic assortment of variables: the weather, outside sounds, other people. Kinesis Project's Melissa Riker is familiar with this challenge; her company has performed in outdoor spaces all around the city. In the case of TimePiece, or: Another imperfect measurement of us, fluidity of spatial arrangement enables the exploration of time and space, and how the two evade easy logic.
It's hard to pinpoint exactly when TimePiece starts. We are waiting in the lobby of the top floor of the John Jay College of Criminal Justice, and maybe someone says something, or someone points somewhere, but before we know it, we're moving toward a narrow pair of escalators, one going up, the other going down.
Six dancers clad in flowing costumes of various grays ride these escalators, sometimes solo, sometimes in pairs. Their movement is like cursive writing, unraveling infinitely. Some audience members ride with the dancers, the escalators carrying them between two points in time and space.
Kinesis Project; Photo: Stephen de las Heras
At the top of the escalator an ethereal pair of musicians, Hilary Hawke and Kate Jaworski, greets us. For about ten minutes, time stands still as they cycle through the simple, sweet harmonies of "Dream a Little Dream of Me" as the dancers elegantly circle the periphery.
Different places within the massive rooftop courtyard are reimagined as performance spaces. Sometimes, the piece spreads itself over sprawling portions of grass and concrete, forcing us to choose how we engage.
Throughout, it seems as though some audience members are "in on the secret," or are both observing and involved. They direct our attention by asking us to move outdoors or motioning for us to participate. These moments feel out of place. Everything appears so organic that it seems impossible that anything could be scripted. 
Under a balcony, a quartet of couples comprised of audience members/participants slow-dance in a courtyard. Because we are looking down on them, the scene feels oddly nostalgic — spatial arrangements implicating time.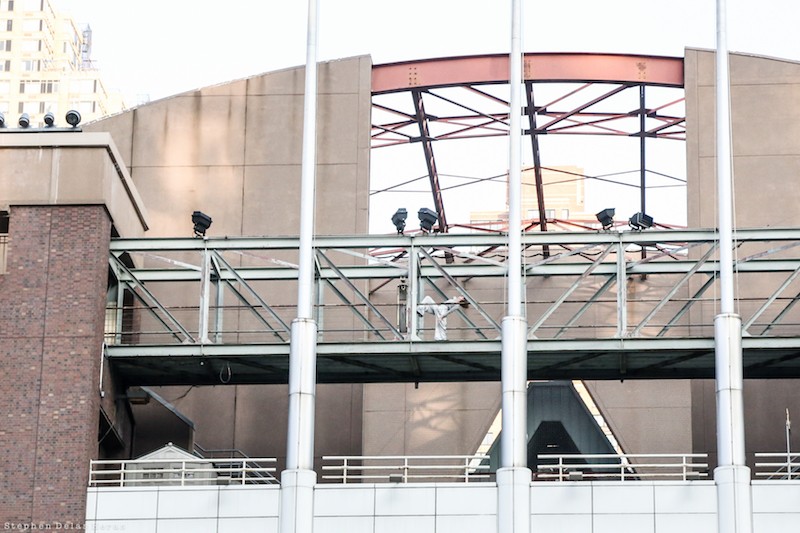 Kinesis Project; Photo: Stephen de las Heras
Kate Jaworski, also on lead vocals, is in charge of the live music. Her arrangements of familiar songs are like a dream — familiar yet stimulatingly fresh. The musicians are far from the audience, but their sounds infiltrate the forefront of our experience.
TimePiece offers an abundance of visual stimulation where the natural hues of cement and grass contrast with neon color. Florescent sand drips from the pockets of the dancers' costumes to create a colorful, tangled mosaic on the ground, which is quickly destroyed by the dancers' swerving feet. A massive orange tarp extends from the top of the stairs, and the dancers fold it, twist it, even occasionally hide under it. The prop is perhaps a physical representation of time — sometimes we get lost in pockets; sometimes it buries us.
TimePiece happens around us in a way that catches us off guard. We question what is intentional: the recorded music in the distance, an airplane flying overhead . . . Could Riker have even scripted the 70-degree windless September day? The pale-pink evening light? It is simultaneously off-putting and transformative to be unable to discern what is performance and what is real life.
The piece closes casually. The audience is asked to come dance and "play" in the sand with the performers. This ending seems as if the piece will seamlessly continue even as we leave the place where performance and real life feel like one and the same.
---
The Dance Enthusiast Shares IMPRESSIONS / our brand of review and Creates Conversation.
Check out our other IMPRESSIONS here, and our 2011 video interview with Melissa Riker.
Share your #AudienceReview of this show or others for a chance to win a prize.