IMPRESSIONS: Laura Peterson's "FAILURE" at Judson Memorial Church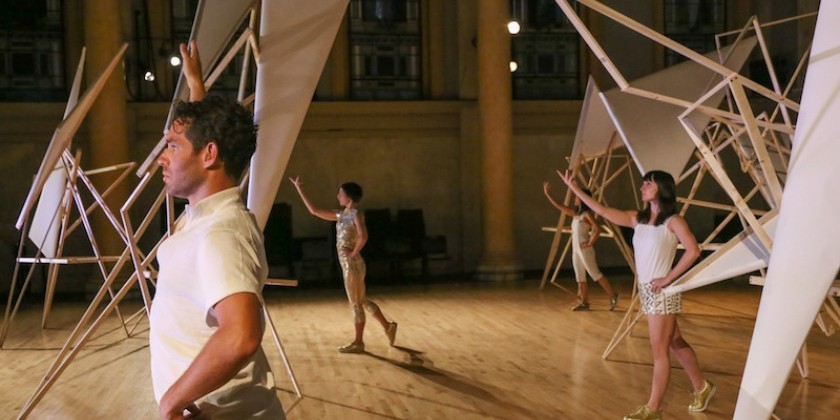 Date: June 29, 2017; 8:00pm
Performers: Jo-anne Lee, Laura Peterson, Jennifer Sydor, and Darrin Wright
Choreography: Laura Peterson
Production/Set Design: Laura Peterson and Jon Pope
Lighting Design: Ayumu Poe Saegusa
Costume Design: Mary Jo Mecca
Music: Jeff Mills and Autechtre
Pictured above L to R: J Darrin Wright, Laura Peterson, Jo-anne Lee, and Jennifer Sydor in FAILURE
---
Failing is funny. Or so the audience would have you think, sitting comfy, wielding one belly laugh after another. Meanwhile, a quartet of dancers exerts themselves to exhaustive physical limits, unable to "let the show go on."
An hour earlier, "failure" was theoretical. We're handed a program with the word splayed across the top, awaiting the contemporary dance meets art installation experience.
It gets real when the failure is genuine, unexpected even, like performer Darrin Wright's openly bleeding hand, which he handled like a pro.
The performance hinges on the dancers' endurance. Will it be 80 minutes, 90 minutes, longer? No one knows. Not even choreographer Laura Peterson and her three fellow performers as they set out on a mission to outlast one another. They ultimately release their dancer superpowers, one by one, and succumb to being mere mortals, like us.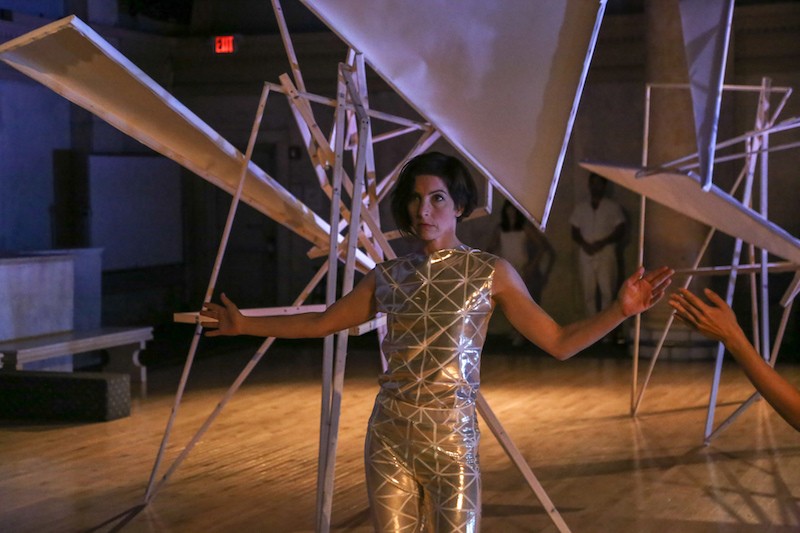 Laura Peterson in FAILURE; Photo by Stephen Delas Heras
Large, geometric, teepee structures made from plywood and canvas litter the space at Judson Memorial Church. After entering, the foursome proceeds forward slowly and stiffly. Clad in gaudy white and gold ensembles, they look aptly ridiculous (excess, vanity, capitalism, anyone?) in the otherwise serene, minimalist landscape.
At last, Peterson extends an arm and lets it float around with welcome fluidity. This launches the group into freeform twisting, scooping, and winding — qualities that color much of the choreography. An electronic soundtrack, interrupted by long silences, accompanies the high-energy performance.
The climax comes mid-piece. The sculptures are spun and repositioned until  — BAM! — they're thrust into the center of the space, shattered, the noise jarring. The dancers continue to rip the dilapidated remains apart, stomp through the canvas, and beat at the mess with broken-off pieces of wood in a cathartic, unadorned process.
The work settles into an aggressive plateau in the last section, hilariously titled "Death by Hopping." In a rigorous, aerobics class-like challenge, the dancers run, leap, and repeat full-bodied movement phrases. It becomes a statement about trying, them mustering their strength to avoid "failing."
This section feels reminiscent of RoseAnne Spradlin's X presented last fall at The Joyce Theater, which tested the audience's endurance through the intentional repetition of mundane movement. Here, the dancer's stamina is tested, transitioning our experience from spectator of art to one of sport.
L to R: Jo-anne Lee, Jennifer Sydor, and Darrin Wright in FAILURE; Photo by Stephen Delas Heras
Wright bows out first, retreating to the altar upstage to watch his peers-turned-competitors. The three women press on, slowing down, marking the movement, breathing heavily, until at last they join Wright, all "failures."
For Peterson and her dancers, FAILURE is a protest of our time. Originally created and presented in development in 2012, Peterson returned to the work in the aftermath of the 2016 election. "America, what have we done?" reads the LPC website. "This dance is about the overwhelming pressure to win."
Though it's a proclaimed response to the divisive state of our country, it's grounded in its unifying, personal focus. After all, politically, socially, or economically, aren't we all participants in the "rat race"? Judson Memorial Church acts as a fitting setting for Peterson's exploratory style, given its history as the hub of postmodern dance.
Peterson succeeds in glorifying the inevitable. People fail. You will fail. This embrace of the universal human experience will likely secure the work a "timeless" badge among Laura Peterson Choreography's (LPC) growing repertoire. 
---
The Dance Enthusiast Shares IMPRESSIONS / our brand of review and Creates Conversation.
Check out our other IMPRESSIONS here and our 2014 Dance Up Close story on LPC.
Share your #AudienceReview of this show or others for a chance to win a prize.