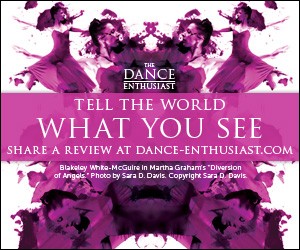 Related Features
IMPRESSIONS: Lyon Opera Ballet and Compagnie CNDC-Angers – Robert Swinston in New York performing works by Merce Cunningham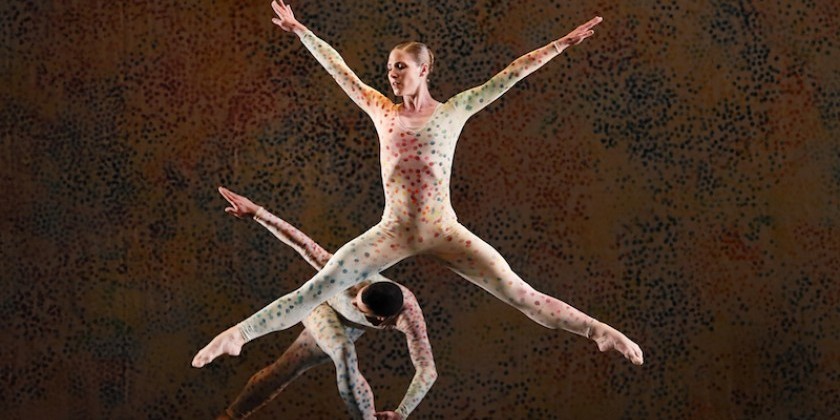 A Spring Flowering of Dances
Lyon Opera Ballet
David H. Koch Theater; March 19, 21, 23 and 25
Compagnie CNDC-Angers – Robert Swinston
Joyce Theater; April 4–9
Pictured above: Lyon Opera Ballet's Coralie Levieux and Raul Serrano Nunez in Summerspace
---
The Merce Cunningham Dance Company gave its last performance on New Year's Eve of 2011, in a grand finale of a show at New York's Park Avenue Armory, a year and a half after Cunningham's death at age 90. The decision to shut down the Cunningham company was controversial at the time, and left those of us who love his work deeply saddened.
The wrongheadedness of this decision has become only too apparent, since, without a permanent company to perform Cunningham's dances, the works are very rarely performed. In the past six years, New Yorkers have had almost no opportunity to see Cunningham's work performed onstage by professional dancers. This year, at last, Cunningham's choreography has returned to New York's stages, presented by three different companies hailing not from the U.S. but from France, a country that has always appreciated Cunningham's genius more than has his homeland. In February, the Ballet de Lorraine presented a mixed bill at the Joyce Theater that included Cunningham's masterful 1975 work Sounddance, a 17-minute explosion of loose and frenetic movement. In March, the Lyon Opera Ballet performed Cunningham's very different Summerspace, a pastoral idyll for a chamber-sized cast. Then, this month, the Joyce presented Compagnie CNDC-Angers – Robert Swinston in an all-Cunningham triple bill. Every one of these companies made a persuasive case that Cunningham's oeuvre, when revived under careful supervision by former MCDC members, can be brought vividly and excitingly to life. 
Minneapolis' Walker Art Center, home to the complete scenic and costume archives of the Merce Cunningham Dance Company, is also bringing Cunningham to life this spring with a major retrospective in Minneapolis (through July 30), co-presented with the Museum of Contemporary Art Chicago, which hosts a smaller show through April 30. The exhibit, "Merce Cunningham: Common Time," features costumes, sets and films, as well as live performances in the galleries by members of the final MCDC troupe.
Lyon Opera Ballet: Summerspace 
In an inspired programming decision, Paul Taylor American Modern Dance, in conjunction with the American Dance Festival, invited the Lyon Opera Ballet to perform Cunningham's iconic early work Summerspace (1958) during PTAMD's rich and varied three-week Lincoln Center season. I had seen Summerspace only once previously, when dancers from the New York City Ballet performed it nearly 20 years ago.
NYCB's performance of Summerspace made a poor case for ballet dancers tackling Cunningham: The performance felt slack and blurred the dancers unable to master the laser focus and rhythmic alacrity essential to Cunningham style. The Lyon Opera Ballet made the opposite case: that more ballet companies should have this piece in their repertoires. These seven dancers (one role was double cast) brought Summerspace to exciting, textured, gorgeously shaped life: Their execution was rhythmically acute, technically assured and, most elusive of all, their interpretation highlighted a contradiction at the dance's heart: Summerspace somehow exudes an almost palpable atmosphere of tranquility even as the dancers execute exceedingly athletic and energetic steps. (Former MCDC dancer Banu Ogan was responsible for the excellent staging.)
When the curtain rises, the audience sees a lone woman circuiting the stage in large, fast jumps. She is bathed in yellow light; behind her looms Robert Rauschenberg's luminous backdrop, all yellows, pinks, oranges and greens in a semi-abstract pointillist dot pattern suggesting trees and vegetation shimmering in the blaze of a hot summer sun. All six dancers in the cast sport unitards painted in the same pattern of brightly colored dots, so that they are slightly camouflaged against the set, just as wild creatures often are. (Rauschenberg and Jasper Johns sprayed the dots on both the set and the costumes with cans of Day Glo spray paint.)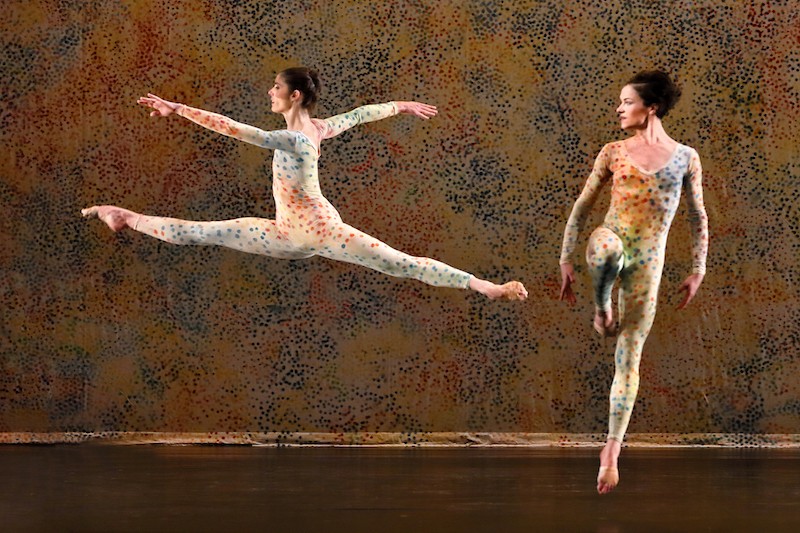 Lyon Opera Ballet's Julia Carnicer and Elsa Monguillot de Mirman in Summerspace; 
The viewer feels dropped into a landscape where the choreography, like Rauschenberg's backdrop, hovers between abstraction and depiction. Viewers looking for pure-dance beauty and ingenuity will find plenty of it here: The dancers perform quietly lyrical sequences in which outstretched legs and pointed feet fluidly slice the air in high extensions, sometimes with whiplash force, at other times with the floating lightness of silk. They jump with head and torso thrown back, arms cresting aerodynamically in the air.
Underlying this abstraction, though, is narrative depiction, as the dancers' movements suggest creatures in nature. Two women flutter their arms with a whizzing quickness as they step into arabesque. Another performs a sequence of steps downstage in a diagonal trajectory before dropping lightly to the ground with one leg folded under her, the other angled off the floor behind in a shape that suggests a perching bird. Late in the work, a man crosses the stage doing a series of difficult one-legged jumps, folding his front leg under him with each hop while maintaining his back leg in an unmoving arabesque, like the hopping of a dragonfly.
Accompanying the complex step sequences are the spare sounds of Morton Feldman's two-piano score. (The pianists were Margaret Kampmeier and Blair McMillen.) Fleet runs of the five fingers alternate with emphatically played single notes. Those quick runs up the scale sound like fluttering, but would we hear them that way without the birdlike suggestions in the dancing? Feldman's score features long passages of silence, a sonic stillness akin to the moments of stillness in the choreography.
Compagnie CNDC-Angers – Robert Swinston: Inlets 2 and How to Pass, Kick, Fall and Run
Adrien Mornet and Anna Chirescu performing How to Pass, Kick, Fall and Run. Photo by Charlotte Audureau
Robert Swinston, an MCDC dancer for 31 years and for many of those years also Cunningham's assistant, assumed the directorship of the Centre National de Danse Contemporaine in Angers in 2013. The CNDC-Angers is primarily a training center for dance students, but Swinston has also put together a resident company that performs on an ad hoc basis. The Joyce first presented the troupe two years ago and this month the company returned with a marvelous program of three Cunningham disparate works.
On the evidence of these performances, I would say that Swinston is today's foremost bearer of the Cunningham torch. In 2009, he was named MCDC's Director of Choreography, maintaining the repertoire during the troupe's final tour and continuing Cunningham's tradition of assembling "Events," choreographic collages made from bits and pieces of dances, which serve as "a living archive" for works outside of the active repertoire. Within his performance limitations in Angers, Swinston is attempting to maintain a "living archive" to the extent that is possible without the resources of a permanent company. (For more on Robert Swinston and the CNDC Angers, see Robert Johnson's 2015 interview for The Dance Enthusiast.)
The three pieces CNDC-Angers brought to the Joyce were How to Pass, Kick, Fall and Run (1958); Place (1966) a rarity not seen since 1971; and Inlets 2 (1983). Perhaps tellingly, the latter two of these premiered in France. At the Saturday matinee I attended, a Joyce Theater Family Matinee, Place was, unfortunately, not performed. (Neither I nor the ticket-buyer seated next to me had been informed about the abbreviated program in advance.)
Inlets 2 is an almost-hypnotically calm and tranquil nature study for four women and three men. It is said that the marshes and inlets in the Puget Sound region of Cunningham's home state of Washington inspired the work's creation. The dancers move mainly in a silence punctuated by the sounds of lapping water — the "instruments" of John Cage's score are large conch shells filled with water, which three musicians roll back and forth. In a recurring motif, the dancers balance with one foot crossed over the shin of the standing leg, bending their torsos forward as their knees softly bend in a movement that feels like a sigh.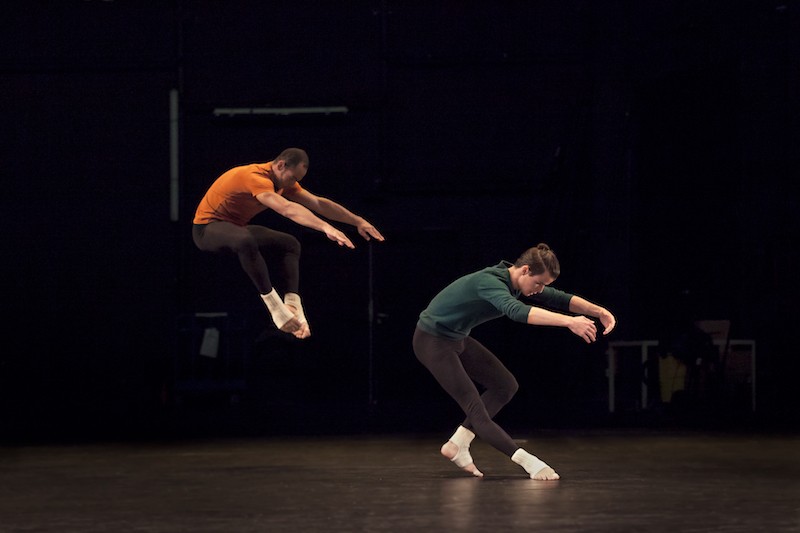 Alexandre Tondolo and Adrien Mornet performing How to Pass, Kick, Fall and Run. Photo by Charlotte Audureau.
Water images prevail: Two men perform grand pliés as their arms slowly waft like tendrils above their heads. Swaying bodies and pas de bourrées with a rolling swing suggest ebb tides and vegetation waving in the breeze. Mark Lancaster's atmospheric low, side-lit lighting and his costumes tinted in graduated shades of blue, silver, and lilac give the stage space an underwater feel. A young child in the audience afterward aptly observed that the performers seemed to be "dancing in a water bottle."
How to Pass, Kick, Fall and Run is at the opposite end of the rhythmic and kinetic spectrum: It is fast, and, as its title indicates, filled with movements inspired by sports: kicking, jogging, leaping. One trademark step is a sideways-traveling jump in which legs scissor out in a jumping-jack shape. Stories taken from John Cage's 1958 lecture "Indeterminacies," read by a man and a woman seated at the side of the stage, provide the accompaniment for the dancing. The stories are chatty and clever, and there is an absurdist playfulness to their pairing with the movement, but I found it impossible to concentrate on both words and dancing simultaneously.
Only rarely does How to Pass, Kick, Fall and Run switch into low gear. One of these rare moments is a duet for a raven-haired Catarina Pernao, in red, and Lucas Viallefond, in navy blue — the de facto "lead," since he's the first person we see onstage, and the one who sets the dance in motion. The two mirror each other's movements and only fleetingly touch, yet, as with so many of Cunningham's duets, this one has a poignant, tender beauty.
---
"You have to love dancing to stick to it. It gives you nothing back, no manuscripts to store away, no paintings to hang on walls and maybe hang in museums, no poems to be printed and sold, nothing but that fleeting moment when you feel alive. It is not for unsteady souls." – Merce Cunningham
American audiences shouldn't have to wait for companies visiting from abroad to see the works of Merce Cunningham. Let's hope one of our own companies will mount a retrospective soon.
---
The Dance Enthusiast Shares IMPRESSIONS our brand of review and Creates Conversation.
Share your #AudienceReview of this show or others for a chance to win a $75 giftcard to Trader Joe's.