Related Features
Contribute
Your support helps us cover dance in New York City and beyond! Donate now.
IMPRESSIONS: Marjani Forté's "Memoir of a . . . Unicorn" at the Collapsable Hole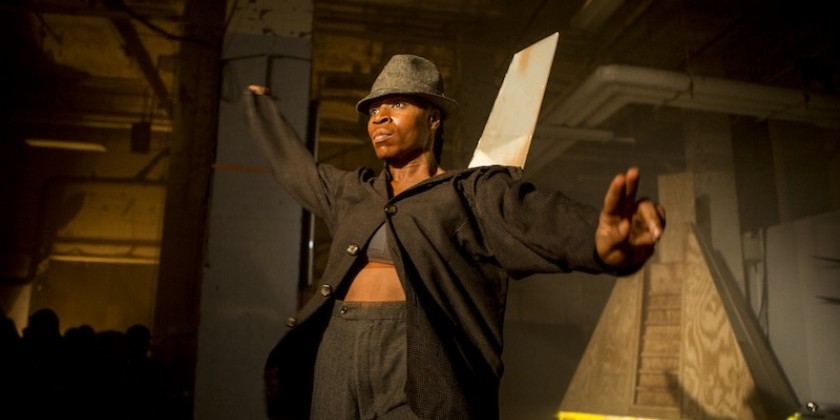 November 15, 2017
Presented by New York Live Arts off-site with Collapsable Hole
Choreography and performance: Marjani Forté
Media Designer: Meena Murugesan / Sound Designer: Everett Saunders
Set Design: Mimi Lien / Lighting Design: Tuce Yasak
---
While walking through Marjani Forté's performance installation at the Collapsable Hole, a basement art gallery in Westbeth, literary magical realism comes to mind. (Later, I learn this connection more accurately reflects Forté's fascination with Afrofuturism and science fiction). Memoir of a . . . Unicorn is both biographical and fantastical, blending stories of her father's Arkansas upbringing; a tale about a unicorn, princess, and evil wizard; and explorations of black identity.
Memoir of a . . . Unicorn, like recent works by choreographers Nora Chipaumire and Cynthia Oliver, meditates on blackness, specifically the black male experience. Central to this theme is Forté's father. Perched above us on a staircase, he draws us in with a story (the one of the wizard, princess, and unicorn) in the work's prologue. Her father's physical presence in the work ends there, but like an ancestral spirit, mainly unseen, is deeply felt throughout.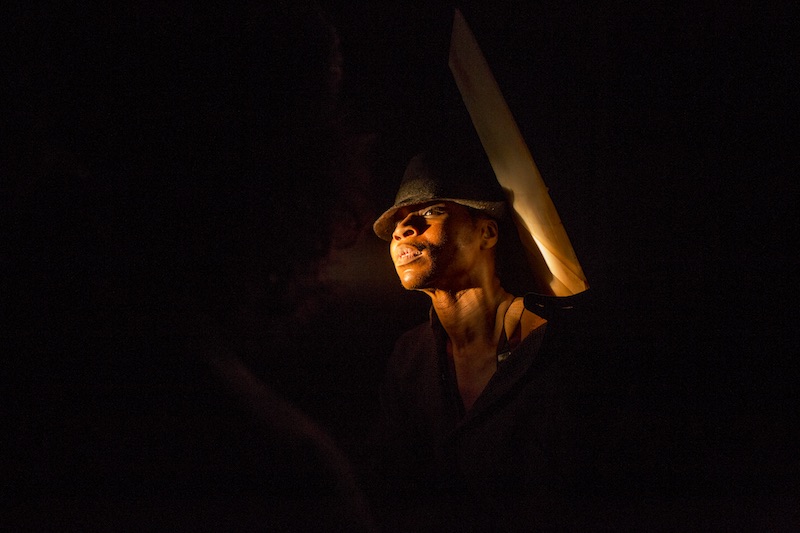 Marjani Forté's Memoir of a . . . Unicorn; Photo: Maria Baranova
Channeling him, Forté embodies a storyteller in a bowler hat, trousers, and suspenders. Furiously bounding from one area of the cavernous space to the next, we wonder where might she take us next. In some moments, she's a gregarious emcee peppering her nonlinear script about with "aw shit" and "you know." She dances with an audience member and later engages in a tender staring match with another.
At the top of the show, viewers are told they can sit, stand, and move around. At first, many of us are reluctant to change positions. But soon this changes. Forté's speaking is sometimes muffled, or she dashes out of sight into an adjacent room. These actions force us to physically shift and lean in. Yet we still don't catch her every word. Perhaps that's intentional, encouraging us to color in the spots our senses miss.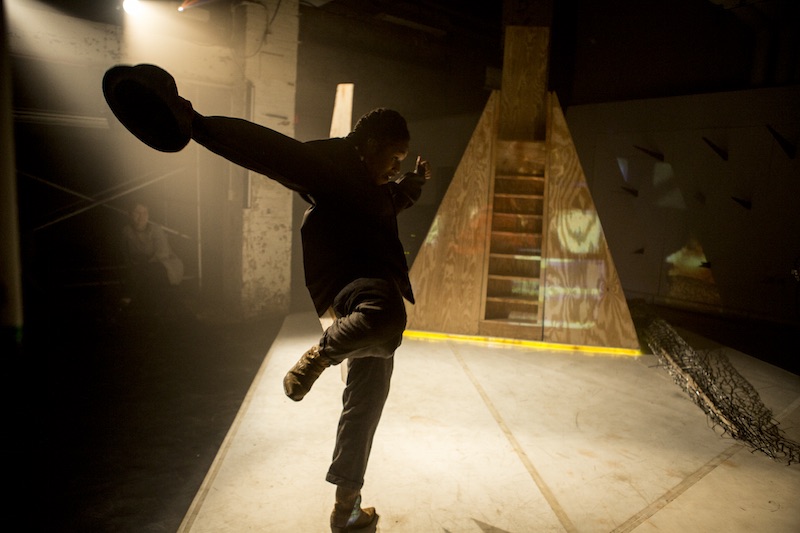 Marjani Forté's Memoir of a . . . Unicorn; Photo: Maria Baranova
The dank basement contains several rooms and set pieces, including a wall with triangles that look like unicorn horns, an alcove resembling a life-size shadowbox, and a narrow room with dozens of metal dildos arranged like tombstones. The work takes on an episodic sheen as Forté creates a singular tone in each space. In set designer Mimi Lien's shadowbox, the artist sits in a broken chair affixed to the wall. Splintered wood and metal decorate the area around her. She assumes sculptural positions in profile to create a series of contemplative portraits. Later, we gather around the graveyard room as Tuce Yasak's lighting design impales Forté's body with stark white light, her outstretched arms peeking above audience members' heads like tree branches.
These vignettes are like several pieces of a puzzle that don't quite fit together, but the incongruity doesn't detract from the work's whole. Rather, it's what gives the installation its power. Memoir of a . . . Unicorn illustrates the fluidity of time, culling from memories of the past to bring focus to the present and, hopefully, reshape the future.
---
The Dance Enthusiast Shares IMPRESSIONS/ our brand of review and Creates Conversation.
For more IMPRESSIONS, click here, including a review Marjani Forté's 2013 work Being Here.
Share your #AudienceReview of this show or others for a chance to win a prize.