Related Features
Advertise With Us
Make an impression — place an ad on The Dance Enthusiast and receive thousands of eyes on your work every week. Learn more. 
Contribute
Your support helps us cover dance in New York City and beyond! Donate now.
Impressions from New Jersey: Sarah Weber Gallo's "The Magic Hour" at Mile Square Theatre
Concept and Choreography: Sarah Weber Gallo
Director/ Dramaturg: Joseph Gallo
Performers: Quinn Dixon, Sarah Weber Gallo, Thomas Hildreth, Danielle Schulz, Lucy Wild
Scenic/ Lighting Design: Matthew J. Fick
Sound Design: Michael Blaskewicz
Costume Design: Laura Borys
---
As humans, we are defined by our mortality, the battle against time woven into the very fabric of our existence. Sarah Weber Gallo tackles this vast and overwhelming theme, transforming the quaint space of Mile Square Theatre into a wild, kooky adventure land. The Magic Hour — titled after the hour before sunset when the light is most brilliant — tells a story about the ever-present struggle against time.
The sinister Master of Ceremonies (Thomas Hildreth), who's painted like a zombie clown, leads us upstairs from the lobby into a room lined with statues of deer. We gather around a fairytale-like scene: Gallo lounges on a high bed, curled amidst a tangle of white sheets and a snarl of tree branches. Like Rip Van Winkle, she slowly awakens, fingers desperately clawing the air, as if grasping at something elusive.
Hildreth leads us into the theater, which is situated so that the audience surrounds the space on two sides. To our right is a blue wall, reminiscent of a sea or a sky. The stage is lined with shimmering gold tinsel, which contrasts with the natural calm of the wall. Matthew Fick's colorful lighting reflects off the tinsel, creating a fantastical dream world. Gallo enters with three other dancers, who are costumed in billowing pants and tight-fitting, multi-colored tops.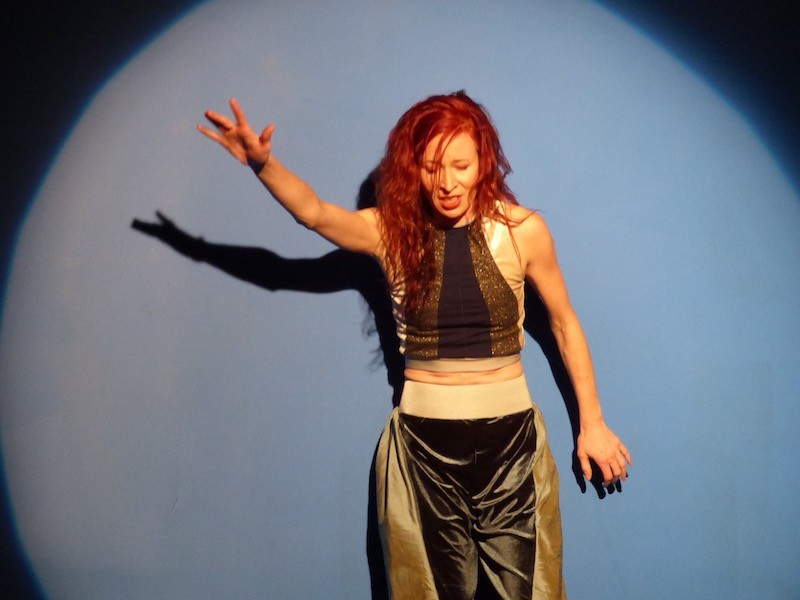 The Magic Hour; Photo: Fermin Mendoza
The Magic Hour is the inverse of a coming-of-age tale. Instead of celebrating growing up, it mourns the loss of youth. Gallo, the story's protagonist, grapples with how to control time, how to make the most of it, and how to make a graceful exit.
A vaguely romantic duet between Gallo and Quinn Dixon ends with the pair jumping up and down exhaustively, mimicking the tireless sexuality of youth. Dixon later dances with another woman, flinging Gallo into a wild, angsty spree of jealousy. Her flailing solo becomes increasingly frenetic as the other dancers attempt to contain her.
In one stunning tableau, the quartet stabilizes themselves atop high stools, kicking their legs in the air as they attempt to keep lower and upper body afloat — a poignant metaphor of remaining balanced while making wise use of our limited time.
Hildreth incessantly sweeps the stage with a wide broom — a motif that evokes time, eternally pressing forward and eventually leaving us all behind. In perhaps the most memorable image, Hildreth sweeps the four dancers down a long diagonal. They roll, arch, spiral, and slink, getting closer and closer together until they disappear into the shadows.
Some moments feel like "dance breaks" with scenes that don't push the story forward, yet are entertaining. The movement is slinky and grounded, with Gallo's years as Rockette evident in sky-high kicks.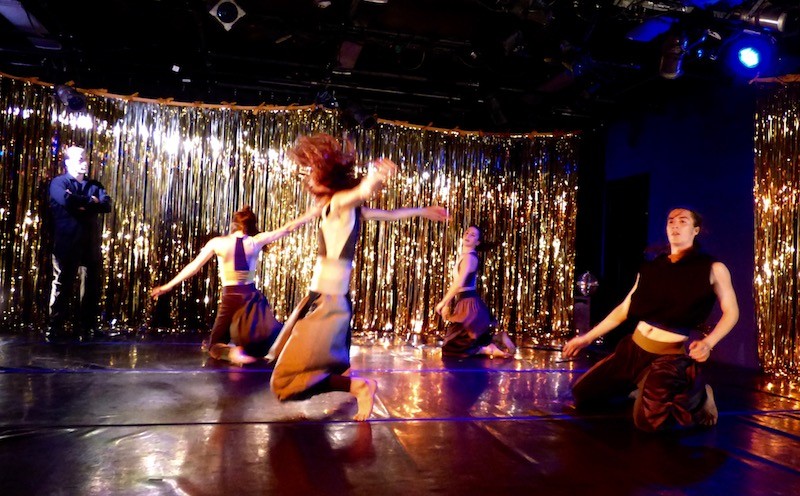 The Magic Hour; Photo: Laura Borys
Hildreth narrates the show as if it were a fairytale, occasionally reciting proverbs about time, such as "Time is a good teacher, but it kills all its pupils." Though it can feel like Gallo hits us over the head with the theme, perhaps the piece's brilliance is its accessibility for children and adults. Young people will appreciate the extravagant costumes and sets, while adult audiences may be more impacted by the show's subtleties.
As The Magic Hour reaches its apex, the glittery backdrop melts away, and the black curtain opens to a glass wall, which faintly reveals the outside. It's like the piece has been cracked open, our own uncertain futures stretched out in front of us like the dark courtyard just beyond the theater's exterior.
The transparent wall contains a door that Weber opens and exits, entering into the world beyond. The three remaining dancers gesture as they gasp and then hurl themselves forward, away from the blue wall. It feels like they are jumping off of a diving board, leaping forward into the unknown. Here, an ending can be a new beginning.
---
The Dance Enthusiast Shares IMPRESSIONS/ our brand of review and Creates Conversation.
Check out our other IMPRESSIONS here.
Share your #AudienceReview of this show or others for a chance to win a $75 giftcard to Trader Joe's.