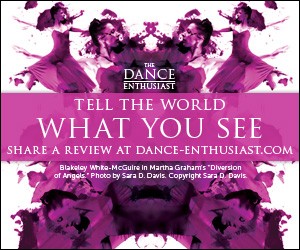 Related Features
Impressions: New York City Ballet's 21st Century Choreographers Program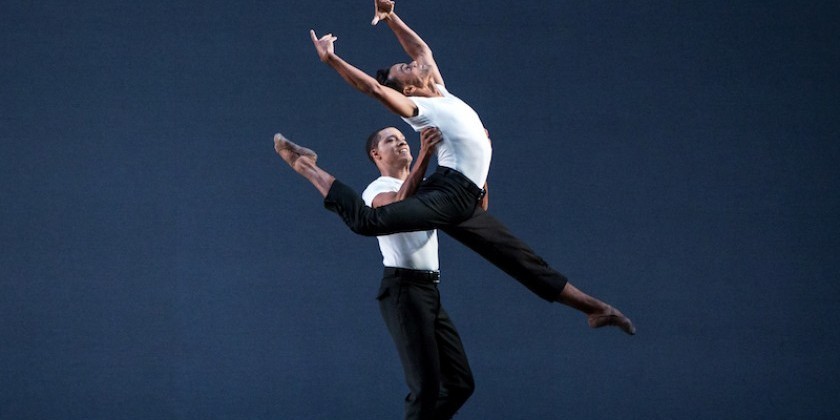 Friday, October 13, 2017, 8:00PM
Venue: David H. Koch Theater, Lincoln Center
Choreography: Peter Martins, Justin Peck, Troy Schumacher, Gianna Reisen, and Lauren Lovette 
Pictured above: Preston Chamblee and Taylor Stanley in Lauren Lovette's Not Our Fate
---
A contribution to the 1988 American Music Festival by Peter Martins, Ballet Master in Chief of New York City Ballet, opens the 21st Century Choreographers program. Set to music by John Adams, The Chairman Dances is one of the many works to mostly contemporary music that made up that special festival almost thirty years ago. Despite its colorful costumes, I always felt that this "Chairman" paled in comparison to two other of Martins' entries to that festival, Barber Violin Concerto and Black and White (music: Michael Torke), the latter juxtaposing the talents of Jock Soto and a young Richard Marsden. The energetic Megan LeCrone is commendable here as the Chairman, but the choreography fails to set its own accents in response to Adams' score that was written for — but not included in — the composer's Nixon in China.
Four new works (all premiered at the company's September 28th gala) by young choreographers present a different focus. Deciding that new music might not be a selling point for today's audience, New York City Ballet has instead been banking on fashion as the catalyst for current creators and gala spectators.
Indiana Woodward in Justin Peck's Pulcinella Variations; Photo: Paul Kolnik
A choreographer's journey is likely to involve studies of different styles and time periods. A look back to familiarize oneself with the genre's encyclopedia is especially welcome when done wittily. Justin Peck, New York City Ballet's current Resident Choreographer, introduces Pulcinella Variations set to music by Stravinsky. Quicksilver directional changes, buoyancy to movement phrases, and a generous showcase for individual performers made this Balanchinian Etude a joyful exercise. Here, the fashion aspect paid off handsomely. Colorful yet deconstructed Commedia dell'arte outfits display bodyline and fragmentation at the same time. In one instance, one body half appears to be nude while the other is tutu-clad. Skillfully executed by Tsumori Chisato, the designs evoke a modern cubist take that complements Stravinsky's score and Peck's movement. Led by conductor Andrew Litton, the NYCB orchestra gave dancers Emilie Gerrity, Ashly Isaacs, Miriam Miller, Georgina Pazcoguin, Lydia Wellington, Harrison Coll, Russell Janzen, Andrew Scordato, and Sean Suozzi many reasons to gambol.
New York City Ballet Dancers in Troy Schumacher's The Wind Still Brings; Photo: Paul Kolnik
Choreographer Troy Schumacher collaborated with designer Jonathan Saunders on The Wind Still Brings. Beautifully flowing striped blue pants and skirts waft about while the dancers keep falling asleep to the sounds of William Walton's Piano Quartet in D minor. In time, they wake up and dance in lovely configurations only to succumb to sleep again. Maybe they died . . .  It wouldn't be the worst way to go, and then the work could be used as a euthanasia commercial.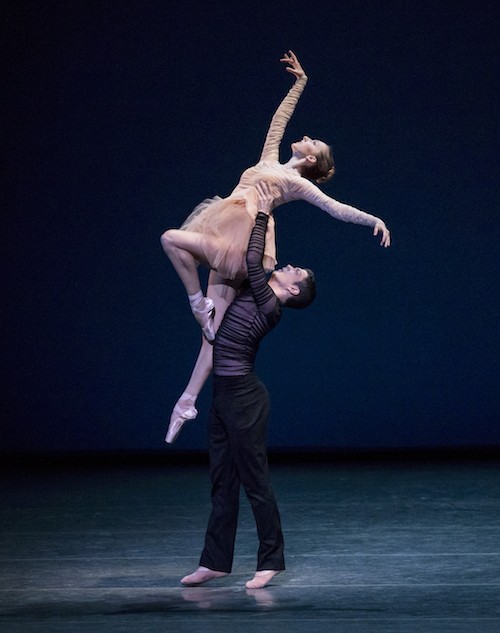 Christina Clark and Gilbert Bolden III in Gianna Reisen's Composer's Holiday; Photo: Paul Kolnik
Gianna Reisen — who, at only eighteen, is the youngest choreographer of the bunch — takes dancers and audience with theatrical flair on a Composer's Holiday. Cabaret-like sections keep me awake and entertained, but I wish for a more intimate venue as much of the stage remains unused for far too long. Music by Lukas Foss and costumes by Virgil Abloh of Off-White™ complete the pleasant picture. Although limited in scale and scope, the work itself is fresh as danced by junior members of the company as well as apprentices.
A much-needed discussion about gender roles in ballet ensued after a foolish Facebook post by "retrographer" Alexei Ratmansky. Many luminaries and aficionados of the dance world responded, and the desire for up-to-date gender pairings became apparent. Lucky for New York City Ballet; it is able to present a pièce du jour. Not Our Fate by choreographer Lauren Lovette features two pas de deux, one of which is a duet for Preston Chamblee and Taylor Stanley. The two men of color make a lovely couple and fill me with hope for a more representative look of society in ballet. The other duet for Meaghan Dutton-O'Hara and Ask la Cour confirms that we can all be on stage together. Never mind that the score by Michael Nyman was numbingly repetitive; at least the costumes by Fernando Garcia and Laura Kim did not distract.
---
The Dance Enthusiast Shares IMPRESSIONS/ our brand of review and Creates Conversation.
For more IMPRESSIONS, click here. Read our winter 2017 and fall 2016 impressions of NYCB.
Share your #AudienceReview of this show or others for a chance to win a prize.