Impressions Of: Ballets Greatest Hits at the Movies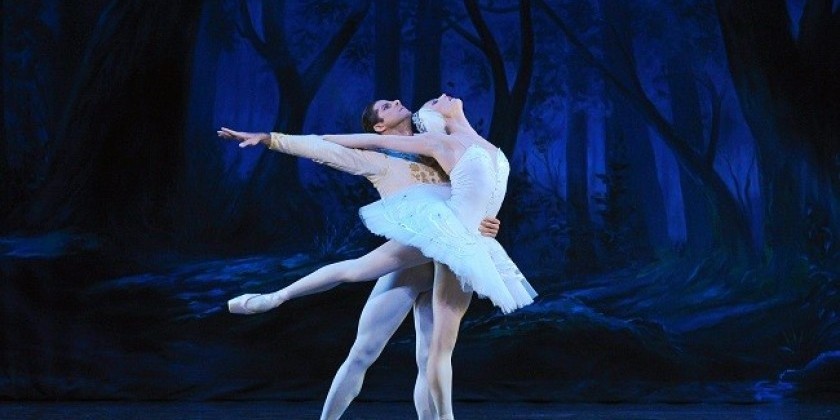 presented by Youth America Grand Prix with Nigel Lythgoe,as Narrator
A Gala Performance
September 15, 2013 at 11:00 A.M.
Big Cinemas, New York City, NY
BALLET IN CINEMA – from EMERGING PICTURES
Directed by Clemente D'Alessio
In HD from a performance at the David A. Straz Center, Tampa, Florida on January 5, 2013
Running Time: 111 minutes
---
Henning Rübsam for The Dance Enthusiast
The BIG CINEMA, located on 59th Street between Second and Third Avenues on Manhattan's East Side, has very comfortable seats. I had fallen asleep in one of them before on a previous occasion and since I was to attend a Sunday morning showing, I made sure I had enough coffee to be alert. I needn't have worried-- the engaging film kept me awake, informed and at times, unfortunately, a bit frustrated.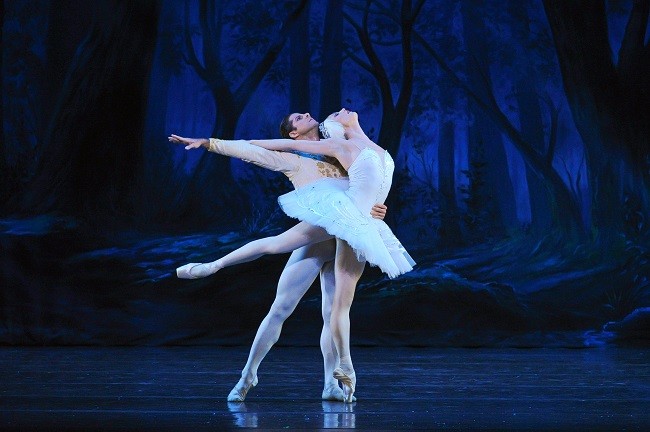 Veronika Part and Marcelo Gomes in Swan Lake. Photo by Visual Arts Masters,
The film showed excerpts from six different ballets. The pas de deux from the second act of
Swan Lake
was the first dance on the program and luckily the film introduced several known figures of the dance world, among them Susan Jaffe, American Ballet Theatre's memorable Odette/Odile of recent past, as well as Matthew Bourne, the choreographer of the all-male version of the ballet, to provide an insight and brief history of the work.
A marvelous concept this project was narrated with verve and the missionary zeal of a true balletomane by Nigel Lythgoe. One was primed and ready, especially since the performers Veronika Part and Marcelo Gomes (both current principal dancers with ABT) contributed endearingly and engagingly to the introduction.
What followed was a letdown. Although Part and Gomes danced well - probably very well - the camera did not show them or the work to the best advantage. Too many times the camera angles changed mid-way through a movement phrase and zoomed in beyond the reasonable. The result was to witness Part's sincere and deeply felt expression, meant to project to a live audience, from an uncomfortably close vantage point. Rather than being able to see her whole body put across feeling through its physicality, one witnessed ,all too often, a seemingly unrelated body part or her larger than life facial expression. In the end, the editing interrupted the flow and reason of her movement.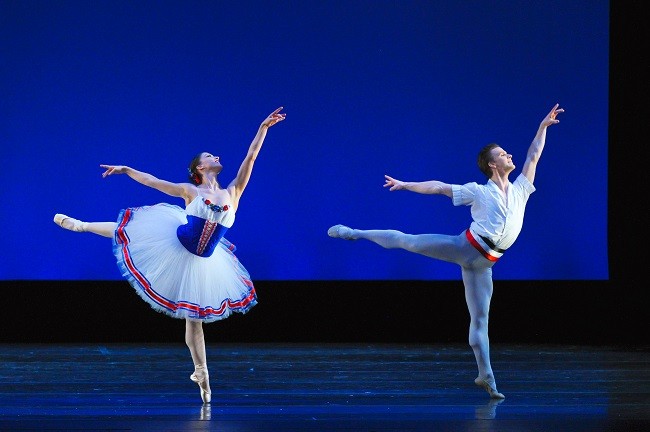 Ashley Bouder and Daniel Ulbricht in Flames of Paris. Photo by Visual Arts Masters.
All segments in the program were danced to pre-recorded music and broadcast with no ambient sound from the stage. The dancers seemed to perform in a distant vacuum-sealed space, only to be interrupted occasionally by the noise of the piped-in applause. Worst of all: the top 5 – 10% of the film did not fit on the screen, which resulted in cut-off wrists for quite a few of the frames. I fully realize that the last complaint is not the fault of the filmmakers, but I do hope somebody had a word with the projectionist.
It gave me great joy to see father and son Denys and Mathieu Ganio (former and current étoile of the Paris Opera Ballet) talk about the emphasis and concentration of technique vs. lack of passion and expression among today's young ballet stars. The son (an all around beautiful expressive technician, whom we unfortunately did not get to see dance in this particular film) defended his generation by saying that technique and tricks are what the public demands.
Much of the rest of "Ballet's Greatest Hits" did serve this apparent or imagined demand. Yet it wasn't Ashley Bouder or Daniel Ulbricht's fault that
Flames of Paris
did not resonate. Both New York City Ballet principals jumped and spun with professionalism, but the pas de deux itself is an empty French revolutionary affair cooked up in early Soviet kitchens with more froth than the Surgeon General permits. Outside this trifle and with the notable exception of the mid-19th century romantic masterpiece
Giselle,
the focus was on Russian imperialist late 19th century classics. 'Nutcracker Prince,' Boston Ballet's new Cuban, Alejandro Virelles - a true firecracker – tried to coax ABT dancer Hee Seo out of her sugar induced coma to no avail, although technically one could not fault this 'Sugar Plum.'
Stella Abrera in Giselle. Photo by Visual Arts Masters.
Excerpts from
La Bayadere
showcased ABT's Isabella Boylston as 'Gamzatti' with the 'Solor' of Dutch National Ballet's Matthew Golding, but only ABT's Joseph Philips's 'Bronze Idol' gave this segment a glow, despite the continuing camera angle madness and him dancing without his head during his explosive jumps since the lack of screen in the upper regions cut it off.
While the choppy editing did not harm the character of 'Myrtha' – danced by a determined Stella Abrera, the close focus and constantly changing camera angles positively killed Greta Hodgkinson's 'Giselle' dead again. She was made to look more Zombie than Wili. Alessandra Ferri's spoken introduction mentioning the role's originator Carlotta Grisi was informative and Natalia Makarova (in archival footage) explained her approach to differentiate her walk from first to second act of the ballet. Not a peasant girl any longer, but transformed into a spirit, the placement of the foot should appear as treading ever so lightly on a cloud. A fascinating interlude that was book-ended by an array of photographs depicting mostly 20th century ballerinas semi-famous for the role (the real important ones were curiously left out). Legendary Tamara Karsavina however, appeared in an archival clip in her later years and explained and then demonstrated the lyricism of her arms. What a wondrous throwback to another era that did indeed focus on passion!
Generally good on talk and background information, the film also featured producer Lawrence Bender; former ballerina, Leslie Browne; dance writer, Wendy Perron; as well as dancer Misty Copeland, who spoke eloquently. Edward Villella's appearance even drew applause. With Alexei Ratmansky and Benjamin Millepied, the producers included further heavyweights, even if the latter seemed sadly uninformed not knowing anyone other than Balanchine as an important influence for the development of Ballet in America.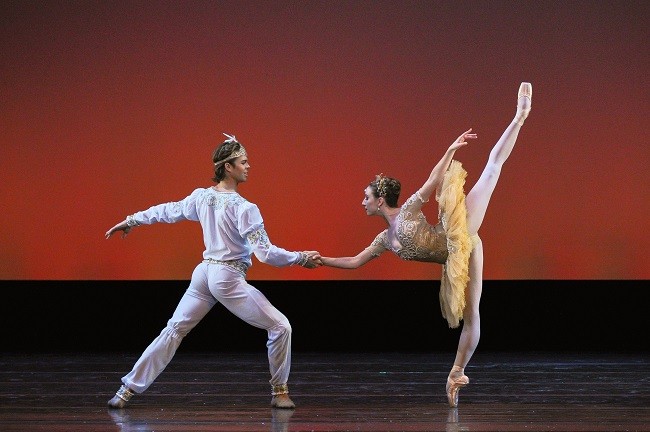 Matthew Golding and Isabella Bolyston.in La Bayadere. Photo by Visual Arts Masters.
The program ended on a high note. José Manuel Carreño reminisced about
Don Quixote
and a photo of Susan Jaffe with him evoked happy memories about their magical partnership. In the dance that followed, San Francisco Ballet principals Maria Kochetkova and Taras Domitro (another Cuban star) demonstrated that the future of ballet is in the hand of passionate performers. The two took a short breather between their first duet and their variations in which young ABT corps de ballet member, Skylar Brandt performed a Bridesmaid variation from the same ballet. Kochetkova and Domitro set the stage aflame as a spitfire 'Kitri' and cocksure 'Basilio.'
No doubt, director Clemente D'Alessio and executive producer, Larissa Saveliev, have a mission to want to educate and grow an audience for dance. I applaud them and scriptwriter Sergey Gordeev, who was responsible for the illuminating interviews, for a valiant effort. At the same time I urge them to find ballet programming that dares to include 21st century choreography as part of "Ballet's Greatest Hits." Otherwise the art form looks unequivocally stuck in the past. And most importantly, I beg them to work closely with the film's editor in order to guarantee satisfying results for the dance sequences.
Is it needless to mention that if it were up to me, the projectionist would never work in this town again?
Click
here
for the "Ballet's Greatest Hits" trailer.