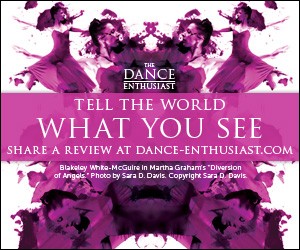 Related Features
Advertise With Us
Make an impression — place an ad on The Dance Enthusiast and receive thousands of eyes on your work every week. Learn more. 
Contribute
Your support helps us cover dance in New York City and beyond! Donate now.
Impressions Of: Compagnie Marie Chouinard The Joyce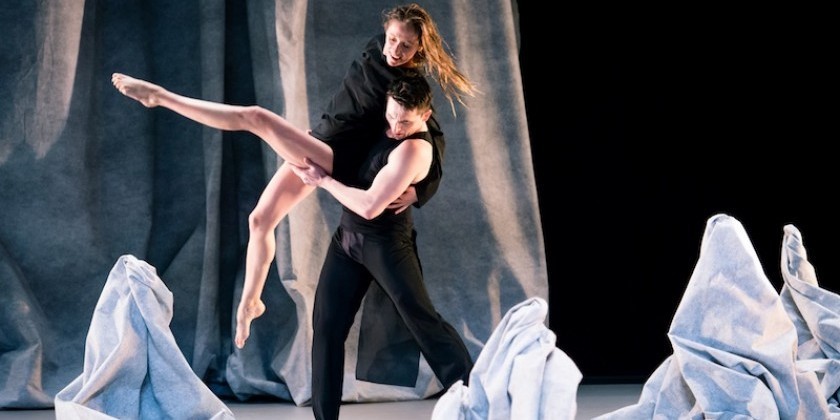 November 7th, 2013
Gymnopédies
Choreography: Marie Chouinard
Music: Erik Satie Gymopedies No.1, No.2, No.3
Lighting: Alain Lortie
Costume: Liz Vandal
Mouvements
Choreography: Marie Chouinard
Music: Louis Dufort and Edward Freedman
Lighting: Marie Chouinard
Costumes: Marie Chouinard
Performed by: Paige Culley, Valeria Galluccio, Leon Kupferschmied, Lucy M. May, Mariusz Ostrowski, Sacha Ouellette-Deguire, Carol Prieur, Gerard Reyes, Dorotea Saykaly, James Vivieros, Megan Walbaum
---
Recently at The Joyce Theater, Compagnie Marie Chouinard paid tribute to two great French speaking artists: the French born, composer and pianist, Erik Satie and the Belgian poet, writer, and painter, Henri Michaux. Using sophisticated stagecraft, Chouinard honored these subjects with vibrant new readings.
Set to Satie's composition of the same title, Gymnopédies playfully explored the dynamics of sexuality. Chouinard brought Satie to life using costumes, props, and themes reminiscent of the Dada and Surrealist movements he was so closely aligned with. Cleverly weaving her sinuous choreography with theatrical vignettes and mime, Chouinard fashioned her own absurdist fantasy.
Shadowed in dark lighting, the piece opened with a solo dancer approaching and playing a piano.  As she passionately stroked the instrument, the lights shone upon eight figures covered in large grey canvas sacks. Slowly swaying to the music, these figures reached out of the canvas, articulating their fingers to the cadence of the piano. Facing the back of the stage, they leisurely removed their covers and walked nude into the wings. The dancers then progressed into simulated sexual scenarios, grunting and squealing as they grinded in intricate fits of partnering. 
Paige Culley. Photo by Sylvie-Ann Paré.
The piano, wrapped in a tattered grey cloth,remained onstage throughout the piece acting as a main character. The performers — clad in a range of costumes from red clown noses to nothing at all — alternated playing the intrument.  While it is unclear if they mimed the action, the image remained a powerful motif – a symbolic apparition of Satie. The jesting, carnival atmosphere of Gymnopédies alluded to the ballet Parade, a collaboration of Satie with the painter, Pablo Picasso, playwright, Jean Cocteau and choreographer, Léonide Massine for  Diaghilev's Ballet Russes.
At the seeming conclusion of Gymnopédies, the house lights came on and the dancers lined up to bow. Just as the audience began gathering their belongings for intermission, the dancers made a surprise return continuing the performance, both in silence and with music. This kept the crowd bewildered and presented an ultimate absurdist finale.
Mouvements was a direct embodiment of visual art through dance. The dancers, costumed from head to toe in black, emulated the calligraphy of Michaux, a Belgian born artist and writer. The performers became black drawings scrawled on a white page, while text and figures from Machaux's manuscript Mouvements flashed on a video screen behind them.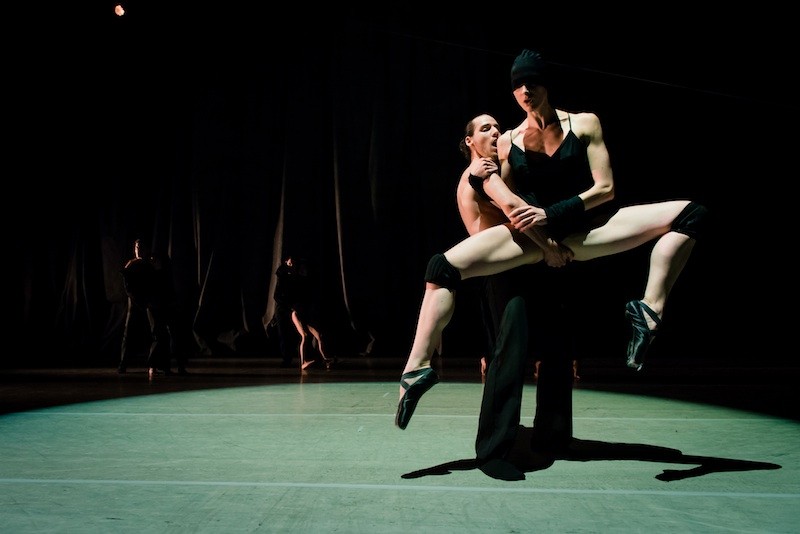 Sacha Ouellette-Deguire and Valeria Galluccio. Photo by Sylvie-Ann Paré.
Set to a high-octane techno soundscape, the audience slowly responded to the frenetic energy. As each group of dancers recreated the images behind them, the interpretations became more athletic and inventive.  There was a dueling conceit as if each performer was challenging one another. The first dancer on stage, Carol Prieur exhibited fiery intensity. After wild, frenzied confrontations with her fellow dancers, she climbed underneath the marley floor, screaming out Michaux's poetry in an effort to exert dominance over the group.
Four nude dancers concluded Mouvements, jumping and leaping through bouncing strobe lights. This final reversal, turning the stage from white to black like a photographic negative, was a satisfying, unexpected turn.
Chouinard's Montreal-based company formed in 1990 and has performed extensively in Europe. While her provocative themes might be shocking for a traditional American audience, her polished, engaging productions are a welcome addition to the dance theater genre. The US engagements may be less frequent, but the next time Companie Marie Chouinard comes to town… RUN –don't walk– to see them.