IMPRESSIONS: "Radical Bodies" - An Evening of Dances by Anna Halprin, Simone Forti and Yvonne Rainer at Hunter College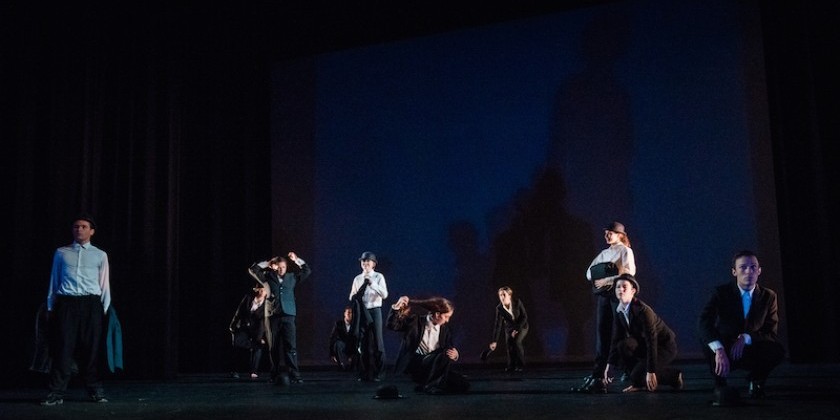 May 31, 2017
The Kaye Playhouse at Hunter College, New York
New Animations; Improvisation and Performance: Simone Forti / Dances for Isadora; Choreography: Jose Límon / Chair/Pillow; Choreography: Yvonne Rainer / 'The Paper Dance' from Parades and Changes; Choreography: Anna Halprin
Dancers: University of California Santa Barbara Dance Company
Photo above: UC Santa Barbara Dance Company in 'The Paper Dance' from Anna Halprin's Parades and Changes; Photo: Reiko Yanagi
---
On the evening of the 50th anniversary performance of Anna Halprin's Parades and Changes, the steps of Hunter College's Kaye Playhouse are mobbed with would-be audience members eager to gain entrance to a special event: Radical Bodies, a program celebrating Halprin and her groundbreaking colleagues, Simone Forti and Yvonne Rainer. It's no wonder the performance is the hottest dance ticket in town, with Simone Forti performing a solo improvisation, plus the University of California Santa Barbara Dance Company in work by Jose Límon, Halprin and Rainer.
Cries of "Wow, everyone is here," fill the air. But despite its festive, insider-y vibe, the audience is surprisingly disrespectful, snapping at ushers, forgetting to silence phones and prolonging intermission while they chat in the aisles. When wealthy arts patrons receive a standing ovation, as they did before this performance, yet front-of-house staff is disrespected, it's hard not to wonder whether radicalism in this corner of the dance world is anything more than a self-congratulatory title — or worse, a relic. 
New Animations by Simone Forti; Photo: Photo: Matt Capowski
Fortunately, it is still a great pleasure and gift to see Forti perform. She opens the evening with her ongoing improvisational investigation News Animations, in development since 1981. It's tempting to overlook the magnitude of Forti's presence in favor of it's novelty, since we so rarely see elderly performers onstage. But the things that make her appear frail — her age, her Parkinson's disease — are the things that give her power. As her hands tremble and glide it becomes clear that for her, stillness belies its effort. She uses her words to make leaps of imagination while her body remains grounded. But the small gestures and tremors are far from simplistic. Channeling involuntary movement in the body could easily present another lifetime's worth of investigation for someone who has made improvisation her focus.
The UCSB Dance Company follows Forti with a performance of Límon's Dances For Isadora, an homage to Isadora Duncan in five solos. The dancers are uneven, with nerves getting the best of more than a few balances and leg extensions. But each performer commits to the unique emotional demands of her choreography, whether it's the fleet freshness of the "Primavera" solo or the fiery energy of the "Maenad." Anastasia McCammon deserves a special mention for her portrayal of the final, and longest, solo, "Scarf Dance." She is seamlessly elegant and musical, despite performing in silence, and the moment of strangulation (Duncan died when her scarf caught in the wheels of a moving car) is truly shocking.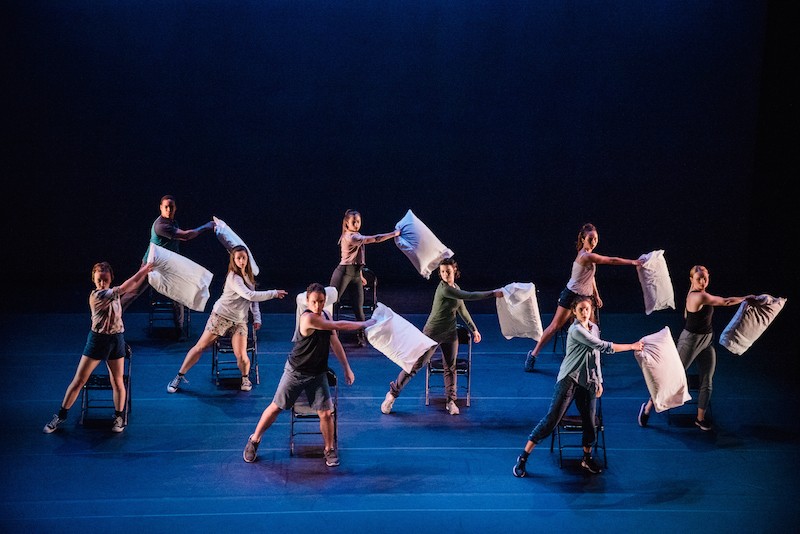 UC Santa Barbara Dance Company in Chair/Pillow by Yvonne Rainer; Photo: Reiko Yanagi
Yvonne Rainer's short and hilarious Chair/Pillow follows. The dancers, with facial expressions ranging from modern-dance blank to aggressively bored, move in unison through a series of seated and standing positions, on and around their folding chair. They clutch, kneed, swing and drop a bedroom pillow. The music, "River Deep–Mountain High" by Ike and Tina Turner, is celebratory, setting the tone for big, joyous movement. Instead, Chair/Pillow is cheerfully defiant, mechanical and pedestrian — almost insulting to the idea of choreography as vaunted art.
The evening closes with the piece d'occasion, Halprin's "The Paper Dance" from Parades and Changes. Deceptively simple, like the rest of the evening, this work calls for the dancers to walk through the front-of-house, quietly speaking to seated audience members. Eventually their conversation becomes dissonant humming and they stand onstage slowly removing their identical black suit jackets, pants and hats. When Halprin's San Francisco Dancers' Workshop first performed "The Paper Dance" at Hunter College in 1967, misdemeanor charges were filed for indecent exposure. Now, nudity in performance has lost its explosive quality but retained the honesty and vulnerability important to this work.  Once the dancers are fully nude, they congregate upstage where another dancer walks back and forth, flying lengths of brown paper above her head. The performers catch the paper and proceed to mill around one another, tearing and crumpling it into smaller pieces.
UC Santa Barbara Dance Company in 'The Paper Dance' from Anna Halprin's Parades and Changes; Photo: Reiko Yanagi
There are many layers of attention and intention in this dance. The most superficial takeaway could be that naked people are ripping paper. But as the audience adjusts to the activity, the complexity of improvisation reveals itself. The dancers are making decisions in multiple dimensions: The texture and sound of the paper, the proximity of their colleagues onstage, the visibility of their bodies to one another and the audience, the structure they're forming from the audience's perspective, and more. Throughout the dance, giggles and murmurs escape from the performers, broadcasting their delight into the house. Stunning lighting by Michael Klaers suffuses the stage with a warm glow, turning it into a paper hive where the parts are obvious but the sum is difficult to describe. Maybe it's joyous labor, cooperative, silly, pointless work — a radical notion indeed.     
---
The Dance Enthusiast Shares IMPRESSIONS / our brand of review and Creates Conversation.
Check out our other IMPRESSIONS here.
Share your #AudienceReview of this show or others for a chance to win a prize.