Related Features
Contribute
Your support helps us cover dance in New York City and beyond! Donate now.
IMPRESSIONS: Roya Carreras' "The Big Balloon" Presented by The Current Sessions at the wild project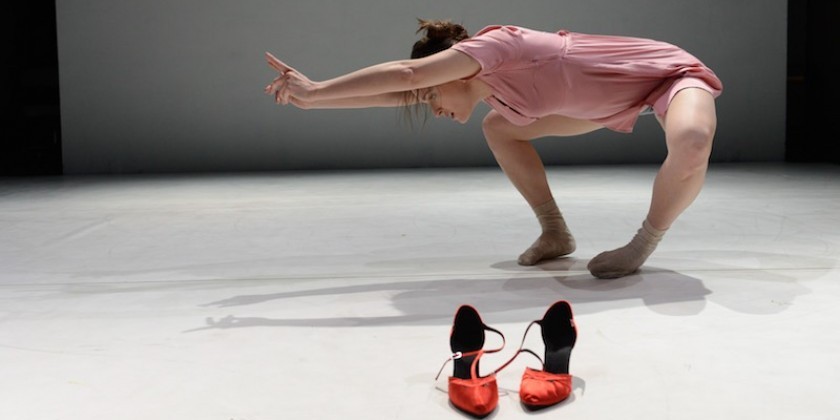 April 14, 2017 at 8:00PM
Concept, Direction, Choreography: Roya Carreras
Lighting Design: Mike Inwood / Lighting Design Assistant: Olivia Caroline Edery
Sound Composition: Travone Hill
Film: Derek Anthony Welte, Jason Knade
Styling: Ross Erin Martineau / Rehearsal Direction: Elise Ritzel
Performance: Caitlin Taylor, Elise Ritzel, Eloise DeLuca, Gregory Dolbashian, Maleek Washington and Fana Fraser
Producing Director + Curator: Alexis Convento
---
During the opening night of choreographer Roya Carreras' The Big Balloon — part traditional show, part installation, and part film — presented by The Current Sessions, mostly young creative types commingle in the wild project's pristine white gallery. They sip beer and wine while taking the occasional Instagram photo of the unfolding durational installation. 
Performer Fana Fraser is found in a flowerbed where she methodically mashes her fists into the soil to make room for geraniums that she then plants. Clad in a clear plastic- and flesh-colored bodysuit and filmy dress, her figure is simultaneously revealed and concealed. Vulnerable and empowering, the artist entrances as she executes this rigorous improvisational act.
Fraser's display of physical work in an outdoor space precedes an indoor domestic scene taking place inside the theater. The vignette suggests that we're looking through a bay window in a ranch-style home from the outside. A warm glow envelops a wallpapered entryway and Astroturf lines one of the walls. There we are introduced to three seemingly white women dressed in silks and velvets who seem bored with suburban life. The juxtaposition of these two (Fraser is Black) portends an investigation of classicism and the exploitation of Black bodies in our culture. However, these themes are merely nodded at and would make for a worthwhile exploration in the future.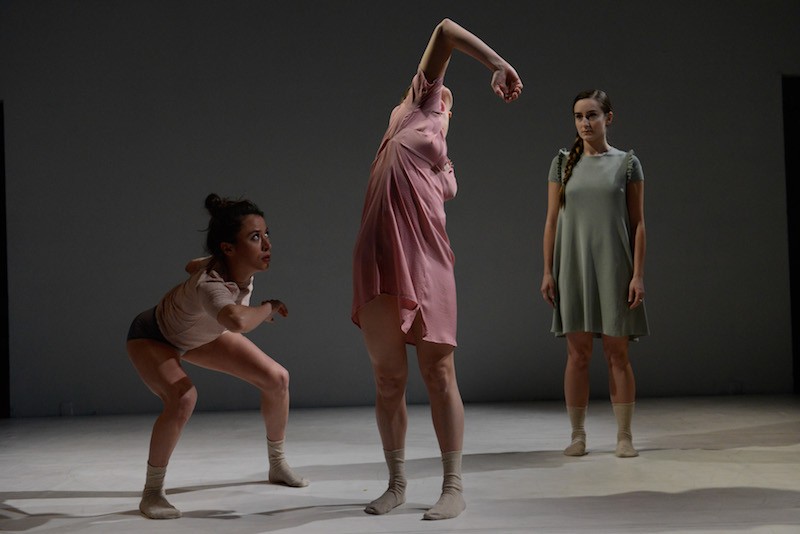 Roya Carreras' The Big Balloon; Photo: Nir Arieli
Carrera and her team have a predilection for evoking a bevy of influences. Though rich in tone, they, at times, obscure the choreographer's ideas. Books like The Virgin Suicides, The Girls, and The Hours, all about restless female characters, come to mind as we follow three aloof women in both live performance and a short film that occurs halfway through the work. Their movements are at once serpentine and gestural, deploying element ballet, Gaga, and theater. Possessing a laser-sharp technical prowess, the dancers are ferocious.
The costuming is reminiscent of Pina Bausch's signature look. The trio wears slouchy dresses, nude socks and, in one section, red heels. Their brutishness also echoes Bausch's iconic vocabulary. In the film of The Big Balloon, for example, the women tug and pull one another's skin, ears and hair à la Kontakthof. In some ways, the video is a more intimate portrayal as we watch the same women lay about in a cramped apartment, shower and do chores on camera. Yet their opaque, vacant glances keep us at arm's length from the tension that lays under the work's cool surface. 
 Roya Carreras' The Big Balloon; Photo: Nir Arieli
Toward the end in the live performance, Gregory Dolbashian and Maleek Washington appear. Each engages in an aggressive duet with a woman, manipulating their female partner's body into slackened lifts and contorted poses. These interactions are thinly developed, and their violent undertone leaves more questions than answers. 
Supporting materials and the installation further obfuscates The Big Balloon. There is a book of Carreras' poetry that we're given at the evening's outset, which is translated in both Farsi and Spanish by the choreographer's parents and friends to "serve to connect her Iranian-Hispanic lineage." This beautifully packaged rendering and vibrant prose are one of the few indicators — a Persian rug bunched on the stage and Iranian music in the background of the film — of Carreras' heritage. 
Perhaps the choreographer wished to scrub the work mostly clean of her personal memories to make room for us to attach ourselves to the unfolding story. But The Big Balloon's pervading secrecy and enigmatic creatures keep us uncomfortably in the dark.
---
The Dance Enthusiast Shares IMPRESSIONS/ our brand of review and Creates Conversation.
Check out our other IMPRESSIONS here.
Share your #AudienceReview of this show or others for a chance to win a $75 giftcard to Trader Joe's.