Related Features
Contribute
Your support helps us cover dance in New York City and beyond! Donate now.
IMPRESSIONS: Soledad Barrio & Noche Flamenca in Íntimo at The Joyce Theater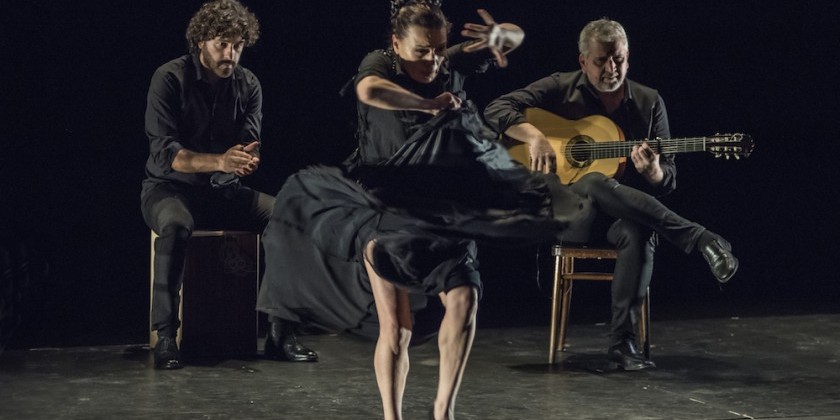 February 13-25th, 2018 —The Joyce Theater
Choreography of La Ronde by Martín Santangelo; Other Choreography by Santangelo and the Company
Featuring Soledad Barrio and Juan Ogalla, Eugenio Iglesias, Salva de María, Carmina Cortes, Manuel Gago, Emilio Florido, David 'Chupete' Rodriguez, Hamed Traore, Marina Elana, Carlos Menchaca and Robert Wilson aka ShortSircuit
For Tickets Go to The Joyce Theater Here
---
The unequivocal artist, Soledad Barrio, and her husband and artistic director, Martín Santangelo, have created a sweet spot on the world stage from where they deepen, expand, and share the art of flamenco. The performance world is all the more rich for their dynamic contribution, but can the artists compete with themselves?
Three years ago on a sweltering night at the West Park Presbyterian Church on 86th Street (as audience members were handed fans by perspiring ushers) I sought my place among the pews to witness Noche Flamenca in Antigona.
The startling union of Spanish flamenco and Greek tragedy, with the brilliant introduction of American hip-hop dancers and rhythms, completely grabbed hold of me. Riveted to the program I forgot how horribly hot that church was. I forgot to use my fan. I forgot to care. What did such trivialities matter? You think the only people who can dig deep, into Greek tragedy are Shakespearean actors? Well, guess again.
Soledad Barrio, right, and Juan Ogalla of Noche Flamenca perform Antigona; Photo by Zarmik Moqtaderi
I wasn't the only one who felt passionate. The show received multitudes of praise from critics and fans, and was nominated by the 2015 Bessies for outstanding production and the outstanding performance of Juan Ogalla as Haemon (Antigona's lover).
Íntimo, like Antigona, introduces a literary structure. Here, the first part of the evening is comprised of a dance suite called La Ronde, inspired by the 1950 French film La Ronde, adapted from a controversial Arthur Schnitzler play (1897) of the same name. The dance begins and ends with a chorus of lonely individuals reaching into the darkness. In between, vignettes of intimate relations — not always sexual — occur. The movie (which I am now very curious to see) is described as a waltz of interconnected sexual affairs and post-coital discussions offering a look at sex and class.
Were we supposed to see that clearly in the dancing as well? I confess I didn't. I didn't understand how the movie, or the play, was vital to the happenings onstage, except perhaps as a jumping-off point from which to experiment. The fact that the suite was followed by flirtatious duets and more passionate dancing further confused me. Why the divisions? This is not to say that Santangelo's experimentation isn't compelling, but the structure of La Ronde feels loose and incomplete, a theatrical work in search of its identity.
Salva de María and Soledad Barrio; Photo by Peter Graham
More than the play, here the thing is the artistry. Barrio's presence commands us to feel. Neutrality is never an option. Partnering with guitarist Salva de María, we sense desperation in her rapid-fire footwork, in the twists and turns of her fingers, and in the ferocity of her leg lifts and circling patterns. When the musician leaves Barrio abandoned on the stage with only an empty chair to cradle, we are wrenched along with her.
Another powerful episode finds Barrio and Carlos Menchaca clad in untraditional, black leather pants and plain, boxy blue tops. Accompanied by the clock-like beat of David "Chupete" Rodgriguez's cajón, the two check each other out — slowly. Their arms and backs, set in unusually angular shapes, appear to be sniffing the air around their bodies. The dance and sound build until Menchaca violently slaps his hands along the flanks of Barrio's inner thighs and grabs her breasts. After such jarring moves and one would think their world might end, but it continues. The couple, trapped in their own bubble, claw at one another, hating and needing each other simultaneously.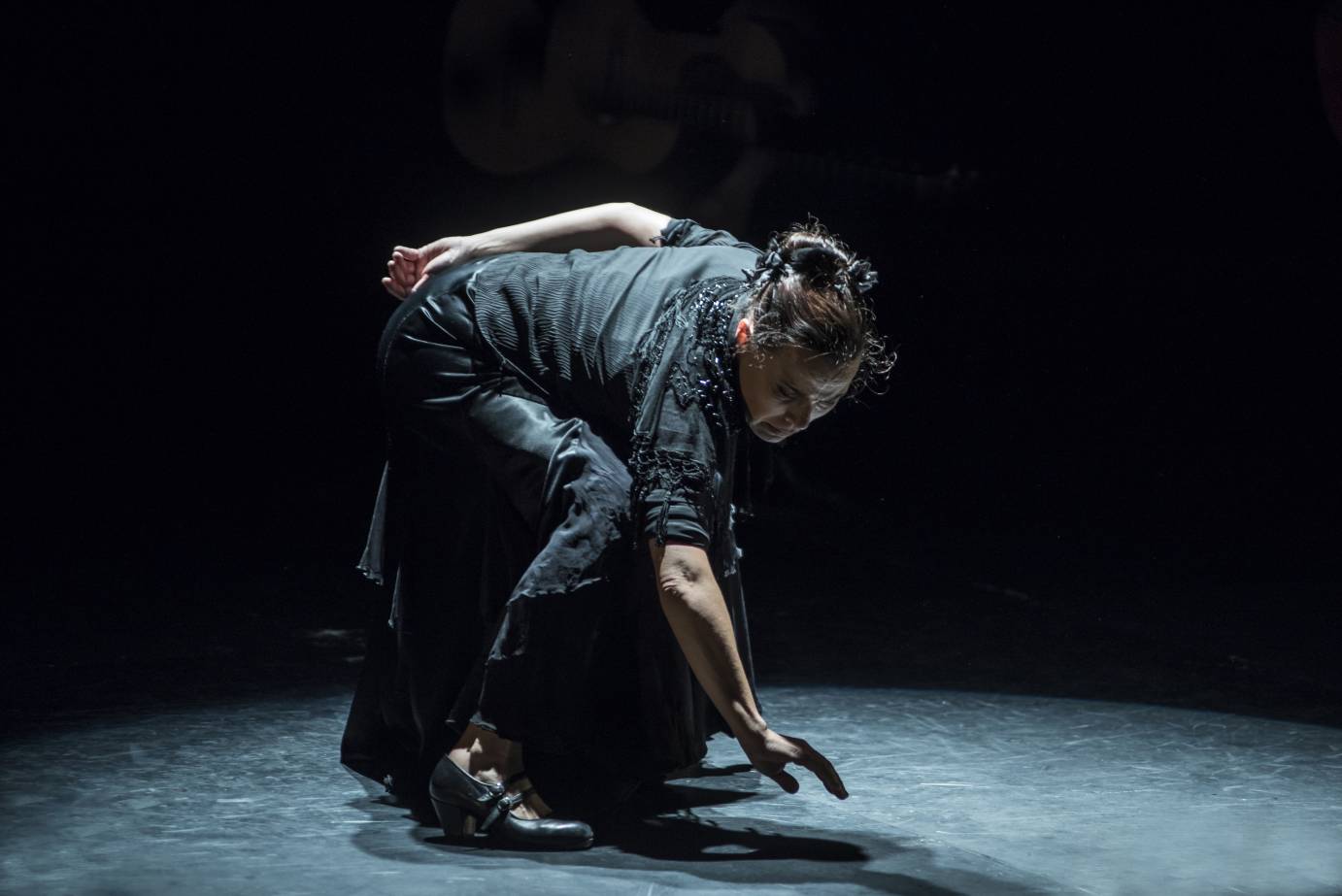 Soledad Barrio; Photo by Peter Graham
One wishes that the spirited, elegant Marina Elana and the popping, hand-standing Robert Wilson (aka ShortSircuit) had more to do. Their hip hop/ flamenco sparring, while fun and flirtatious, seems incidental. Carlos Menchaca's fresh presence dazzles whether deep in rhythmic conversation or opening the front of his velvet jacket to show off his floral shirt. Percussionist "Chupete" Rodriguez, on cajón, and Emilio Florido, playing with two canes, swagger as they alternatively joust and provoke one another in an enjoyable, brotherly competition of sound and movement.
Juan Ogalla; Photo by  Hamid Karim
But I wish I had remembered my fan when it came to Juan Ogalla's performance. At one point, after a particularly challenging set that found his heels and toes deliriously fluttering against the floor, Ogalla, as he faced us (hypnotically beckoning) suddenly lunged into profile. Who knew a simple change of direction could be that sensual?
---
The Dance Enthusiast Shares IMPRESSIONS/ our brand of review and Creates Conversation.
For more IMPRESSIONS, click here.
Share your #AudienceReview of performances for a chance to win a prize.