Impressions of: "Some of a Thousand Words" with Brian Brooks and Wendy Whelan at The Joyce
Presented by: The Joyce Theater -February 28th-March 5, 2017
Choreography and Direction: Brian Brooks
Dance performed by: Wendy Whelan, Brian Brooks
Music Performer by: Brooklyn Rider: Johnny Delsaman, Colin Jacobsen, Nicholas Cords, Michael Nicolas
Lighting Design: Joe Levasseur
Costume Design: Karen Young
---
When superstar ballerina Wendy Whelan and seasoned contemporary choreographer Brian Brooks first met in 2011, they were already longtime fans of one another. A year later, they got together in the studio and discovered they had an artistic spark. Their show at The Joyce Theater, Some of a Thousand Words, celebrates their work together in a stunning collaboration that defies genre, background, and generation.
Some of a Thousand Words, accompanied by the classical new-music Brooklyn Rider, unfolds as a series of duets and solos that blend together seamlessly, becoming increasingly complex over time. The quartet of musicians are positioned upstage left, and their poised, deliberate movements serve as a counterpoint to Brooks and Whelan. Brooklyn Rider plays the work of contemporary composers, including Philip Glass, Jacob Cooper, and John Luther Adams, plus a new composition by group leader Colin Jacobsen.
Whelan, who danced with New York City Ballet as a principal for twenty-three years, and Brooks, who won a Guggenheim fellowship in 2013, first worked together when Damian Woetzel of the Vail International Dance Festival asked them to collaborate on a solo for Whelan, set to live music performed by Brooklyn Rider. At the time, Whelan was 44 and could see the end of her remarkable ballet career in the not-too-distant future. This collaboration seemed to be the answer to the imposing question of "what's next?"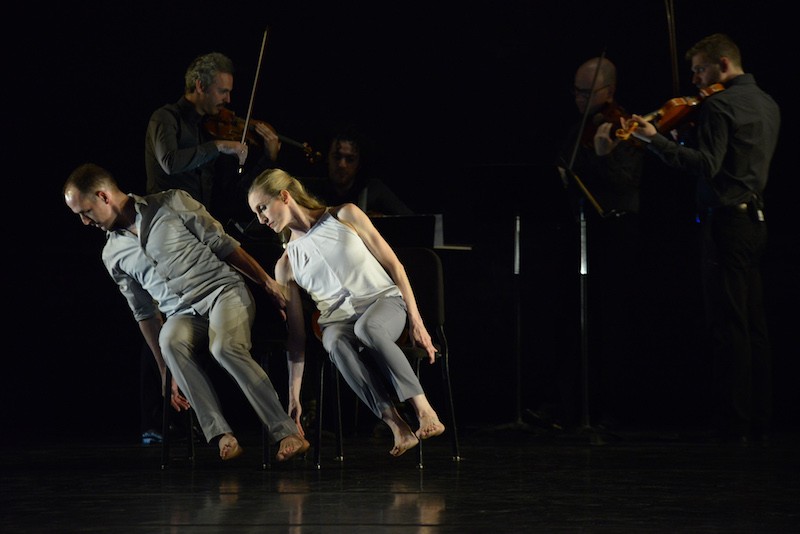 Wendy Whelan and Brian Brooks in Some of a Thousand Words. Photo by Nir Arieli.
Although a muse for many contemporary ballet choreographers, Whelan's work with Brooks was her first time performing choreography that was distinctly modern. Conversely, Brooks had never before worked with a ballerina. The pair contrasts one another, while also molding to the other's aesthetic. Whelan's clean, stark lines and intense control give way to a more mobile spine and a weighted quality uncharacteristic of a ballerina. Brooks' fearless athleticism becomes softer and more gentle. Brooks may be titled as choreographer, but their work is truly a collaboration.
The opening duet is the most simple. Whelan and Brooks walk slowly forward in perfect unison, all affectations stripped away. Slow articulations of their feet reverberate through to their torsos, which gives way to a simple swaying of the arms. The movement feels as natural as waves undulating: It keeps regenerating, as though infinite.
A solo for Whelan is slinky and grounded, like cursive writing, though a stunning penchée arabesque doesn't go unnoticed. Ballet fans drool at her articulate, pointed feet.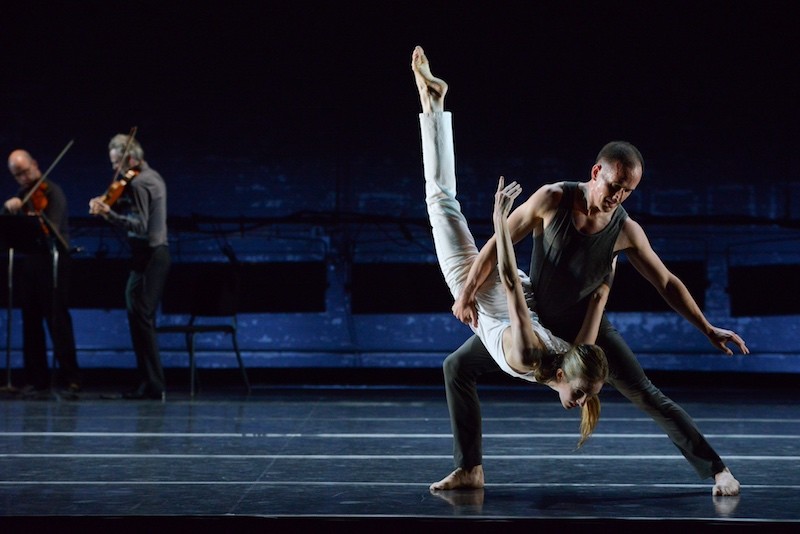 Wendy Whelan and Brian Brooks in Some of a Thousand Words. Photo by Nir Arieli.
A duet with two chairs is a satisfying exercise in theme and variation. Clinical actions of sitting, standing, and shifting evolve into more intimate moments, as Whelan and Brooks share weight, swirling and melting into one another.
In a solo for Brooks, he breaks his body into tiny parts, giving each its own voice. He shifts weight and changes direction as his loose swerving movement gets faster and faster, seemingly overtaking him.
In one of the most stunning motifs of the evening, the pair traverses the length of the stage — Whelan walks on forced arch while leaning against Brooks, simultaneously surrendering herself to him and pushing him forward. It seems to represent the ideal relationship: trust, dependence, and self-sufficiency.
The concluding duet is First Fall, the first piece the pair created. Whelan and Brooks play with variations on stunning falls — she tumbles blindly toward him, strong in her vulnerability. In its final moment, Whelan releases her weight into Brooks as he delicately eases her to the floor. It feels indicative of their relationship: respectful and devoted. Some of a Thousand Words breaks apart any notion of "uptown versus downtown," proving that when two artists can find common ground, the results can be magical.
---
The Dance Enthusiast Shares Impressions and Creates Conversations
For more Impressions, click here. 
Share your #AudienceReview of this show or others for a chance to win a $75 giftcard to Trader Joe's.