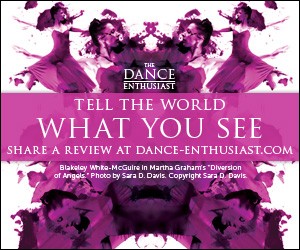 Related Features
Impressions of: Srinidhi Raghavan in "Voices" at Dixon Place
Date: February 12, 2017
Choreographer/Dancer: Srinidhi Raghavan
Composer: Dr. M. Balamuralidrishna, Usha Raghavan, Periyasamy Thooran, Madurai R. Muralidharan
Musicians: Usha Raghavan (Nattuvangam), Thilagasakthy Aaraamuthan (Vocal), Prathap Ramachandra (Mdridangam), Jalatharan Sithamparanathan (Violin), Jasdeep Sing Degun (Sitar), Janan Sathiendran (Tabla)
---
Usha Raghavan, the mother of Srinidhi Raghavan — also her teacher, and muse —  is present throughout Voices, a solo performance of Bharatanatyam. We hear Usha in the recorded score playing Nattuvangam, a set of important cymbals that set the pace for Bharatanatyam dancers. The mother Rahghavan acts as guru and conductor, her relevance evident through her daughter's reverence for tradition. This 2000-year-old classical Indian dance derives its name from the Sanskrit — "Bha" from Bhava, or emotion; "Ra" from Raaga, or music/melody;  "Ta" from Taala, or rhythm; and "Natyam" for dance.  
Srinidhi Rahhavan's personal charms shine most in "Thottu Thottu Pesa Varaan," in which she flirts with Krishna, "who keeps invading her personal space." She moves her face, her shoulders, and hands, with the winning precision of a natural comic, a seductress whose every move says, "No…yes."
Srinidhi Raghavan; Photo credit: Jeyakumaran Kandiah
Dressed in a gold-trimmed, orange-pink asymmetrical outfit with a skirt that opens like an accordion, plus multiple hair jewels and ankle bells, Raghavan offers up a visual feast. This dancer excels in counterintuitive responses to the rapid flow of her music. She often opts for poses and even-keeled prances that focus more on storytelling, and less on speed or highly detailed rhythmic patterns.
Srinidhi Raghavan; Photo credit: Jeyakumaran Kandiah
Before each solo, a voiceover describes the story that inspires the dance to follow. Those of us ignorant of the 32 mudras — or hand-gestures of Bharatnatyam — follow the story intuitively, catching the subtle and bold strokes of Raghavan's little head shakes and collapses to the floor. 
The image that lingers from Voices is that of a strong woman, so relaxed and confident that performing her intricate dance is a breeze, as easy to sing as a lullaby. Certain choreographic choices were puzzling, such as striking a pose long before the music ended and remaining still. It seemed as if listening with anticipation was the best spiritual involvement we could bring to the occasion.
---
The Dance Enthusiast Shares IMPRESSIONS/ our brand of review and Creates Conversation.
Check out our other IMPRESSIONS here
Share your #AudienceReview of this show or others for a chance to win a $75 giftcard to Trader Joe's.