IMPRESSIONS: StylePointe at Dixon Place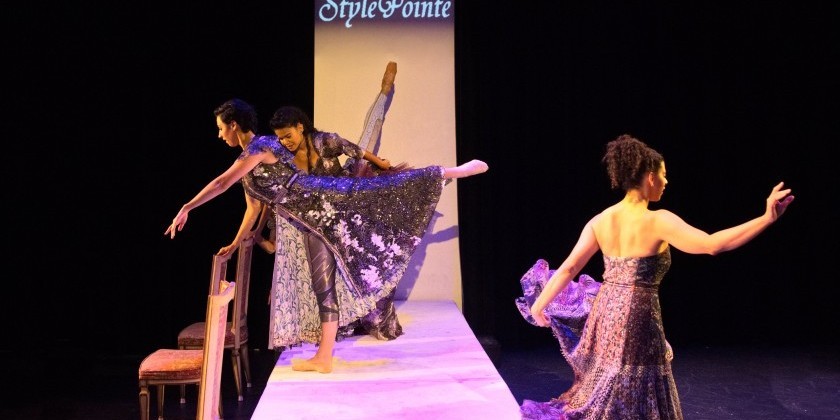 September 10, 2021
Curators: Sangeeta Yesley and Mariana Leung
Choreographers: Armada Dance, Dance Visions NY, DoubleTake Dance, Michelle Thompson Ulerich
Designers: Renita Biddle of CHERUBIM + RMB, Runtan Du, Sheila Gray, Goksu Guneylioglu, Byron Earnest Lars, Wanyu Shao, Jingwen Xuan
Host: Auberth Bercy
---
Costume design is often the last in the line of considerations when a choreographer choreographs, but in producer Sangeeta Yesley's innovative StylePointe, in its sixth year, costume design leads the way. Coinciding with New York Fashion Week, five emerging clothing designers, one jewelry designer, and one icon of the field lent their collections to the choreographic process. Designers convey a message, tell a story, or illustrate a philosophy through their collections. The garments follow the dictates of the designer's imagination. StylePointe choreographers are challenged to work with the designers' themes and translate costume exuberances and restrictions into movement.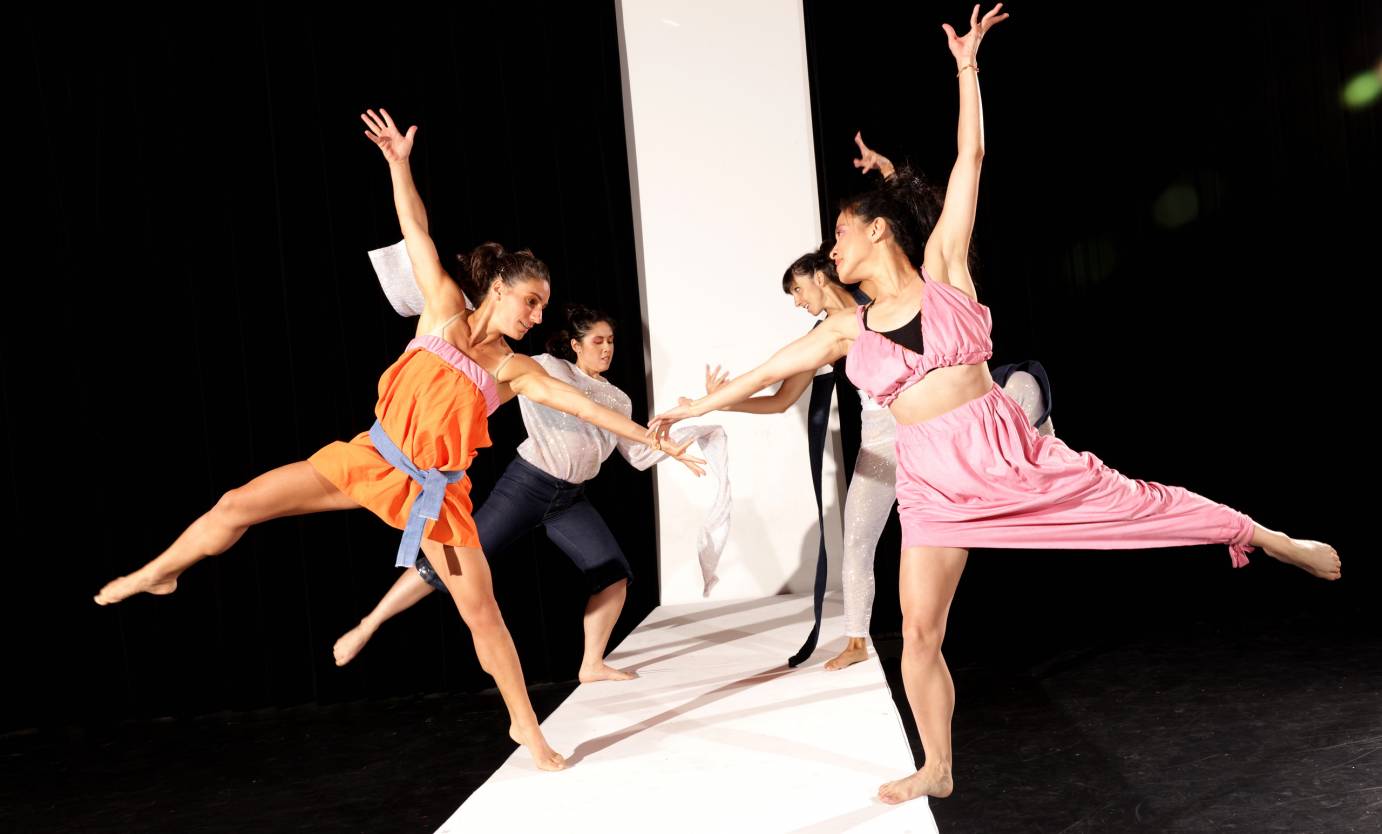 DoubleTake Dance with Goksu Guneylioglu; Photo by Peter Yesley, @peteryesleyphotography 
"What better way to show the movement and functionality of a garment than to put it on a dancer?" asks StylePointe co-curator, designer, and fashion editor, Mariana Leung. She explains, "fashion design and dance have a long history of collaboration. Geoffrey Beene showed his collection on ballet dancers in the 1990s; streetwear is often modeled by hip-hop dancers. Halston was a known collaborator with modern dance choreographer Martha Graham."
A first for many of the StylePointe artists, the collaborations yield one-of-a-kind results. "I try to bring a new choreographer every year for them to have a unique experience of collaborating in this project," remarks Yesley. Yesley and Leung peruse designer's fashion collection lookbooks and pictures to discover new clothiers whose collections are both captivating and functional. The choreographers then select a suitable designer.
Michelle Thompson Ulerich with Renita Biddle of CHERUBIM + RMB; Photo by Peter Yesley, @peteryesleyphotography 
The charming host, comedian Auberth Bercy, introduced each pairing at this year's StylePointe. Opening the evening was designer Renita Biddle of CHERUBIM + RMB, Collection: Slayer of State, and choreographer Michelle Thompson Ulerich whose ballerinas en pointe (thus, the nomenclature StylePointe) perform uncomplicated upright movements to accommodate the bombastic architectural hats and veils and elegant long satin gowns tightly fitting the body. Representing the "empowerment and unity of women," the dancers, carefully maneuvering their costumes, promenaded in point shoes on the elevated central runway extending to the forward edge of the stage.
Generally, the runway walk tended toward the awkward; the challenge of getting on and off the catwalk, smoothly regulating the flow of moving bodies on the narrow bridge, and copying the relaxed strut, the alluring glance, and the pose of a professional model, read as unnatural for the dancers.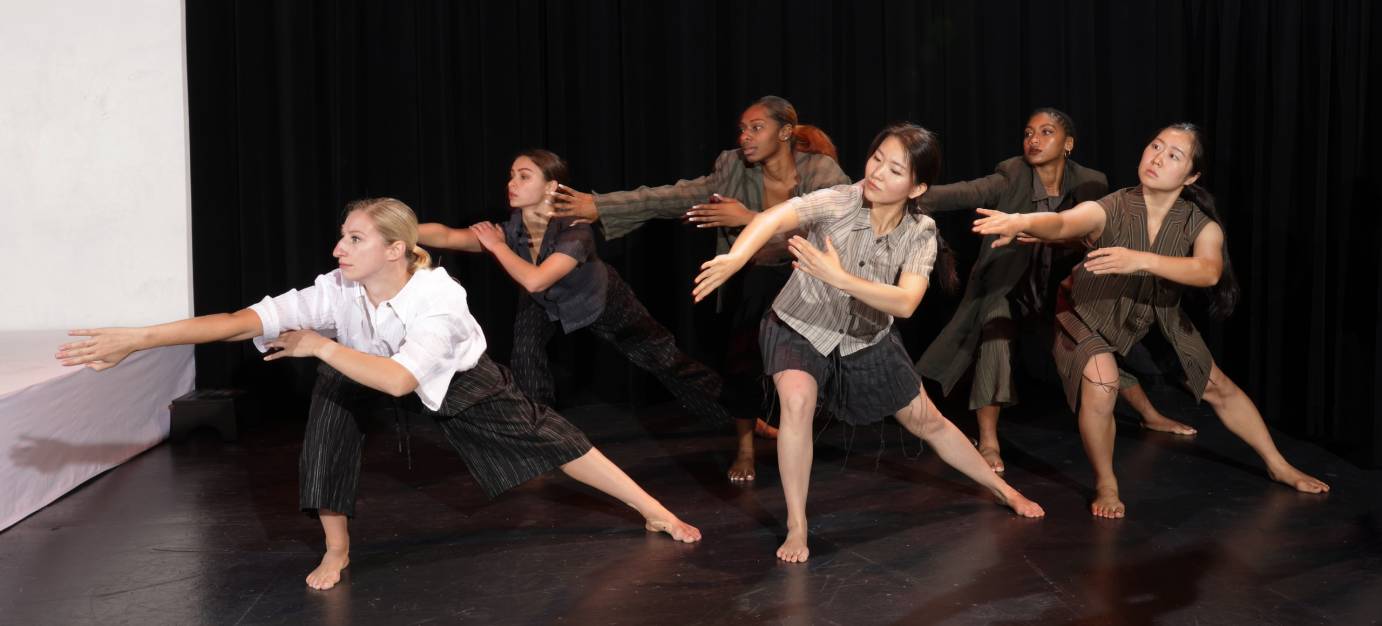 Michelle Thompson Ulerich with Runtan Du; Photo by Peter Yesley, @peteryesleyphotography 
There were inventive uses of the runway. Ulerich's second work, a partnership with designer Runtan Du expressed the theme of war. Cast in low lights accompanied by the sound of rain, this sophisticated dance featured six dancers who lifted and lowered their bodies together on the runway.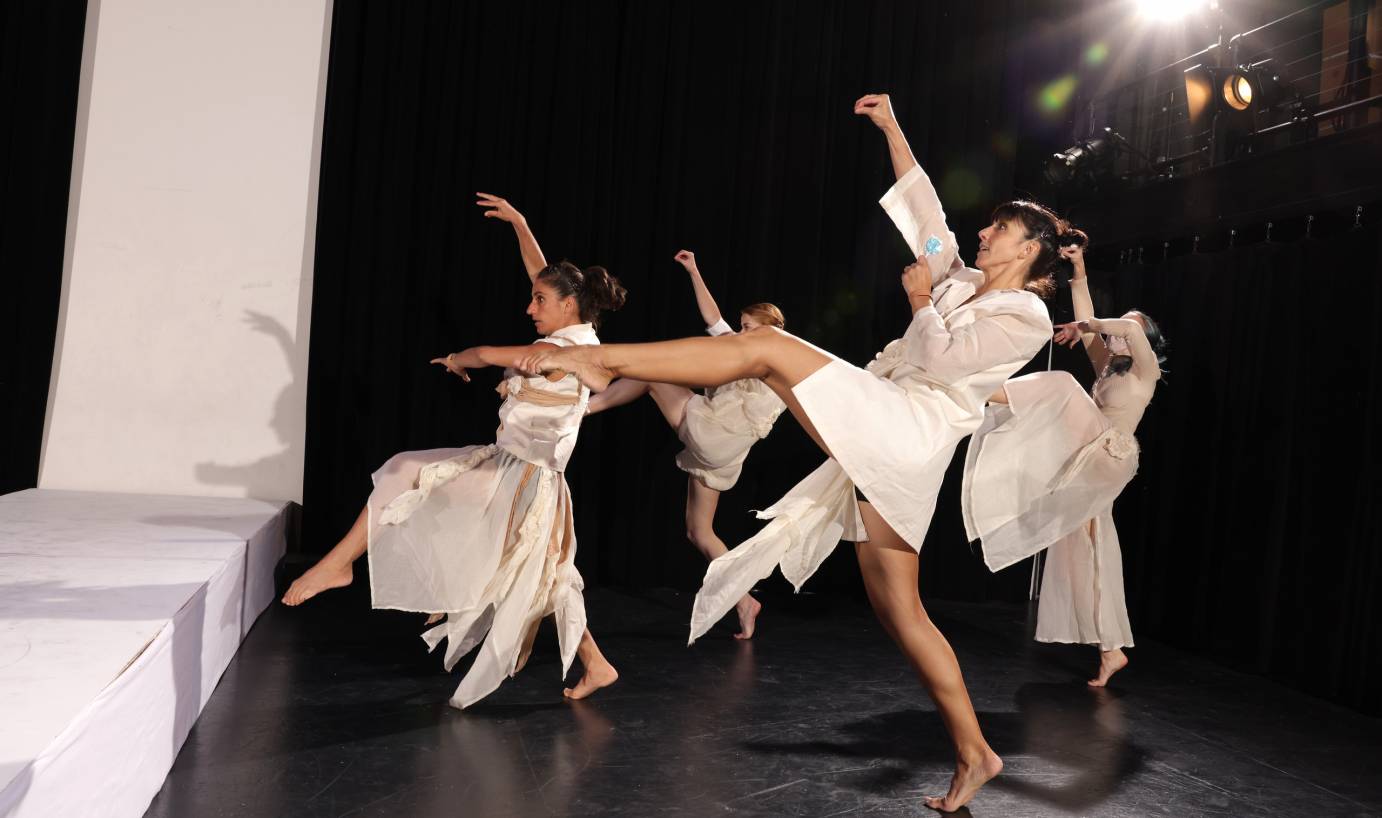 DoubleTake Dance with Wanyu Shao; Photo by Peter Yesley, @peteryesleyphotography 
Another imaginative variation on the use of the runway was DoubleTake Dance's depiction of the runway as conveyor belt whereby blue chips were added to and subtracted from little boxes by the dancers acting as factory workers. Directed by choreographers Vanessa Martínez de Baños and Ashley Carter with designer Wanyu Shao, Collection: Chapter One, a lollipop became the dancers' object of desire and every dancer was after it.
DoubleTake Dance's collaboration with Goksu Guneylioglu, Collections: Freud's Wardrobe featured costumes of shiny silver fabric fashioned into long arm extensions representing the Id, transparent material representing the Ego, and denim representing the Superego. Dancers were also clad in pink and orange playclothes gathered at the neck and waist.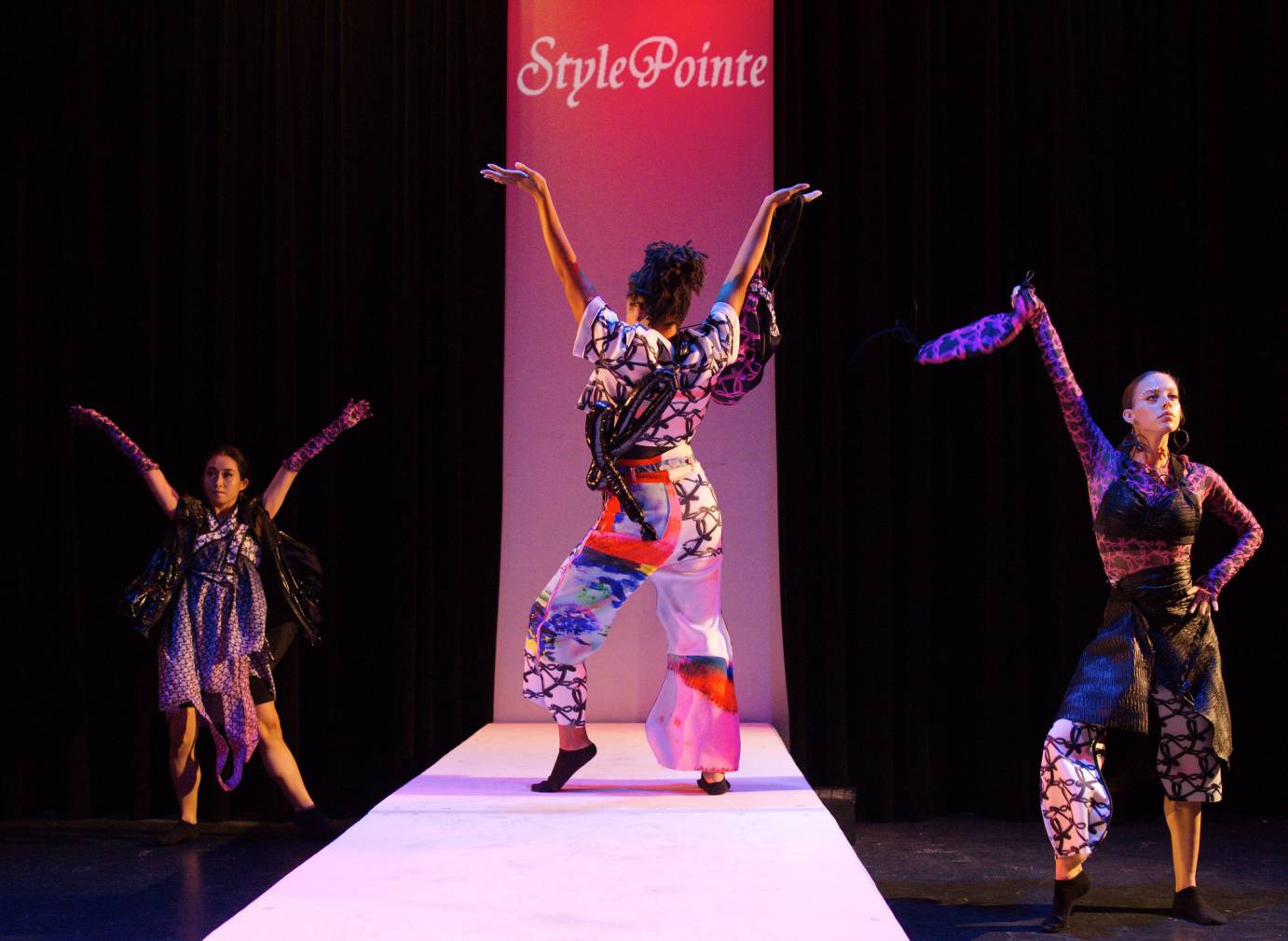 Dance Visions NY with Jingwen Xuan; Photo by Peter Yesley, @peteryesleyphotography 
Collection: Betwixt and Between with designer Jingwen Xuan and choreographer Beth Jucovy, Dance Visions NY, was a romp of fun. To the music of "Putting on the Ritz," the Pink Panther theme, and "Goldfinger," the dancers were entertained by two boxes of black and pink skirts, hats, gloves, jackets, and accessories which they donned and tossed off.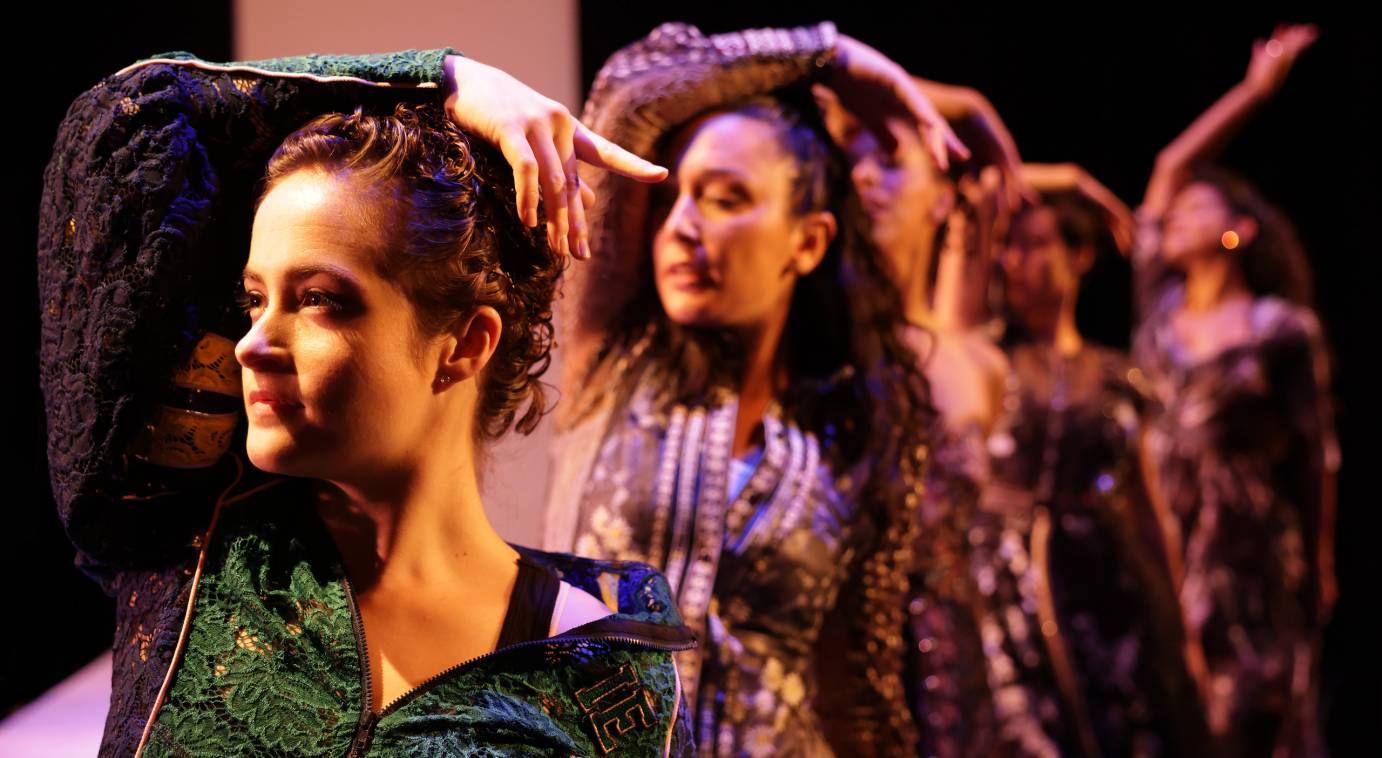 Armada Dance with Byron Earnest Lars of In Earnest and Sheila Gray of Sheila Gray Collection; Photo by Peter Yesley, @peteryesleyphotography 
Headline designer, a force in the field for decades, Byron Earnest Lars, Brand: In Earnest, with partner, Sheila Gray, designer of accessories, Brand: Sheila Gray Collection, and choreographer Jennifer Roit, Armada Dance, closed the show. Says Lars, "I knew the pieces selected for the collaboration would need to have both an ease of and a dynamism to their movement."  Roit adds, "Byron's pieces were a transition from our pandemic pajama days to beginning to go out, and that really kickstarted my brain on creating a piece about a group of friends reuniting. Adding Sheila's necklaces helped drive the narrative through to the idea of getting together to go out."
Since the costumes are returned to the designers, these dances are one-of-a-kind, a chimera, created to lift our spirits. Indeed, we in the audience did go out, exchanged our sweats for appropriate clothing, put on jewelry and reflected to the artists our need for commonality.
---
The Dance Enthusiast Shares IMPRESSIONS/our brand of review, and creates conversation.
For more IMPRESSIONS, click here.
Share your #AudienceReview of performances. Write one today!
---
The Dance Enthusiast - News, Reviews, Interviews and an Open Invitation for YOU to join the Dance Conversation.