IMPRESSIONS: Sydney Dance Company, Gauthier Dance and the Hamburg Ballet at The Joyce Theater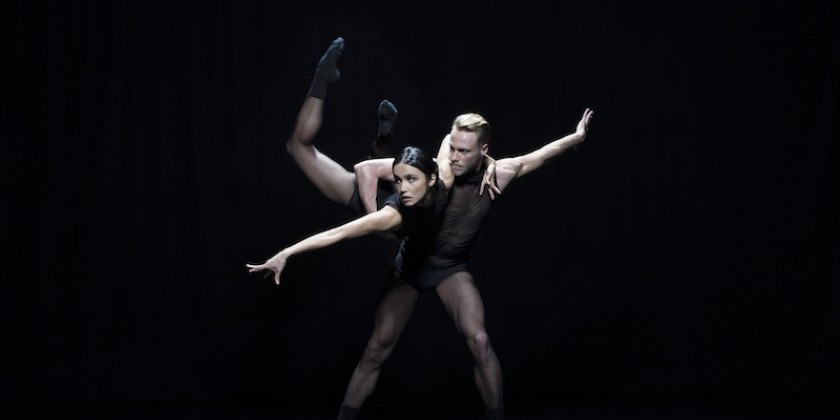 March 7 – 25, 2017
Pictured above: Sydney Dance Company's Raw Models featuring Charmene Yap and Andrew Crawford. 
On the heels of its second annual American Dance Platform this January, The Joyce Theater welcomes an international takeover throughout its 2017 Spring & Summer Season. I happily spent the month of March making row N my home away from home to see the select talent from Australia and Germany. While all three companies were new to me (yay!), I entered the theater each time knowing I was about to experience contemporary dance. While I won't dive into the, "What is contemporary dance?" conundrum here (though, you should check out what Sydney Dance Company has to say), I can tell you that each embodied it differently — and that's perhaps the most 'contemporary' thing of all.
---
Sydney Dance Company
Wildebeest, Raw Models, and Frame of Mind
Wednesday, March 8, 2017, 7:30PM
Choreography: Gabrielle Nankivell, Jacopo Godani, and Rafael Bonachela, respectively 
Music: Luke Smiles, Ulrich Mueller & Siegfried Roessert, and Bryce Dressner, respectively
First up: the return of Australia's Sydney Dance Company, last seen at the Joyce in 2011. The company boasts a 48-year history, and, I'd add, some of today's most stellar dancers. Throughout the NY premiere-packed program, we saw not only the dancers' technical acumen, but also their collective versatility — an enviable quality. 
Gabrielle Nankivell's Wildebeest (2014) opens the triple bill, immediately transforming the dancers into animalistic creatures. The first solo hits you with a quirky vocabulary complete with contorted joint flexes and flourishes so fluidly executed that their awkwardness somehow fades. While each sickle of the foot made the bunhead in me wildly uncomfortable, it was, in a word, breathtaking. The ensemble's precise gestural phrases ultimately give way to sweeping transitions, reminiscent of a herd gathering and dispersing. A sense of momentum brims, in concert with Luke Smiles' industrial, gadget-inspired soundscape.
Italian choreographer Jacopo Godani's Raw Models (2011) follows. A stance against societally-induced alter egos, this is another exercise in "otherness." The septet represents an abstracted, mini-society that's gone back to the basics (human instinct) when it comes to understanding life, themselves, and others. Even without the conceptual underpinning, the visual of group dynamism and discovery carries. Movement-wise, the hallmark is a slinky undulation that embellishes the entire work; it adds a touch of sex appeal, perhaps a nod to the primitive. 
The most human offering comes in Artistic Director Rafael Bonachela's Frame of Mind (2015). An asymmetrical crossover of stage curtains (designer Ralph Meyers) place us backstage in rehearsal-mode. The work is highly physical, grounded in a flurry of entrances, exits, and — most importantly — encounters. In these moments of connection, especially the duets, we see the subtle, but effective emotion that's been brewing throughout. Bryce Dressner's music adds the extra touch of drama.
David Rodriguez in NIJINSKI by Marco Goecke. Photo by Regina Brocke
Gauthier Dance / Dance Company Theaterhaus Stuttgart
NIJINSKI
Wednesday, March 15, 2017, 7:30PM
Choreography: Marco Goecke
Music: Frédéric Chopin, Claude Debussy, and Libana
Next, Germany's ten-year-old Gauthier Dance took to the stage, along with the documentary-deserving life of dance legend Vaslav Nijinsky (1890-1950). In 80 minutes time, we dive into Nijinsky's fascinating on and off-stage life, his psyche, relationships, sexuality, and demise. 
House choreographer Marco Goecke's ballet happens to be one of the most bizarre, yet sublime, dance theater pieces I've seen. He's a master at delivering compelling biographical work à la movement. A displayed photo of young Nijinsky at the work's start is the most literal, history-class-feeling thing to happen. After that, we're on an unpredictable journey, jumping in time, toggling from Nijinsky's known life to his inward battles. 
The movement is arm heavy, angular, and frenetic, often punctuated by a cross of the wrists. Caricatured emotion runs rampant, as does a recurring twitchy movement quality. Michaela Springer's set and costume designs add to the whimsy: pantyhose bodysuits, angel wings, sand, a lone microphone occasionally whispered into, and a Serge Diaghilev-inspired fur coat. 
Theatrically tied together, NIJINSKI creates powerful images. Most memorable is the closing scene in which an anguished Nijinsky (performed by Rosario Guerra) is screaming and frantic, scribbling on the floor. We've reached 1950; he bows. 
Members of Hamburg Ballet in "Opus 100" from John Neumeier's OLD FRIENDS. Photo by Kiran West
Hamburg Ballet
Old Friends
Tuesday, March 21, 2017, 7:30PM
Choreography: John Neumeier
Music: Johann Sebastian Bach, Frédéric Chopin, Federico Mompou, and Simon & Garfunkel
For 44 years, John Neumeier has directed Germany's Hamburg Ballet, created 150+ works, and upheld ballet tradition while embracing contemporary, innovative frameworks. For the company's Joyce debut, we saw the classic-meets-contemporary in the production Old Friends — a nod to the Simon & Garfunkel song. And that was just one of the Simon & Garfunkel songs of the night, sprinkled among Bach, Chopin, and Mompou, with live music by pianist Michal Bialk.
As a ballet collage on the theme of ever-changing relationships, the work starts out classic with technique on display, soon shifting to a street-clothed couple in a modern dance-like duet, flexed feet and all. Then, under the cool light of the moon, we're transferred to a melancholy place of stillness and shifting poses, where everyone apparently drinks tea. Our 21st century couple reemerges, before a suite of breakaway duets and trios ensues. 
I rather enjoyed this collage, multi-narrative approach, and the chance to see so many of the 25 dancers (a fraction of the 60-member company) featured throughout. But the most moving performance of the night was Alexandre Riabko and Ivan Urban's powerful duet to "Bridge Over Troubled Water" at the evening's close.
---
The Dance Enthusiast Shares IMPRESSIONS/ our brand of review and Creates Conversation.
Check out our other IMPRESSIONS here.
Share your #AudienceReview of this show or others for a chance to win a $75 giftcard to Trader Joe's.