Related Features
Contribute
Your support helps us cover dance in New York City and beyond! Donate now.
IMPRESSIONS: Tea for Three: Simone Forti, Steve Paxton, and Yvonne Rainer at Danspace Project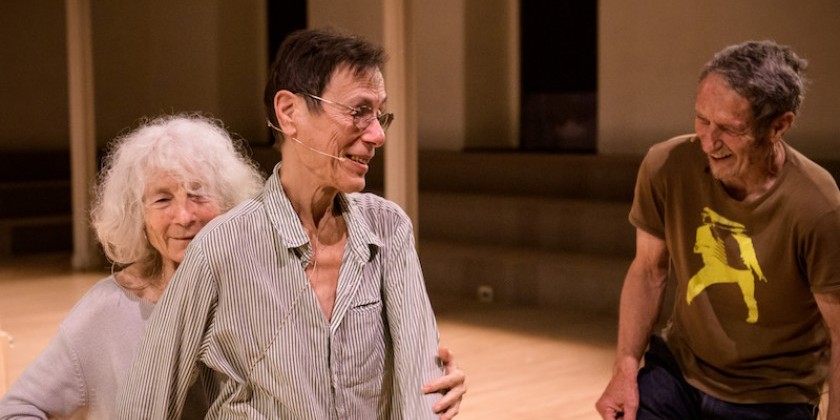 October 26-28, 2017
Creation and Performance: Simone Forti, Steve Paxton, and Yvonne Rainer
Excerpt from a dance: "Assisted Living: Good Sports 2" (2012)
Earth Horn: Yoshi Wada / Lighting Design: Carol Mullins
---
After almost 60 years, it's wonderful to have an evening of firsts. Simone Forti, Steve Paxton, and Yvonne Rainer met in the early 1960's during a series of composition workshops hosted by Robert Ellis Dunn. Created and performed by the trio, Tea for Three ventures into their first collaborative performance. With roots in improvisation and conversation, it's as free flowing as a stream of consciousness and as deliberate as a Supreme Court judge. 
The floor is an obstacle course. Three wooden frames, increasing in size, anchor the center, and a folded newspaper rests beside a plastic storage bin. Another bin moors the perimeter on the opposite side. Sheets of white paper hang listlessly on the surrounding columns. A video of Forti lying among rocks while adjusting a handheld radio projects above. 
Forti, Paxton, and Rainer perch on the carpeted altar steps watching the audience trickle into the sanctuary. After a moment of silence for recently deceased friend Trisha Brown, Paxton puts on a tall red Catholic clergyman hat and sash. Holding a metal pipe that's been crafted into an instrument, he parades with grandeur around the room. He then passes the props to Forti who respectfully declines the hat. She blows into the instrument while Rainer gets stuck crawling into the smallest wooden frame. Paxton helps Rainer into the larger frame. She meanders, dangling the frames like awkward accoutrements from her shoulder and arm.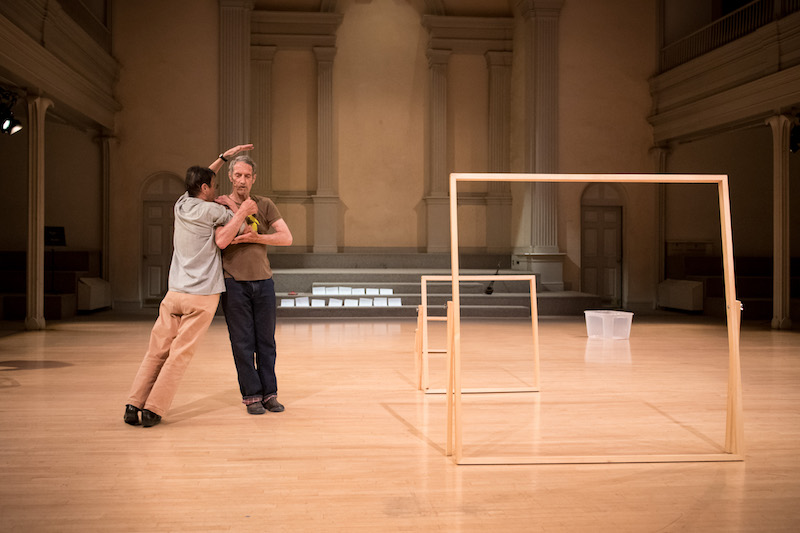 From L to R: Yvonne Rainer and Steve Paxton; Photo: Ian Douglas
Their manipulation of props continues as Rainer and Paxton place Forti in a storage bin. Paxton melts into the shadows with a series of United States President masks. Faces of Trump, Washington, Obama, and Lincoln fan below his chin. After Rainer tips Forti out of the container, they tip toe while wearing the bins during a duet. 
Clever one-liners heighten the work's relatability. "Let's go!" Rainer exclaims. "We already went," Paxton replies. During one instance, Rainer explains that David Gordon gave her the clergyman hat. "David who?" Paxton asks. Forti crawls across the floor and says, "I don't want to miss my contralateral moment."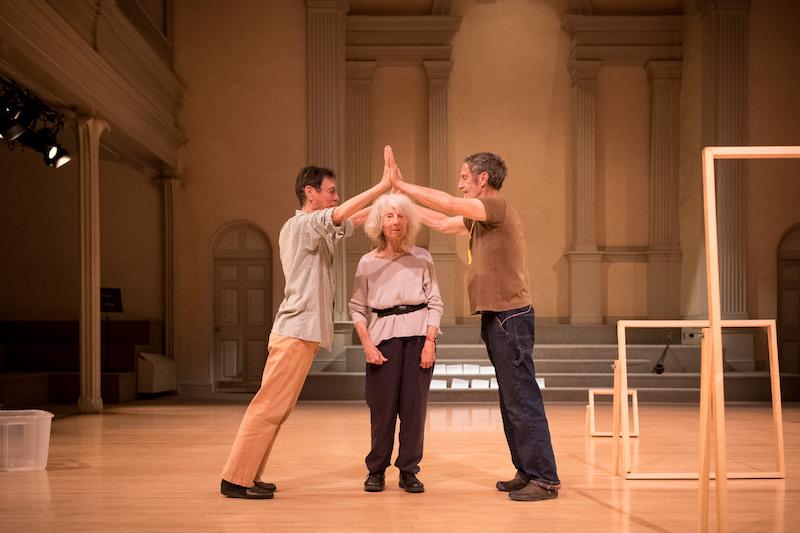 From L to R: Yvonne Rainer, Simone Forti, and Steve Paxton; Photo: Ian Douglas
These legends satisfy our nostalgia by referencing their illustrious pasts. Forti offers an ode to Isadora Duncan with her red scarf. Paxton repeats a Merce Cunningham phase; he steadies his legs while his torso swivels left and right, carrying his arms overhead. Rainer delights in a re-telling of Trio A. Paxton coyly adds, "You'll be happy to know it's now an actual trio." 
Moments of sharing weight, asking for tactile permission, and cradling each other's forearms weave together a playful tapestry. During the Trio A recollection, Forti clings to Rainer's body in an attempt to help. This assistance proves to be a comical hindrance to Rainer, but Forti persists. The group commits to each idea fully to build on their energetic offerings. 
There is never a lull. The trio masterfully carries the viewer from one moment to the next with anticipation. Their charisma, audacity, and agency feel both palpable and obscure. Tea never makes it into the show, but Tea for Three illustrates a comradery that brews from a legacy steeped in memories, friendship, and perhaps a good cup of tea.
---