IMPRESSIONS: Triskelion Arts presents Mari Meade Dance Collective & BodyStories: Teresa Fellion Dance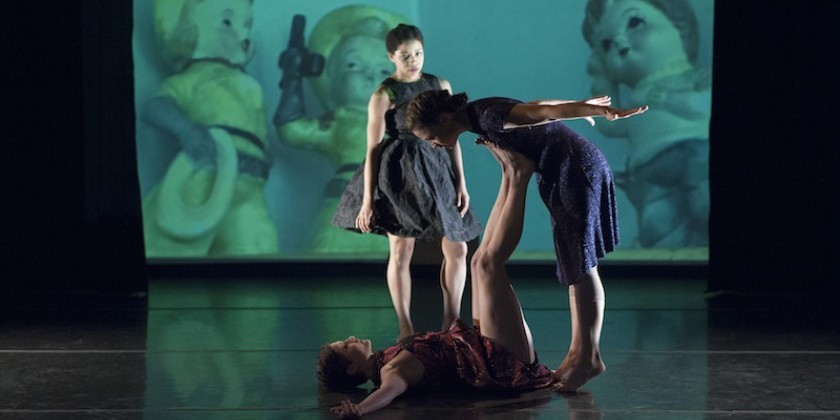 March 11, 2017 at 8pm | March 12, 2017 at 4pm & 8pm
Triskelion Arts' Muriel Schulman Theater
---
On March 11-12, Mari Meade Dance Collective and BodyStories: Teresa Fellion Dance joined forces for a split-bill at Triskelion Arts. The evening flourished with anthropomorphic organisms and fastidious footwork.
Mari Meade's Thresholden ushers in a soft start. A baldhead man discreetly situates himself on the top stairs within the audience. Patrons casually chat in chairs sprinkled on either side of him. He makes a slow descent down the stairs by inserting short, quick steps between long moments of stillness. His arms hang from hunched shoulders and rest on his thighs. The mind tricks you into thinking he never moved at all. When he makes it to the stage below, eight bodies gravitate toward him. They accumulate into a colony of creatures that shuffle and crawl across the floor. 
Their costumes create an undulating desert of peach hues. Solid geometric tops hang stiffly and stop abruptly above legs wrapped in peach tights. The fabric appears to be made from solid foam-like material, but much like the movement, the costumes possess a trickery of uncertainty. As Thresholden progresses, light passes through the fabric to expose its transparent nature.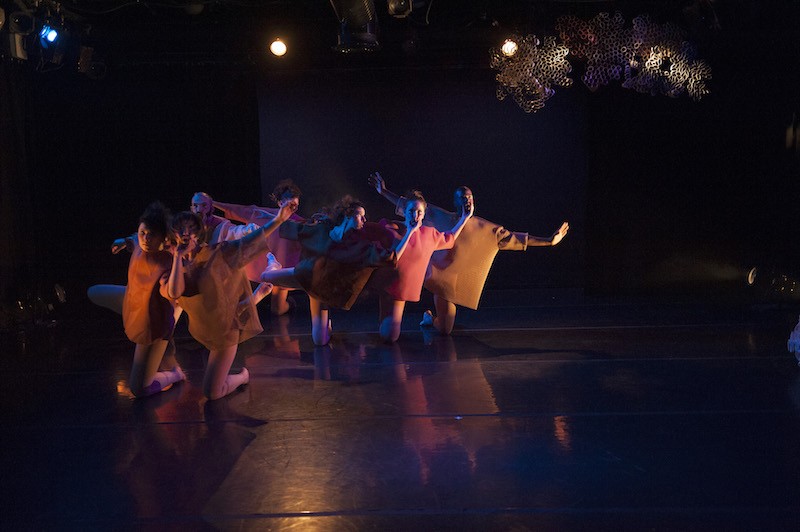 Mari Meade's Thresholden; Photo: Marco Giannavola
These humanlike entities flock, slide, and burst through a landscape framed by three massive structures composed of paper cups. Light fills each tiny cylinder to animate its beehive nature. 
The journey of this colony concludes with a man wading through a sea of bodies before a burst of surprise. Thresholden places you in a mysterious universe. You may not be sure where you are, but it's intriguing to stay a while and figure it out. 
During the second half, Teresa Fellion's Agawam ventures into nostalgia. It begins with a soloist gracefully moving in front of a video that slowly pans through unfocused images. This video later materializes into recognizable objects: a White man pictured in a frame, a sewing machine, lace doilies, WWII hats, and other war memorabilia. Two stained-glass light fixtures hang on either side upstage and illuminate the floor below. Off to side, a female vocalist and male accompanist generate melodic sounds.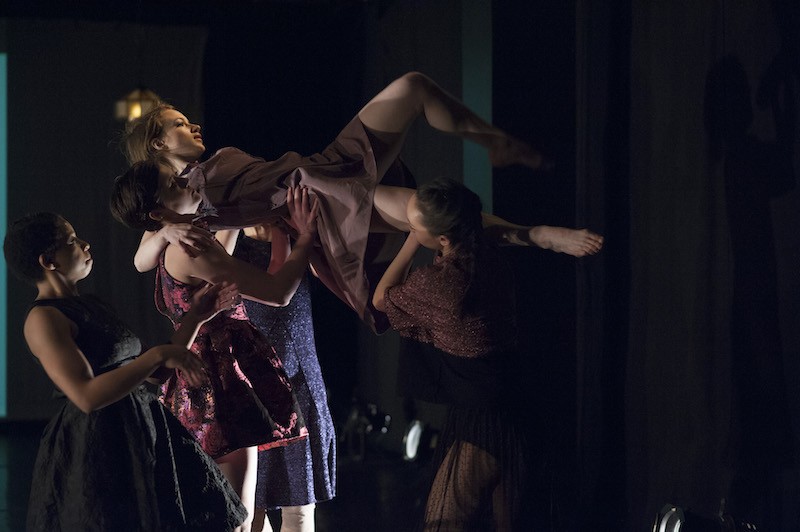 Teresa Fellion's Agawam; Photo: Marco Giannavola
Another woman joins the first to ignite a movement conversation bundled in stylistic difference. They negotiate between syncopated footwork and balletic adagios. Their varying styles suggest agency that pulls from their movement history. 
A third woman slithers from underneath the back curtain, and then three more women join to form a sextet. They execute partner work, leaps, turns, and counterbalances. They playfully intertwine through each other's pathways. The video continues to fade in and out, but the inability to reconcile it to the dancing pushes the video to the background.
Agawam offers a high-energy display of feminine facility and athleticism while the video serves as moving wallpaper of a bygone era. Where the two meet is unclear, but when considered separately, each element accentuates the sensibilities of familial bonds and lineage.  
---
The Dance Enthusiast Shares IMPRESSIONS/ our brand of review and Creates Conversation.
Check out our other IMPRESSIONS here.
Share your #AudienceReview of this show or others for a chance to win a $75 giftcard to Trader Joe's.