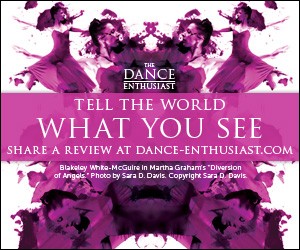 Related Features
Impressions of: Troy Schumacher's BalletCollective at NYU Skirball Center
NYU Skirball Center
October 27 and 28, 2016
Choreographer: Troy Schumacher
Composers: Ellis Ludwig-Leone and Judd Greenstein
Dancers: Harrison Coll, Rachel Hutsell, Anthony Huxley, Lauren King, Isabella LaFreniere, Ashley Laracey, and Lauren Lovette
Pictured above: Troy Schumacher (in glasses) with BalletCollective dancers.
---
Troy Schumacher, the founder, director, and choreographer of BalletCollective, is creating a distinctive new vernacular for ballet.
As I watched the program of three Schumacher works that BalletCollective presented at NYU Skirball Center in October, I had a sense of the excitement audiences are said to have felt watching Jerome Robbins' first ballet, Fancy Free, at its 1944 premiere. Schumacher's work has always reminded me of Jerome Robbins in its interweaving of casual movement with pure classical ballet and in the way he peoples his stage with youths gathered together in a loose community. Here, the affinity extended beyond choreography to a shared vision. Schumacher and the composers with whom he regularly collaborates — Ellis Ludwig-Leone and Judd Greenstein — are self-consciously creating ballets and ballet scores that reflect our moment in time, just as Robbins and Leonard Bernstein were in their time.
Artistic collaboration is key to BalletCollective's creative process, an importance underscored in the troupe's unusual name. For the two new works on this program, Until the Walls Cave In and The Answer, the collaborators included architects James Ramsey and Carlos Arnaiz. Their design sketches provided inspiration for movement and musical ideas alike
The five women and two men of BalletCollective — Harrison Coll, Rachel Hutsell, Anthony Huxley, Lauren King, Isabella LaFreniere, Ashley Laracey, and Lauren Lovette — are all superlative dancers who, like Schumacher himself, are members of New York City Ballet. Schumacher is a "dancer's choreographer"; his works show a solid mastery of form and structure, but he puts this mastery in the service of his dancers and not the other way around. In his choreography, you're always aware that you're watching real human beings, the same ones you pass on the street or stand next to at the barre. This naturalness is reinforced by the dancers' light stage makeup, their simple coiffures, and the everyday dance garb they wear. Not a single one of the leotards in these "leotard ballets" was made by a costume designer.
BalletCollective in Until the Walls Cave In. Photo: Whitney Browne.
Until the Walls Cave In, the evening's major premiere, is set to a score by Ludwig-Leone, played with luminous intensity by Hotel Elefant, a seven-member ensemble under the baton of Meg Zervoulis. James Ramsey's renderings for the Lowline, an underground park under construction in lower Manhattan, provide what the program calls "source art."
Schumacher's trademark style is loose and quick-shifting. The choreographer likes to break ballet's academic lines, and he tends to avoid unison movement. But there are times in Until the Walls Cave In when his jagged, out-of-sync movements seamlessly melt into washes of unison and smoothly fluid classical dancing. The play of contrasting styles, and Schumacher's mastery of both, was at times breathtaking.
Throughout, movement and music mirror each other deftly. On the score's explosive first note, Lauren King jumps onstage as though propelled by the discharge of sound. This puts in motion a succession of solos, duets, trios, and full-ensemble sequences that seem tailor-made for individual dancers.
A slow, sustained melody for cello sets a tender, introspective tone in a duet for Lauren King, who is all piquant grace, and Ashley Laracey, an ethereal dancer with the long face and tapering limbs of a figure painted by Modigliani. Their duet is punctuated by moments of stillness, as when Laracey balances in an upside-down arabesque, her hands pressed against the floor, while King stands upright on pointe behind her. Another striking feature of this duet is its incorporation of formal ballet partnering, usually reserved for a man supporting a woman. Sometimes one dancer supports the other in a pirouette on pointe, for example, while at other times their roles are reversed.
Music and dance reach a peak of energized intensity in a solo for tall Isabella LaFreniere. She seems almost to bolt onto the stage in this driven dance, giving turns and jumps a jolt of Dionysian energy and quicksilver power. Dancer, dance, and music seem one, indissoluble and organic.
Anthony Huxley and Rachel Hutsell in The Answer. Photo: Whitney Browne.
A key element of Ramsey's design for the Lowline is a central skylight that allows a circle of light to fall through the darkness of a subterranean world. In the last section of Until the Walls Cave In, the bright-lit stage darkens both metaphorically and literally. The dancers seem trapped in a dark room, where they are repeatedly drawn to center stage, forming a suggestive knot of crouching, cowering bodies or arranging themselves in a tight circle of arabesques, as if to ward off the darkness. The dance ends enigmatically with Laracey performing a stuttering step in the center of the near-pitch-black stage.
The evening's other premiere, The Answer, is a light-hearted, high-octane romp for Anthony Huxley and Rachel Hutsell set to a score by Judd Greenstein. In this piece, the "source art" is a photo of a jump by basketball great Allen Iverson as interpreted through Arnaiz's architectural lens. Schumacher reproduces Iverson's idiosyncratic leap as a choreographic motif. Huxley and Hutsell sail through the often-airborne choreography with humorous interplay and marvelous élan.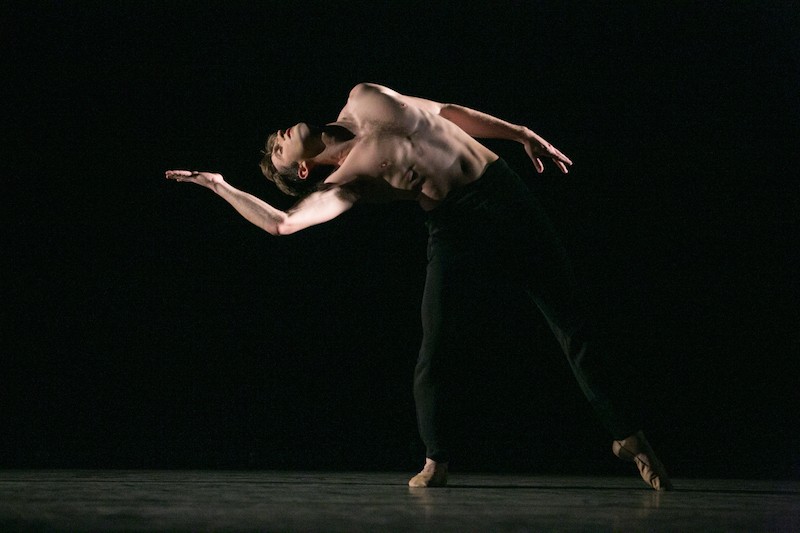 Harrison Coll in Invisible Divide. Photo: Whitney Browne
The evening's final work, Invisible Divide (2015), is more traditional in its movement style, but Ludwig-Leone's ballet score is far from traditional, since it features singing by the marvelous Indie vocalist and songwriter Violetness (Vanessa Upson).
Invisible Divide tells a familiar boy-loses-girl tale. Making it memorable are the performances of Harrison Coll as the lovelorn youth and Laracey as the woman he loses. At the work's outset, the relationship seems to be over, while the couple's fraught central pas de deux seems to take place in flashback. As the two dancers tumble over each other, Schumacher seems to suggest through the off-balance movements a relationship that's fallen into discord and imbalance.
The work's highlight is a dramatically gripping solo for Coll. In this exceptionally sensitive performance, the dancer moves with achingly slow and intensely felt  introspection, bending his beautifully sculpted torso, bare over black pants, in sorrow.
---
The Dance Enthusiast Shares IMPRESSIONS/ our brand of review and Creates Conversation.
Check out our other IMPRESSIONS here.
Share your #AudienceReview of this show or others for a chance to win a limited edition of Jordan Matter's book Dancers After Dark