IMPRESSIONS: Twenty Years of Aspen Santa Fe Ballet at The Joyce
Presenter/ Venue: The Joyce Theater
April 26th, 2017, 7:30pm
Choreography: Cherice Barton, Alejandro Cerrudo, Cayetano Soto
Performers: Craig Black, Katherine Bolanos, Sadie Brown, Jenelle Figgins, Anna Gerberich, Emily Proctor, Seia Rassenti Watson, Evan Supple, Anthony Tiedeman, Pete Leo Walker, Joseph Watson
---
A cultural beacon of the Southwest plus one of America's leading contemporary ballet companies, Aspen Santa Fe Ballet defines itself by its dual-city geography. The company celebrates its 20-year anniversary with a season at The Joyce Theater. Aspen Santa Fe Ballet sits comfortably between the worlds of ballet and modern, and the three-bill program demonstrates the company's virtuosity and versatility.
Cherice Barton's lively Eudaemonia (derived from the Greek word for happiness) explores the simple but elusive quest for fulfillment. The curtain opens on the cast lined up at the front of the stage. They perform gestures that communicate joy and confidence and then, one by one, walk back demurely into the darkness.
Jeremy Jurin's sound design blends vocal tracks and popular songs. A frequent motif is the sound of a baby laughing, echoing the cheerful mood of the piece. An accumulation of voices recites clichés about happiness. Nat King Cole's "Smile" plays as, individually, the dancers step forward and smile.
Barton manifests happiness in a variety of ways, from frantic elation to calm content. Running parallel to this theme is the quest for individuality, a plot line related by the dancers who take turns moving alone in the spotlight. At one point, a man with a hat charms with his technical precision and exaggerated facial expressions.
Though the concept behind Eudaemonia feels hackneyed, its vibrant energy and choreographic diversity captures our attention.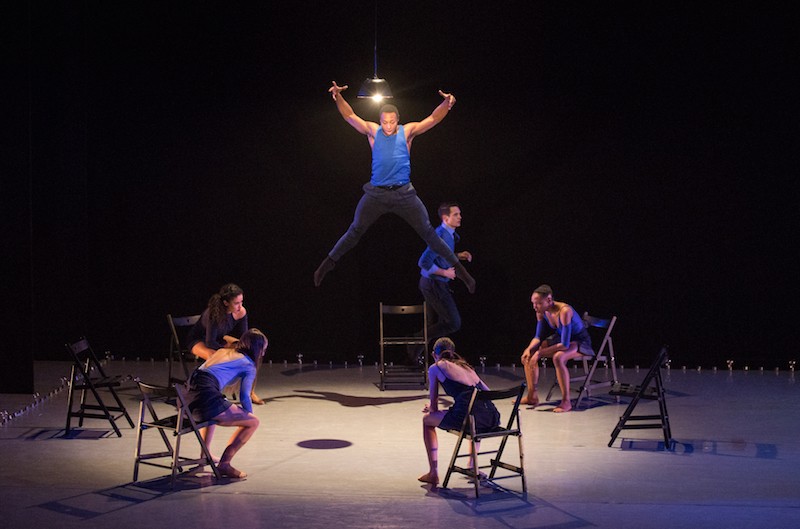 Joseph Watson (jumping) in Cherice Barton's Eudaemonia; Photo: Rosalie O'Connor
Silent Ghost, choreographed by Alejandro Cerrudo, is as beautifully simple and classical as the previous piece is complex. Peaceful and meditative, Michael Korsch's dusky lighting evokes an early morning calm.
Branimira Ivanova costumes the women in flattering two-tone gray dresses, which wrap around their shoulders. The men also wear gray, and this neutral palette highlights the expressiveness of the dancers' bodies where they often fold and unfold their arms across their chest, as though removing clothing or revealing themselves.
The movement alternates between quick angularity and languid indulgence. Lengthy, extended lines appear throughout, and long, bare legs carve through the space like beams of light. Recurring duets between a man and a woman convey a relationship that is routine but filled with care — perhaps a couple going through their morning ritual.
Exciting moments — a rush of spinning, a toss — make us lose our breath. In one unusual lift, a woman faces a man, pressing herself forward on his chest, her legs flying into the air as he leans backward.
Rather than forcing an agenda, Silent Ghost allows shapes and formations to speak for themselves. Some moments are busy and dramatic, but generally the piece moves in a meditative, ritualistic manner, which is lovely.
Pete Leo Walker and Katherine Bolaños in Cayetano Soto's Huma Rojo; Photo: Rosalie O'Connor
The final piece, choreographed by Cayetano Soto, offers yet more contrast. In Huma Rojo, which means "red smoke," a line of dancers clad in shiny, fire-engine red jumpsuits gesture in response to a self-improvement speech championing the importance of confidence.
Seah Johnson's design casts stripes of light across the floor, an interesting juxtaposition to the bright costumes and slick, geometric actions. In a pair of unison duets, four dancers interlock their limbs like plastic monkeys in the Barrel of Monkeys game.
Movement motifs project confidence and bravado: a puffing of the chest, a splaying of the arms, a thrusting of the crotch. Tiny, fluttery gestures like rapid, flat-footed bourrées interrupt larger, expansive movements, such as high extensions and powerful weight shifts.
Thematically, the piece lacks depth, but this allows us to enjoy the movement. In solo moments, the cast members are snappy, sassy, and charismatic, and in unison parts, they move together with precision. Huma Rojo seems to poke fun of propaganda encouraging us to be confident, but simultaneously shows what confidence can accomplish.
Aspen Sante Fe Ballet's Joyce program strikes a balance between classical technicality and eccentric modernity to demonstrate how excitingly versatile the contemporary-classical genre can be.
---
The Dance Enthusiast Shares IMPRESSIONS/ our brand of review and Creates Conversation.
Check out our other IMPRESSIONS here.
Share your #AudienceReview of this show or others for a chance to win a $75 giftcard to Trader Joe's.