IMPRESSIONS: "Home" by Valerie Green/Dance Entropy Addresses Longing, Displacement, Community and Activism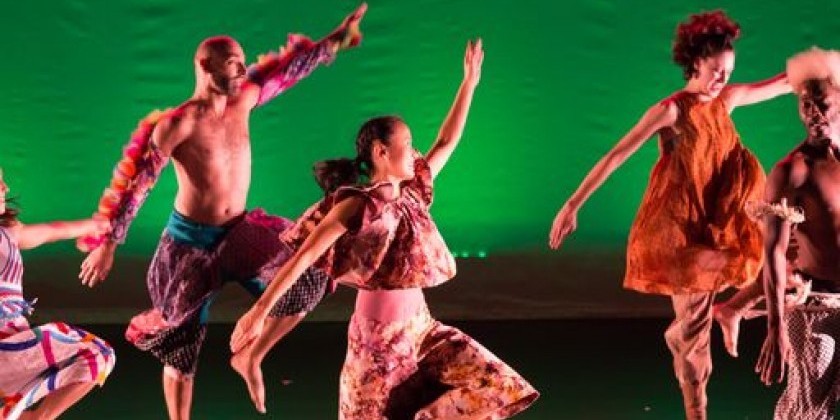 With Works by Valerie Green, Souleyman Badolo, Abou Diab, Ashley Lobo, Maria Naidu, and Paola Lopez Ramirez
Home by Valerie Green/Dance Entropy
September 30, 2022
The Theater at Gibney, 280 Broadway, New York, NY
Conception, Direction and Development: Valerie Green
Performers: Karma Chuki, Aidan Feldman, Erin Giordano, Kristina Licata, Lawson Pinder, Sara Pizzi, Richard Scandola
Choreography: Valerie Green, Ashley Lobo, Paola Lopez Ramirez, Souleymane Badolo, Maria Naidu, Bassam Abou Diab
Costume Design: Irena Romendik
Lighting Design: Kathy Kaufmann
---
Aashraya. Hogar. Biet. Zaka. Hem. Home. A word available in every language that evokes distinctly personal feelings. For the six choreographers featured in Valerie Green/Dance Entropy's cross-collaborative production Home, the word conjures feelings of warmth and safety as well as longing and displacement. Hailing from vastly different shores (Sweden, Colombia, India, Burkina Faso, USA, and Lebanon), these artists reveal common themes as they unpack their experiences.
Green's ideas about home introduce the evening and set the tone for an overarching theme in the production- community. While the pieces that follow define the ideas of each individual choreographer, Green chooses to showcase her dancers' ideas. Ranging from the endearing to the comical — "Home is where I take off my bra" — she reminds us that our perception of home can depend upon other people. Sequential and sweeping contemporary movement juxtaposed with music from Green's Serbian heritage accentuates the idea that home exists within a wide community, those people we live among, and also the roots of our ancestry.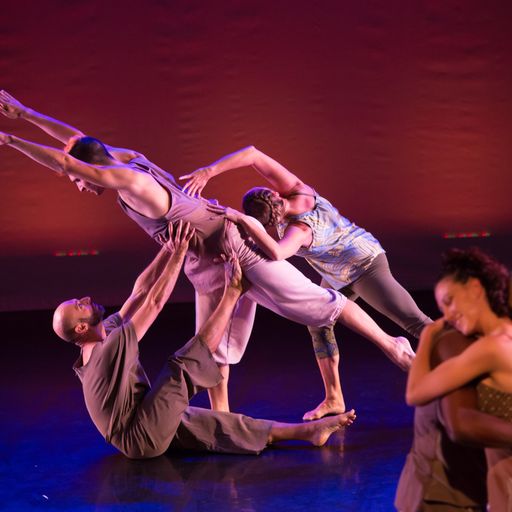 Dancers Aidan Feldman, Kristin Licata, Lawson Pinder, Sara Pizzi, and Richard Scandola; photo by Eric Bandiero
Souleymane Badolo from Burkina Faso, West Africa, also shares his traditions through community. He invites us to consider 'zaka' (home) as an idea rather than a place. Mixing traditional West African dance with American modern and street styles, Badolo defines identity as an amalgamation of culture, tradition, and ancestry. Set to music by James Brown, an artist who influenced popular culture in Burkina Faso, Badolo acknowledges the social colonization embedded in his country's heritage while assuring us that his identity is personal. "I am like a snail. I carry my house with me wherever I go."  
Spoken words from each choreographer serve as a thesis for their movement and another doorway into their minds. Colombian choreographer Paola Lopez Ramirez views Hogar as an identity and tells us, "Home is that which bred you, all you love and all you hate." Four female dancers begin to move in slow, sculptural tableaux, their exaggerated facial expressions melting from one distorted shape to another. Silent screams blend into laughter which morph into disgust and sadness. Aspects of their personalities emerge giving the impression that home is a place for authenticity. When their movements pick up speed, their long peasant skirts become the parameters that shroud, trap, and assist them.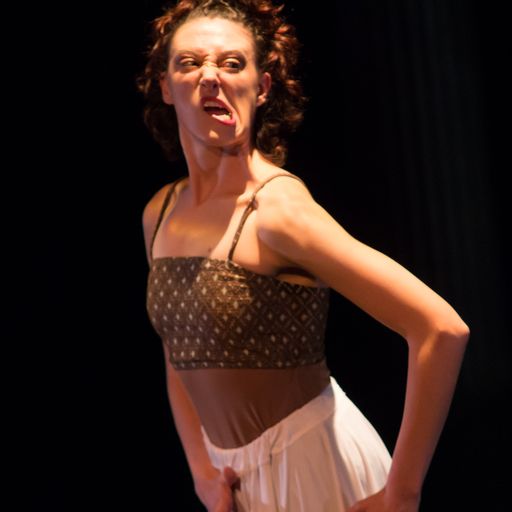 Dancer Sara Pizzi; photo by Eric Bandiero
Created in a series of two-week residencies initiated in New York City in 2019, Home comes to audiences on the heels of a pandemic that altered our experiences of space and our ability to commune with others. With our dwellings having become places of work, art making, virtual socialization, and sometimes isolation, Home invites us to consider the ways in which our personal experiences are shared globally.
"Aashraya is the dichotomy of confusion and clarity that is India," says choreographer Ashley Lobo. The dancers undulate their spines and toss their arms and legs in the air, gestures resonant with chaos. The intricate clarity of their circling wrists provides moments of distinction, and as they return again and again to smooth spiraling turns, we get the sense that home is a place of togetherness.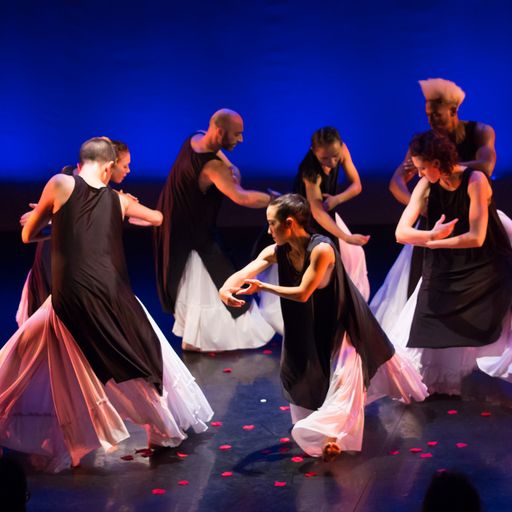 Dancers Erin Giordano, Karma Chuki, Aidan Feldman, Kristin Licata, Lawson Pinder, Sara Pizzi, and Richard Scandola; photo by Eric Bandiero
Designer Irena Romendik's costume choices display disarray and comfort. Between each dance, performers layer on clothing from a rack set up in a downstage corner, sometimes loosely evoking traditional native dress and other times appearing as mismatched items in a child's game of dress up. While the clashing fabrics and styles are mildly distracting, watching dancers help each other tie straps and step into pants feels intimate and illuminates the need to feel comfortable in one's own space without judgment.
In his Biet, Lebanese choreographer Bassam Abou Diab illustrates those feelings of safety and comfort with rhythmic unison phrases that unite the performers. Dancers waltz in a ceremonial circle as if in prayer, sprinkling red flower petals. They take turns speaking sentences about home that are darker than those uttered in Green's piece, "A bomb destroyed my home," yet their hypnotizing movement provides an element of hope. One by one dancers leave the circle, initiating new movements in a new space. As other dancers gather and join, we witness destruction and creation and feel the resilience of people forced to redefine their sense of security.
Like cogs operating in a machine, dancers in Swedish choreographer Maria Naidu's Hem work together at their individual tasks to create harmony. Quirky repetitive gestures appear in different partnerships at different places in space and movement themes become recognizable, creating kinetic energy that is palpable. "Home is energy. Energy is movement. Movement is Dance. Dance is home."
---
The Dance Enthusiast Shares IMPRESSIONS/our brand of review, and creates conversation.
For more IMPRESSIONS, click here.
Share your #AudienceReview of performances. Write one today!
---
The Dance Enthusiast - News, Reviews, Interviews and an Open Invitation for YOU to join the Dance Conversation.